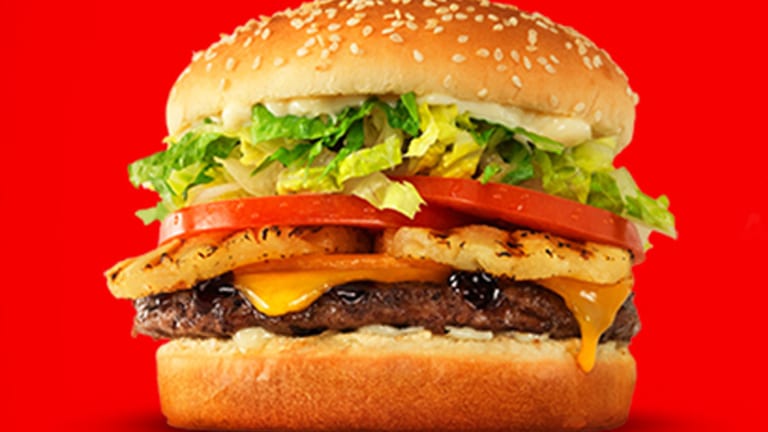 Kohls, Red Robin Beat with Gourmet Burgers in a Moon-Shot
Applied Materials, Estee Lauder, Nordstrom on today's earnings scorecard.
NEW YORK (TheStreet) -- The majority of earnings reports I previewed last week and this week are in the retail-wholesale sector, and most of these companies had buy ratings pre-earnings.
On Aug. 13 I wrote
Nordstrom, Kohls and Ross Stores Up Next on Earnings
and four of the five companies previewed beat EPS estimates.
Ross Stores
(ROST) - Get Ross Stores Inc. Report
rescheduled its report to Aug. 22. Two of the five stocks moved higher with one in a moon-shot, while two moved sideways and one moved lower following their quarterly earnings reports.
Today's market pulse below shows that the
S&P 500
ended Wednesday down just 3.9% since setting its latest all-time high at 1709.67 on Aug. 2. The upside to my semiannual risk level at 1743.50 is 6.1% with the downside risk to my annual value level at 1348.30 is 17.9%.
Semiconductor equipment maker
Applied Materials
(AMAT) - Get Applied Materials Inc. Report
($15.55 vs. $15.65 on Aug. 12) missed EPS estimates by a penny earning 18 cents a share in afterhours trading last Thursday. The trading reaction Friday set a range between $15.04 and $16.06, which remains the range today around the 50-day SMA at $15.77. The hold rated stock has a semiannual value level is $14.88 with weekly and monthly risky levels at $16.64 and $17.89.
Read: Apple, Google, Netflix, the Olympics and the NFL
Skin care, makeup, hair products and fragrances retailer
Estee Lauder
(EL) - Get Estee Lauder Companies Inc. (The) Report
($66.32 vs. $66.58 on Aug. 12) beat EPS estimates by 2 cents a share earning 24 cents premarket last Thursday. The stock closed Aug. 14 at $65.13 above its 200-day SMA at $64.70 and traded up to $68.82 on this positive earnings result. The buy rated stock traded around my annual pivot at $67.56 with an annual risky level $70.93. This week's risky level is $68.41.
Read: Why the Uneducated Are Making More than You
High end luxury fashion-oriented retailer
Nordstrom
(JWN) - Get Nordstrom Inc. Report
($56.75 vs. $60.79 on Aug. 12) beat EPS estimates by 5 cents earning 93 cents a share in afterhours trading last Thursday. The company lowered forward guidance, and after closing at $59.33 Thursday, the stock gapped lower on Friday trading down to its 200-day SMA at $56.68 and as low as $56.12 on Monday. Nordstrom still has a buy rating and is trying to stabilize around my monthly value level, now a pivot at $56.31. My annual pivot is $59.87 with a quarterly risky level at $60.75.
Family-oriented department store
Kohls
(KSS) - Get Kohl's Corporation Report
($51.78 vs. $51.22 on Aug. 12) beat EPS estimates by a penny earning $1.04 per share premarket on Aug. 15. The stock closed at $50.84 on Aug. 14 and gapped higher last Thursday to a day's high at $54.52. Kohls still has a buy rating with my annual value level at $49.19 with a monthly pivot at $52.34 and my annual risky level at $54.80.
Read: Dividends: Great Taste or Less Filling?
Specialty burger chain
Red Robin Gourmet Burgers
(RRGB) - Get Red Robin Gourmet Burgers Inc. Report
($67.15 vs. $56.06 on Aug. 12) beat EPS estimates by 11 cents premarket last Thursday earning 77 cents. The stock gapped higher in a moon-shot to $68.39 on Tuesday. The stock had a buy rating and has been downgraded to hold on strength. Given this downgrade buy-and-trade investors should consider booking profits on this stock. My monthly value level is $62.93.
Read: Is Delta Respected? Sure, but Not as an Investment, Survey Shows
At the time of publication the author held no positions in any of the stocks mentioned.
This article is commentary by an independent contributor, separate from TheStreet's regular news coverage.
Richard Suttmeier has an engineering degree from Georgia Tech and a master of science from Brooklyn Poly. He began his career in the financial services industry in 1972 trading U.S. Treasury securities in the primary dealer community. In 1981 he formed the Government Bond Department at LF Rothschild and helped establish that firm as a primary dealer in 1986. Richard began writing market research in 1984 and held positions as market strategist at firms such as Smith Barney, William R Hough, Joseph Stevens, and Rightside Advisors. He joined
in 2008 producing newsletters covering the U.S. capital markets, and a universe of more than 7,000 stocks. Richard employs
a "buy and trade" investment strategy
and can be reached at
.