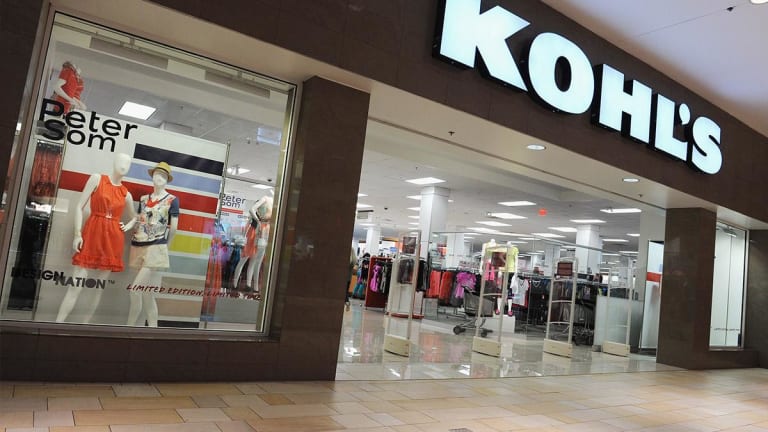 Kohl's Has Changed From a Value Play Into a Value Trap on Trade War Fears
Kohl's shares may look cheap at first glance. But the company faces enough challenges, from lack of product innovation to trade war concerns, that make the stock risky.
Once upon a time, department store chain Kohl's (KSS) - Get Free Report was one of the few notable successes in the brick-and-mortar retail world.
While some peers struggled to fend off the challenges of increased online shopping and the loss of foot traffic at malls across the country, the Wisconsin-based company delivered solid comps through last year's holiday season, showcasing strong demand and pricing power in the men's, children's and active wear departments. Merchandise margins had been improving, even amid fierce competition and increased distribution costs.
But things have taken a sharp turn for the worse in 2019. Trends among millennial shoppers have continued to be unfavorable for Kohl's, while the crucial women's apparel segment still looks soft across the industry -- hurting not only Kohl's, but also competitors like Nordstrom (JWN) - Get Free Report and Macy's (M) - Get Free Report .
What few expected was that Kohl's would deliver an atypically weak first quarter in May, marked by lack of product innovation and failed marketing initiatives that proved highly impactful to the top line.
A Storm Brewing
The disappointing first-quarter results could not have come at a worse time. Trade disputes between the U.S. and China have escalated over the past few months, reaching a peak in the early days of August.
As Kohl's is faced with the daunting task of revamping its product portfolio as quickly as it can to jump-start revenue growth, it will have to juggle its priorities to prevent potentially higher merchandise costs from eating into its margins too much. It does not help that the retailer sources more than 20% of its goods from China, much of small electronics that were hit the most by the latest round of import tax hikes.
Another potential, more specific risk to Kohl's financial performance are two key product categories responsible for providing quite a bit of top-line support last holiday season: Nike's (NKE) - Get Free Report shoes and apparel, and Fitbit's (FIT) - Get Free Report wearable devices. The former are still in high demand among younger shoppers, but the swoosh company continues to make a successful push towards direct-to-consumer sales that could spell trouble for third-party stores. Fitbit, on the other hand, has been struggling to find traction this year in the face of harsh competition from the likes of Apple (AAPL) - Get Free Report . If the brand continues on its journey down the path of irrelevance, Kohl's could also be hurt in the process.
Given the recent developments, it wouldn't be a surprise to see Kohl's lower its already de-risked full-year outlook when it reports Q2 earnings on Aug. 20 -- at the very least to ensure that the management team is not setting the bar too high for the remainder of 2019.
More Value Trap Than Value Play
Playing to Kohl's advantage are a few factors that should not be ignored. First, the company has recently struck a deal to handle returns for Amazon (AMZN) - Get Free Report that, over the longer term, could help the retailer prevent foot traffic from deteriorating much. Second, the management team until recently had a track record of executing well, including solid inventory and operating cost management, that could come in handy as the company tries to regain its footing. And lastly, Kohl's shares trade at a forward P/E multiple of less than 10x, which may seem enticing to bargain hunters.
But I believe the risks at best balance, and at worst outweigh, the benefits of owning this stock. Kohl's may once again become a good investment, but only once the company proves that it can thrive in the face of mounting macro-level and company-specific headwinds.
Kohl's, Apple and Amazon are holdings in Jim Cramer'sAction Alerts PLUS Charitable Trust Portfolio. Want to be alerted before Cramer buys or sells these stocks? Learn more now.
The author has no positions in any stocks mentioned in this article.