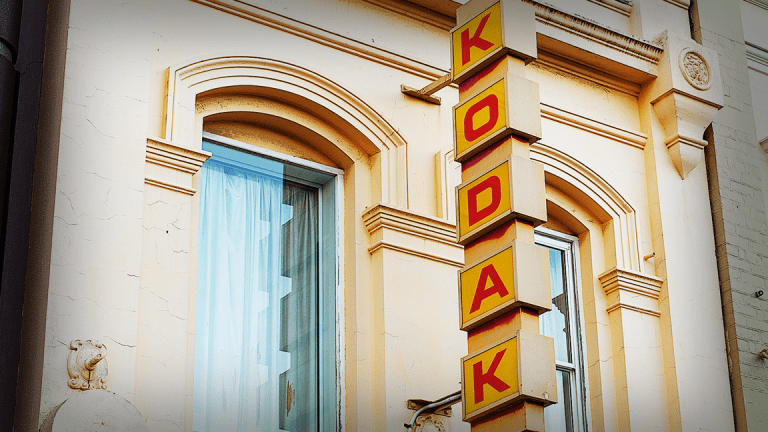 Kodak Launches Cryptocurrency; AMD, Intel Lag on Microsoft Patch Woes--ICYMI
Here's what you need to know now for Tuesday, Jan. 9.
Tea maker Long Island Iced Tea (now Long Blockchain (LBCC)  ), biotech Bioptix Inc. (now Riot Blockchain (RIOT) - Get Riot Blockchain Inc Report  ) and camera and film manufacturer Eastman Kodak (KODK) - Get Eastman Kodak Company Report  have recently gained a common thread: cryptocurrency.
While, you've likely heard about the first two, Kodak may come as a bit of a surprise. Well, on Tuesday the company saw shares jumped more than 50% after launching an initial coin offering (ICO) for its KODAKCoin cryptocurrency.
The currency will help finance the company's KODAKOne platform which will help photographers license their work.
"Utilizing blockchain technology, the KODAKOne platform will create an encrypted, digital ledger of rights ownership for photographers to register both new and archive work that they can then license within the platform," Kodak said.
What is a 130-year old camera company doing offering an ICO? Nothing more ridiculous, certainly, than a tea maker adopting a new name and switching its focus to cryptocurrency, I guess.
Outside of cryptocurrencies -- yes, I promise there is more going on -- the bears seemed to be waiting in the wings as Wall Street firms preached optimism.
But for you bears out there, at least one columnist over on our premium site Real Money says your contrarian bets may not pay off as in years' past.
"The argument is that the number of bulls is at a record high and that just isn't sustainable," writes James Deporre, aka "Rev Shark" or "Rev" as some of us in the office like to say. "The fatal flaw in this thinking is that there is [currently] an endless sea of liquidity out there and there seems to be in no end in sight of how long it will last."
Interest rates, no matter where they are headed near-term, aren't really going to deter on a cost-of-capital basis, "so when you run out of buying power you just go out and get some more" he adds.
Though overall market momentum can keep up, Advanced Micro Devices (AMD) - Get Advanced Micro Devices, Inc. Report  couldn't keep its hot start to 2018 going this week. Shares of the semi corrected almost 4% Tuesday after shooting higher in the first week of the year.
AMD's drop follows news that Microsoft Corp. (MSFT) - Get Microsoft Corporation (MSFT) Report  would suspend some updates to its Windows operating system that were meant to patch the Meltdown vulnerability that could be exploited in AMD, Intel (INTC) - Get Intel Corporation (INTC) Report  , and ARM Holdings' chips. ARM is now part of Japan's Softbank.
Is the dip an opportunity to buy AMD and Intel, especially after the latter went full-throttle in a 90-minute keynote at CES in Las Vegas? Or is it a sign of more struggles to come? Read on to see these stores and more from TheStreet and its affiliates.
This is an excerpt from "In Case You Missed It," a daily newsletter brought to you by TheStreet. Sign up here.
Photo of the day: A new road ahead for Ford
Ford Motor Co. (F) - Get Ford Motor Company Report has come a long way since Henry Ford, pictured above in the 1940s riding an 1896 Ford, founded the company in Detroit and began the industrial revolution. Well, until recently, it seems Ford may have been stuck in its ways amid the autonomous driving boom that swept both the auto and tech sectors. Not anymore, it seems, as Ford CEO Jim Hackett appeared at the International Consumer Electronics Show in Las Vegas Tuesday, Jan. 9, to detail his company's plan to "become the world's most trusted mobility company." His thorough proposal is the latest in a turnaround bid that's earned Hackett more than a few critics since he took the helm at Ford in May, when it kicked off a $3 billion cost-cutting plan that included a major workforce reduction to address the company's sagging profits and struggling stock price. Read More
Read more from "In Case You Missed It." Sign up here.
More of What's Trending on TheStreet: