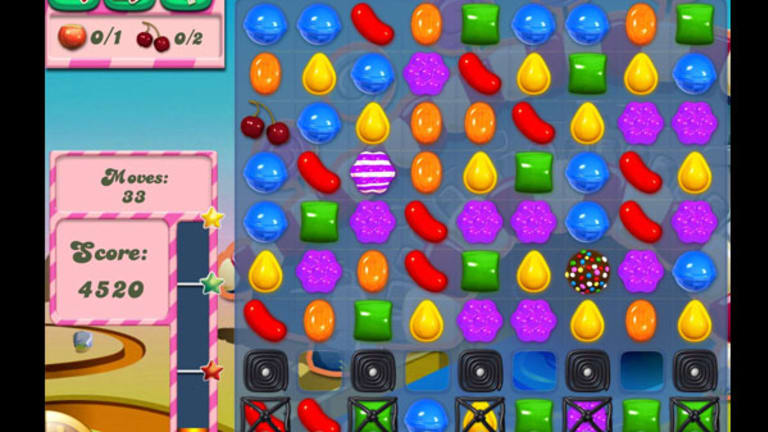 King Digital Entertainment Could Be a One-Hit Wonder
Due to King Digital Entertainment's heavy reliance on Candy Crush for its success, many pundits on Wall Street are declaring King Digital Entertainment a one-hit wonder. It is imperative that King Digital Entertainment develop a second major hit.
NEW YORK (TheStreet) -- At the end of March, King Digital Entertainment (KING) made its official debut under the watchful eye of Wall Street. King Digital Entertainment is the official company behind the classic game Candy Crush, a game that has put many individuals (including myself) on the receiving end of an insane amount of game requests on Facebook (FB) .
Unfortunately, King Digital Entertainment had a debut similar to a rookie quarterback throwing three interceptions in his first NFL start. It was an ugly welcome to life in the big leagues.
After opening at $20.50 a share, King Digital Entertainment fell 15.56% in its debut to close at $19.00.
While King Digital Entertainment contains other mobile games such as Pet Rescue Saga, Farm Heroes Saga and Bubble Witch Saga, the firm's success is heavily reliant on the success of Candy Crush. The game has become so synonymous with King Digital Entertainment that its recent IPO has been referred to as "The Candy Crush IPO."
Some investors are concerned by the fact that King Digital Entertainment is heavily reliant on one game for its success.
A cautionary tale of a firm's over-reliance on one entity can be seen in Zynga's (ZNGA) relationship with Facebook. In its 2011 IPO, Zynga acknowledged that it generated all of its revenue and user base from the Facebook platform. Consequently, the firm acknowledged that the company's business would suffer if its relationship with Facebook turned sour. Thus, investors soured on Zynga's IPO.
In 2012, Zynga's stock price dropped as low as $2.00 due to waning interest from users in its games. Additionally, the firm engaged in an acquisition that turned out to be a brutal failure.
In March 2012, Zynga had acquired a company by the name of OMGPOP for the purpose of benefiting from its popular mobile app, Draw Something. However, the game's user-base quickly declined by more than 3 million users within two months of the acquisition. Eventually, Zynga and Facebook distanced themselves from each other.
With 93 million average daily active users, or DAU's, Candy Crush accounts for nearly 73% of all DAU's in King Digital Entertainment. The game accounts for nearly 80% of King's revenue and has aided in the rapid explosion of King's mobile revenue from $16 million to $460 million within the past four operating quarters. At the same time, Candy Crush has enabled King's mobile gross bookings as a percentage of total gross bookings to increase from 23% to 73%.
Yet, there seems to be some evidence that Candy Crush has slightly declined. According to King's IPO, King's total revenue declined from $621 million to $602 million. Its gross bookings declined from $648 million to $632 million. However, the disturbing aspect of the gross bookings decline was that it was driven by a decrease in Candy Crush gross bookings. This may be a sign that interest in Candy Crush may have already reached its peak.
Another sign of Candy Crush's decline can be seen in a recent comparative analysis of popular mobile games that I did on Google (GOOG) Trends. I set the time range of the analysis from January 2009 to April 2014. I compared the following games: Candy Crush, Farmville and Angry Birds. In the graph, one can see that Candy Crush is beginning to decline in terms of interest similar to how Farmville and Angry Birds declined after reaching optimal interest levels. For instance, Farmville's search term popularity declined from its peak score of 81 in December 2009 to a score of 8 in December 2011. Similarly, Angry Birds had a search interest score of 100 in March 2012. As of March 2014, the search interest score for Angry Birds was a score of 25.
In August 2013, Candy Crush has a search interest score of 97. Currently, Candy Crush has a search interest score of 53.
Zynga has never been able to come up with a stalwart that has been as successful as Farmville. Rovio has failed to develop a second strong mobile game besides the iconic Angry Birds. Similar to other iconic games, social media sites and societal trends, an individual will eventually lose interest and pursue the next big thing. This can be seen in the aforementioned search results.
Thus, King Digital Entertainment knows that it must create a second game that will rival or surpass the popularity of Candy Crush. As a result, the company has posted 165 job openings in order to ramp up its overall expertise. Nearly 47% of job openings are in the areas of development, engineering and design.
In the midst of this expansion, King Digital would be advised to ramp up its R&D expenditures to enhance its efforts in creating another smash hit like Candy Crush. According to their F-1 filing, King Digital's R&D expenditures only represented nearly 6% of total revenues.
History is not on the side of King Digital Entertainment when it comes to a gaming firm following up on its initial breakout hit. Thus, it is no wonder why investors and Wall Street pundits are ready to declare King Digital Entertainment a one-hit wonder.
Candy Crush is to King Digital what Michael Jordan was for the Chicago Bulls. It is up to King Digital to see if it can develop the next Scottie Pippen.

At the time of publication the author had no position in any of the stocks mentioned.
This article represents the opinion of a contributor and not necessarily that of TheStreet or its editorial staff.