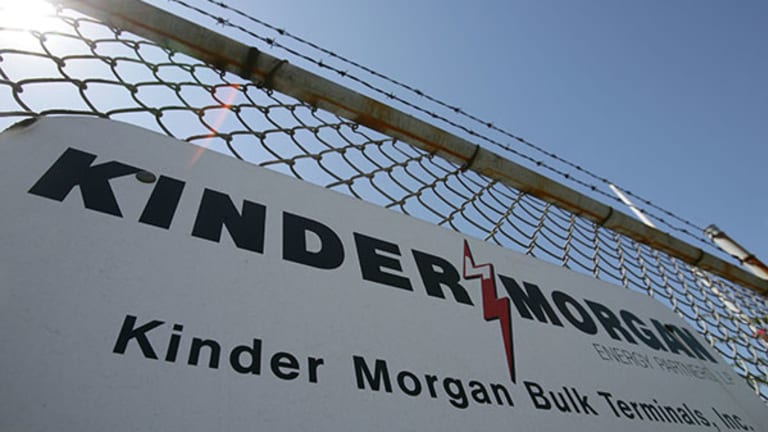 Kinder Morgan Deal May Not Be the Game Changer You Think It Is
There's still value in the MLP space. By no means should investor's steer clear of other MLPs because of the Kinder Morgan transaction.
NEW YORK (TheStreet) -- Kinder Morgan (KMI) is consolidating its master limited partner interests with the $71 billion acquisition of Kinder Morgan Energy Partners (KMP) , Kinder Morgan Management (KMR) and El Paso Pipeline Partners (EPB) . The deal is a game-changer in some ways, but by no means should investors steer clear of other MLPs because of the transaction.  Richard Kinder is a master of his industry, so when he decides that the best plan of action for the firms he controls is to consolidate, it is worth thinking about.
In fact, Kinder Morgan's motivation probably was at least partially due to its perception that its own MLP's were undervalued.  One can look at the price action of other MLP's Monday to gauge the market reaction to the proposal: Markwest Energey (MWE) , up 7.4%; EQT Resource Partners (EQT) , up 4.7%; Atlas Pipeline Partners (APL) , up 3.8%.
The rush for MLP's is not over, but I do think the Kinder deal pointed out that the field has become somewhat crowded. 
A few short years ago, there were fewer than two dozen of these partnerships. Now there are probably closer to 200, many of which are in the same energy-oriented areas. It has been, as Kinder Morgan pointed out, somewhat more difficult to find growth opportunities.
In addition, smaller MLPs might be somewhat disadvantaged compared to their larger brethren in how efficiently they can raise capital.  
Also consider that MLP's are required to pay out most of their cash flow, so they are in the capital markets often looking for both new equity and debt.
The advantage of a corporate structure (vs. the MLP structure) is that the corporation gets to retain more earnings and use the capital to grow. It is not unlike the advantage Berkshire Hathaway's utility subsidiary has vs. its peers. It not longer has to pay a dividend and can use that money for growth.   
In Kinder Morgan's case, size was a negative factor, in terms of growth opportunitiues. In addition, it is more difficult now for MLP's to differentiate themselves in the minds of investors.  But it still can be done and takes a bit more homework.
We have many partnerships in the gas and oil transportation areas, we also have MLPs in the oil refining area, in petrochemical manufacturing areas and similar spaces.
Granted I am no pro on MLP valuation, but I believe the following companies are worth looking into: Williams Pipeline (WPZ) continues to offer an attractive yield with reasonable growth potential, as does Oneok Partners (OKE) and MarkWest Energy Partners. All are located in areas of rapidly expanding gas & oil production, which will foster a need for gathering and mid-stream pipeline networks to move the gas & oil to refineries and processing plants.
The advantages remain what they were: MLPs remain an efficient way to invest in generally fairly high-income producing assets in a liquid and tax-efficient way. This is, indeed, the reason they have become so popular. This popularity took off several years ago as bond rates plummeted, causing investors to look elsewhere for yield. REITs (real estate investment trusts) blossomed, as did MLPs.
At the time of publication, the author was long MarkWest Energy, although positions may change at any time.
This article is commentary by an independent contributor, separate from TheStreet's regular news coverage.
Peter W. Tuz, CFA is president of Chase Investment Counsel of Charlottesville, VA. The firm manages about $420 million on behalf of institutions and individuals. The opinions expressed by Mr. Tuz are his alone.