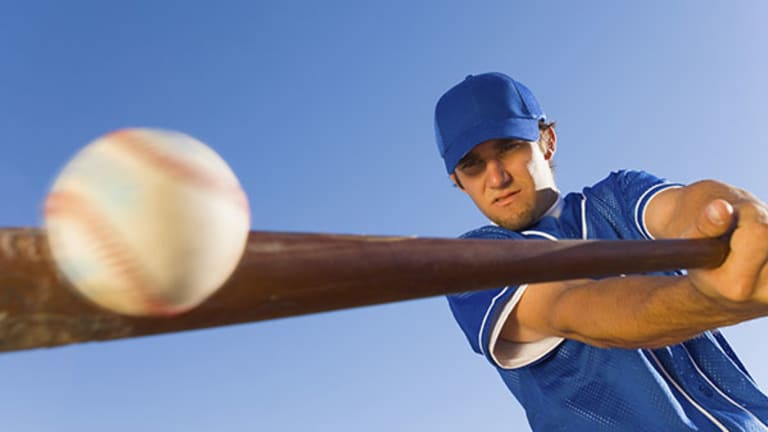 Kids Aren't Playing Baseball, So Is That Bad News for Nike and Under Armour?
Attendance is up in 2015, but as baseball looks good on the inside, the game is hemorrhaging players at the youth level. The question now: Will that hurt corporate profits?
NEW YORK ( TheStreet) -- On the surface, baseball looks healthy.
Major League baseball seems to have rooted out performance-enhancing drugs, and business is strong. The league is in year two of an eight-year set of TV deals that are worth a total of over $12 billion.
The players are rich.
The owners are rich.
Despite consitently increasng ticket prices, more people are going to games.
So far in 2015, overall attendance is up over the previous season. Close to 18 million people have already been to a Major League game this spring.
Having said all that, baseball has a problem -- a major problem.
Kids are leaving the game ... in droves.
According to reports, between 2000 and 2013, the sport saw a better than 40-percent drop in youth participation.
That is precipitous.
Other sports are losing kids, too, but none of them at the rate that baseball is losing what amounts to two things: Lifelong fans and lifelong consumers of the game.
The troubling trend begs several questions, but for this space, there is one essential question: How concerning is this for companies leveraged to the business of baseball?
The answers are dynamic in two ways. First, the type of companies exposed are truly diverse -- ranging from a consumer products giant in Jarden   (JAH)  to a Japanesse company in Mizuno to a Canadian company in Bauer.
All are tradeable and all are exposed at various degrees.
Secondly, they are reacting to the problem in some unique ways 
Take Jarden, for example.
Few would know this, but it's the largest sports equipment maker in the world.
In baseball, the company produces baseball equipment under the popular glove brand Rawlings, as well as with Worth, which is best known for its bats. 
Having said that, according to JP Morgan, only three percent of Jarden's total sales are from sporting goods.
They're big relative to the marketplace, but not relative to their overall business.
That does not mean Jarden is passively dealing with what can be called the "baseball problem" in the United States. The company will remain a strong presence in the United States, the world's top baseball market; but it's shifting a lot of focus to Japan.
In an investor presentation in February, the company stated as a key goal regarding Japan: "re-establishing operations for growth in second largest baseball market."
The company isn't punting on its U.S. business -- in the same presentation, it stated a renewed push for Rawlings -- but it's looking to offset any weakness in the U.S. with an investment in Japan, which remains a baseball market in growth mode.
"Outdoor solutions is about one-third of their business, and that includes other stuff like football, camping, fishing, skis, etc., as well as baseball," said JP Morgan analyst John Faucher. "Only 3-percent of their total sales are in the sporting goods channel, although Wal-Mart and other mass merchandisers also sell a lot of baseball stuff."
Jarden may not be as sensitive to baseball because of its size and scope, and although Nike (NKE) - Get Free Report is a far different company, it's breadth of sporting segments might protect it from baseball weakness a little better, perhaps, than its rival Under Armour  (UA) - Get Free Report.
Under Armour may be more leveraged to football than baseball -- and may be more committed to gaining a foothold in basketball -- but baseball is a major part of its strategy. The company is launching a new line of cleats and devotes millions of dollars in sponsorship money to the likes of Clayton Kershaw and Bryce Harper.
This article is commentary by an independent contributor. At the time of publication, the author held no positions in the stocks mentioned.