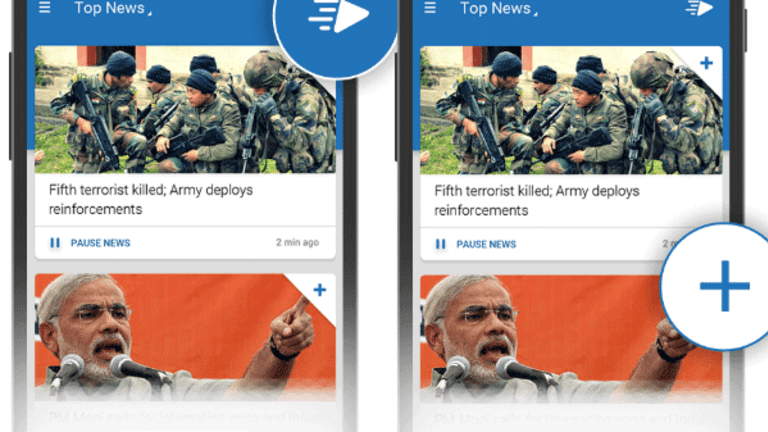 Khabri App Enables Busy Users to Access News More Easily
The app allows consumers to create and edit a playlist of leading stories.
Pulkit Sharma and Dhruv Shandilya want to give Indian users access to news when they want it.
Their app, Khabri creates user friendly one-minute audio summaries of top stories collected from different sources worldwide. A narrator reads the summaries which users can listen to at their convenience. The audio quality is excellent, but the app does not eat up data. The app addresses limitations in how Indian consumers can access news. 
India law prohibits private radio stations from broadcasting news programs. The country's government-sponsored radio service All India Radio (AIR) broadcasts news at fixed hours and typically focuses on a small group of stories. Otherwise, FM stations broadcast from a music playlist and repeat their selections. 
Khabri broadens the news menu and offers anytime, anywhere access to stories. 
Khabri's arrival comes as more people globally turn to digital resources for their news and information. That's particularly true in India, where Internet usage is skyrocketing. That is a result of government campaigns like Digital India and companies such as Reliance Reliance Jio Infocomm, the telecom leg of Reliance Industries Limited. 
Digital India is a one-year-old government initiative to improve online infrastructure and increase connectivity throughout the country. It is supposed to ensure that consumers have easier, electronic access to government resources. That will be particularly helpful in a country that is the world's eighth largest in land mass and has a large number of rural areas. 
Reliance is a Mumbai-based internet and telecommunications that provides mobile and fixed-line broadband and voice over services.
Sharma and Shandilya believed that there is a great opportunity to serve Indians in far-off locations and in and around major hubs. The entrepreneurs hatched the idea for Khabri during their week-day, 40-kilometer commutes to a New Delhi office when they wanted access to news.
The Khabri interface design is user friendly. Consumers create a sort of playlist of articles. The Khabri app includes the following features:
It is compatible with cars' audio system and Bluetooth speakers.
The app filters out news based on the categories of your choice.
Users can edit their playlist of articles and listen to them when they want or when they have access to the Internet.
Push notifications alert users to breaking and important news stories. 
This App is currently available only on Android Platform. Any android user around the world can download this app.