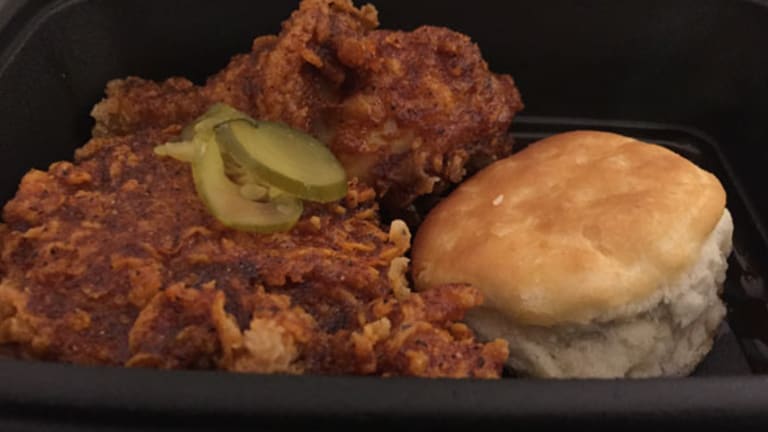 KFC Hoping New Spicy Chicken Will Give Kick to Sales
The Yum Brands-owned fast food chain will soon debut its "Nashville Hot Chicken" nationwide.
Editor's pick: Originally published Jan. 15.
Colonel Sanders' original recipe of 11 herbs and spices may no longer offer the kick to one's palate needed to keep KFC relevant.
On January 18, Yum! Brands (YUM) - Get Report -owned KFC will debut its "Nashville Hot Chicken" in all of its over 4,500 U.S. restaurants. For $5.49, a premium to most items found on the menu at KFC, customers get a platter with two pieces of the new spicy chicken, a buttery biscuit and coleslaw. KFC says the chicken's spicy and smoky flavor is derived from a mixture of cayenne and paprika, which is applied after the meat is fried.
The latest concoction from KFC, which found success in 2015 by selling $5 bowls of chopped-up fried chicken with veggies and mashed potatoes, isn't new per se, although it is relatively new for KFC. KFC recently tested the product in 32 restaurants in and around Pittsburgh, and says it was the most successful product testing in the company's recent history.
The item has been a local delicacy in Nashville, Tennessee for years, and more recently, certain pricey hipster eateries in major cities such as New York. By most accounts, "hot chicken," as it's called in Nashville, has roots dating back some 70 years.   
In unleashing Nashville Hot Chicken, KFC is hoping to tap into the country's growing affinity for spicy food.
"We have seen a major cultural shift toward spicy food -- you have to have bolder flavors if you want to win," said KFC's chief marketing officer Kevin Hochman to TheStreet at a launch event for the chicken held in a KFC pop up store in New York City. Others agree that even spicier flavors in the fast food business are here to stay.

"Nashville Hot Chicken" will definitely wake up the taste buds. 
"Consumer interest in bold flavors has notably increased over the past four years," explained Mary Chapman, senior director of product innovation at research firm Technomic.
Chapman pointed to her latest survey showing that for the first time, a majority of consumers said they prefer hot or spicy sauces, dips or condiments. Added Chapman, "There are a lot of trends driving the demand -- the influence of ethnic cuisines, the desire for new, bolder flavors and for some people, wanting to experience extreme food and flavors."
But the spice game is one that KFC enters somewhat late compared to its rivals.
Popeye's (PLKI) , known for its spicy Louisiana style fried chicken, saw domestic same-store sales rise 5.7% in 2015 on the back of its tongue-tantalizing chicken. Wingstop (WING) - Get Report , which has over 780 restaurants in the U.S., benefited from the introduction of its spicy Korean buffalo wings last year. Sales for 2015 went on to rise 7.9% for the year.
KFC, however, has seen slower growth, with same-store sales in the U.S. increasing just 2% for the nine months ended Sept. 5. 

By the end of 2016, 25% of KFC's U.S. restaurants will be in this sleeker new design. The number is seen reaching 70% by 2019. 
As for how the Nashville Hot Chicken tasted? Well, let's just say one should have a bucket of water nearby.
TheStreet found the chicken to offer a slow build of spiciness on the tongue coming from a well-constructed crisp. The flavor was rich (pickles are served with the chicken to cut through the richness), and for $5.29, customers will definitely leave feeling they got their money's worth.
Drawbacks included a serious amount of salt and some serious grease at the bottom of the platter, which KFC said is supposed to be soaked up with the biscuit. That will likely lead to most millennials eating the new item with a fork, as was the case at the event.
For those texting 30 somethings that don't want to get their hands dirty, KFC may solve that problem soon. "Sandwiches would certainly seem logical next," said Hochman.