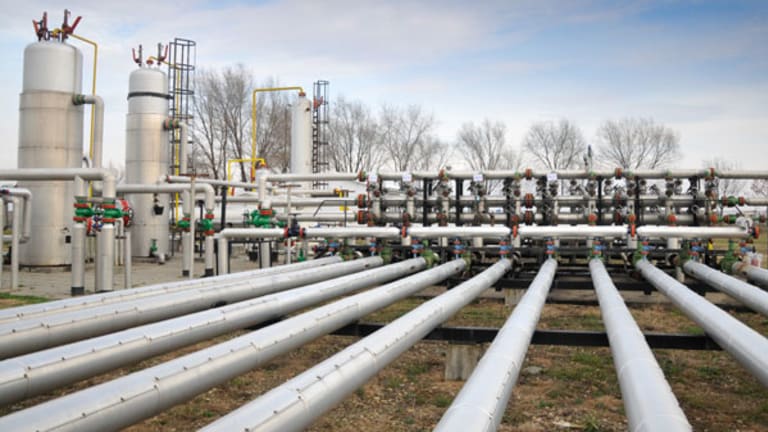 Keystone Will Pass in 2015, So Any TransCanada Weakness Is a Buying Opportunity
The controversial Keystone XL pipeline missed being passed by one vote. Here are several reasons why the bill will pass in 2015.
NEW YORK (TheStreet) -- Despite the Keystone XL pipeline falling short Tuesday by one vote in the Senate, the controversial project will likely be approved in 2015. Republicans, who take majority control of the Senate next year, plan to make the pipeline approval a priority. Thus any selloff today in shares of TransCanada (TRP) should be viewed as a buying opportunity. 
Interestingly enough, TransCanada will be hosting its Investor Day in Toronto Wednesday and will no doubt be ready to discuss why the pipeline, which can carry up to 830,000 barrels of oil per day, will still be built. TransCanada has already alluded to the project's success in a morning press release, where the company said it expects to grow their dividend through 2017, possibly to an annual growth rate of 10% or more if they advance major projects. 
Let's be clear. Despite the official approval for the Keystone XL pipeline still looming, TransCanada already spent $2.4 billion working on the project with segments with a 298-mile stretch built from Steele City, Neb. to Cushing, Okla. and an additional 485-mile segment flowing oil rom Cushing to Nederland, Texas. So the reality is the bill at large is to connect, operate and maintain the cross-border pipeline which would carry heavy tar sands oil from Canada to the U.S. 
Tuesday's vote was more a blow to Democrat Sen. Mary Landrieu of oil and gas state Louisiana than it was to the actually pipeline project itself. In fact, Republican Sen. Mitch McConnell of Kentucky, the next Senate Majority Leader, already expressed that the Keystone vote would come up again "very early" in 2015.
President Obama has said he will likely veto any bill to pass the Keystone XL but he can't kick the proverbial can down the road much longer. It's too dented. Therefore he will likely bend and sign the bill, but also look to pass other climate legislation through in the process.
TransCanada CEO Russ Girling believes the Keystone Pipeline will be built. That confidence makes sense, especially since the U.S. is committing to its shale boom, the motive for the whole Halliburton/Baker Hughes merger announcement. 
The U.S. will not wake up this morning or 20 years down the road for that matter and stop using fossil fuels. Fossil fuels will play a role along with renewables and nuclear power in order to create true energy independence in this country. Therefore, the inevitability of the Keystone XL pipeline going through should be seen as a matter of "when," not "if." That bodes well for TransCanada.
At the time of publication, the author had no positions in stocks mentioned.
Follow @bluephoenixinc
This article is commentary from an outside contributor, separate from TheStreet's news coverage.