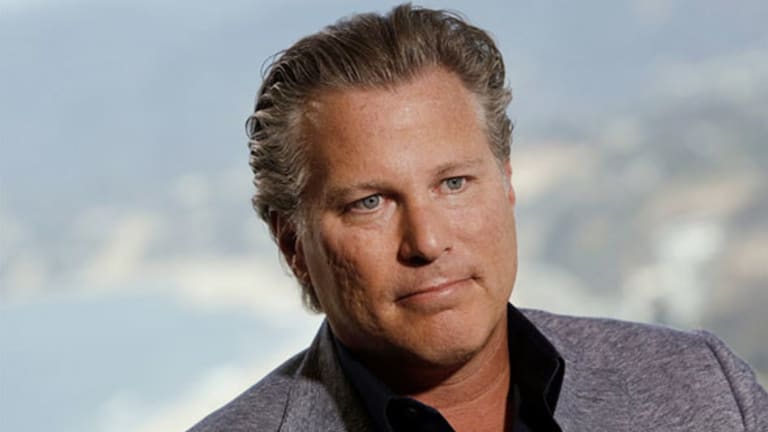 Ken Doctor: Looking Behind Tronc's Surprising Clean Sweep at the L.A. Times
In one fell swoop, it showed four top editors the door and brought in former Fox and Yahoo! digital exec Ross Levinsohn to lead a new national/global future.
In a purge fairly unprecedented in American newspapers, Tronc Inc. undefined has replaced the senior leadership of the Los Angeles Times. With a single announcement on Monday, Aug. 21, the company announced both new leadership for the Times' business side and for its newsroom.
In a move surprising in its grand sweep, Davan Maharaj, the Times' editor and publisher for the past year and a 28-year veteran of the newsroom, sees himself replaced, with the Times returning to the traditional split jobs -- and roles -- of publisher and editor.
Accompanying Maharaj out the door: managing editor Marc Duvoisin, deputy managing editor for digital Megan Garvey and assistant managing editor of investigations Matt Doig.
In the newsroom, Jim Kirk -- who had just rejoined the company he left (when it was Tribune Publishing Co., in 2009) after resigning as editor of the just-sold Chicago Sun-Times -- becomes interim executive editor.
Perhaps most significantly, Ross Levinsohn revives a title once prestigious in the industry: publisher of the L.A. Times, while also becoming its CEO.
Tronc shares jumped 4% on Monday, closing at $13.38.
Levinsohn last loomed large in the media eye as an interim CEO of Yahoo! Inc., pre-Marissa Mayer. Many were surprised he hadn't been given the permanent job by the Yahoo board back then. A veteran of the digital media trade -- with a long stint at Twenty-First Century Fox Inc. (FOXA) and others at AltaVista, CBS Sportsline and Time Warner Inc.'s (TWX) HBO -- Levinsohn did what new big-city publishers should do: exulted in the opportunity.
In his first public words, he laid out both the opportunity and the quite difficult challenges embedded within in:
"My priority is to help ensure the Los Angeles Times continues to flourish and becomes an even more aggressive, competitive and sustainable organization. I am confident that together we will accelerate the Los Angeles Times' evolution and the digital transformation of Tronc and produce its next stage of growth -- always keeping our sights trained on our mission of producing groundbreaking and Pulitzer Prize-winning journalism. ... I've been lucky to have worked with some amazing companies, legendary storytellers, world-class journalists, incredible co-workers and media titans who have helped shape our industry. I have benefited from their wisdom, and I have every expectation that this experience will be no different."
While the Times' top newsroom purge draws headlines, and deservedly so, it is Tronc's next effort at reinvention that defines the wider business changes now underway at the country's third-largest newspaper company.
In addition to the Times' personnel moves, Tronc has bid goodbye to three high-ranking corporate executives, Tim Ryan, president of publishing at Tronc; chief marketing officer Joseph Schiltz; and senior vice president of sales Ken DePaola. Further, Terry Jimenez, executive vice president and CFO, now adds to his responsibilities, taking over manufacturing and distribution operations.
In the shake-up, Tim Knight, who had worked for Tronc chairman Michael Ferro as publisher of the Sun-Times, assumes much greater responsibilities. After Knight left the Sun-Times, he had a brief stint in Cleveland and then assumed digital executive responsibilities at Tronc in February.
He now takes the reins of eight of Tronc's local newspaper properties. Those include the Chicago Tribune, Baltimore Sun, Orlando Sentinel and Hartford Courant. He replaces Ryan in that role; new Times publisher Levinsohn will report to CEO Justin Dearborn.
Consider the suite of moves another company reset.
Coming off poor second-quarter financials -- down 8.6% in overall revenue and 15% in advertising -- Tronc managed to turn in numbers that compared unfavorably even with some of its ever-struggling peers. Its digital revenue results hurt the most for a company renamed last spring on a promised digital transformation: "Total revenues for troncX [the company's digital division] for the second quarter of 2017 were $58.2 million, down 5% from prior-year quarter. Advertising revenues for troncX declined by 9%." The one encouraging ray: Digital-only subscriptions increased nicely, as Tronc's game of catch-up showed it most results there.
The poor performance even forced Dearborn to acknowledge that the company was still playing catch-up. With these moves, then, the company aims to do two things: 1) jump-start the lagging digital business; 2) further streamline management and cut costs.
One big question ahead for Tronc: How much will it emphasize the L.A. Times in its new strategy? The Times' newsroom still ranks as the fourth largest in the country. More important to Tronc's success is the Times' place in the company. The Times generates both about half the company's digital traffic and, together with the San Diego Union-Tribune (now its more tightly integrated sister newspaper) about half Tronc's revenue.
Don't miss these top stories on TheStreet:
This Is Where McDonald's Is Closing a Lot of Restaurants
Amazon, Netflix, Tesla Crash Into Correction Territory -- Now What?
Apple iPhone 8's 'Crown Jewel' Has Everything to Do With Your Face
Goldman Sachs Gets Approval to Trade Stocks in This Kingdom
Further, the Times' name and stature was once spoken in near the same breath as The New York Times and The Washington Post. Over the years, its own resources have been dramatically reduced while the Times and Post have seen both greater steadiness, and in the Post's case, substantial reinvestment.
Yet the Tronc hope of a revived national/global position for the Times is clear. "We have global ambitions for this brand, and I believe the Los Angeles Times has the potential to further expand and deepen its societal and cultural impact regionally, nationally and around the world," Levinsohn said.
Just a year ago, Tronc had made a similar declaration. In the year since, though, it has failed to make the major strategic investment such a move would require. In fact, as a single-class public company, it has little cash to spare. For the second quarter, Tronc reported $6.8 million in net income.
What would it take to seriously aim to become the nation's fourth serious news player -- along with the Times, Post, and The Wall Street Journal? Jeff Bezos' re-elevation of The Washington Post provides the playbook: tens of millions of dollars in targeted newsroom investment, accompanied by a highly disciplined, state-of-the-art technology-based audience development strategy. That, and time -- figure three to five years.
Interestingly, Tronc's technology strategy is now intertwined with the Post's; the company licensed the Post's Arc platform earlier this year and is first putting it in place at the L.A. Times.
Then there's the squishier question of the company's culture.
As a longtime survivor of Tribune/Tronc intrigue -- stretching before the days of bottom trader Sam Zell to Jack Griffin to Austin Beutner to Michael Ferro, all major players in the fortunes of the L.A. Times -- Maharaj stands out. It may have been inevitable that the company's unending chaos would end his tenure.
His own legacy is mixed. Well-regarded in his field nationally, Maharaj acted as a savvy protector of a top newsroom from overzealous corporate bosses, minimizing as much as he could the toll of expense cutting. At the same time, his political nature much irritated his own newsroom and left him a less than popular figure.
While some in the newsroom -- led by a Metro department that stirred the anti-Maharaj pot -- will undoubtedly cheer his departure, many are wondering, in this long-standing drama: What's next?
It's little surprise that managing editor Duvoisin, Maharaj's key ally, would join in the departure.
With digital leader Garvey -- who had opposed some of Tronc's widgeted content strategy -- also gone, many wonder whether Ferro may take a stronger hand in running the company. Garvey had resisted corporate insistence on intrusive ads and other less-than-reader-friendly tactics. Will Levinsohn now be allowed to honor, and build upon, the L.A. Times' once and current standing as a journalistic leader, or will techniques such as mass-produced videos overtake the digital experience?
Most immediately, all eyes will then be on Maharaj's successor. Levinsohn pointed to Jim Kirk being more interim than permanent: "Jim Kirk ... will work closely with me as we begin our search for a new editor in chief."
If Tronc's aim is to really move the Times up in stature and esteem, expect it to go after a top Times or Post news executive, one with both news and digital high credibility. That's just one of the many moves Times, and Tronc, watchers will focus on in the months ahead.
Watch more from Ken Doctor on our Youtube channel
Don't miss these top stories on TheStreet:
This Is Where McDonald's Is Closing a Lot of Restaurants
Amazon, Netflix, Tesla Crash Into Correction Territory -- Now What?
Apple iPhone 8's 'Crown Jewel' Has Everything to Do With Your Face
Goldman Sachs Gets Approval to Trade Stocks in This Kingdom