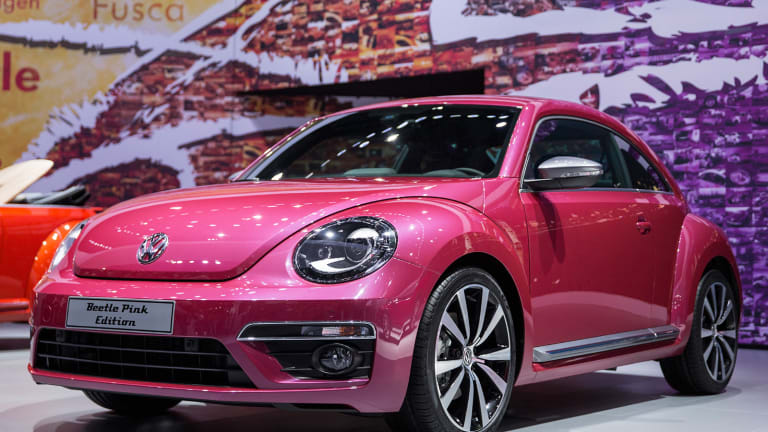 Keep Your Eyes on Mid-June for Volkswagen Buying Opportunity
The German automaker presents its new strategic plan in mid June. If it's a break from the past, you can buy a future big winner at a deep discount.
Investors who think Volkswagen (VLKAY) may recapture its mojo and a dominant position in the global automotive industry should focus on the middle of next month and the publication of Strategy 2025, VW's new plan.
If VW's strategy turns out to be a smart, detailed and credible break with its previous management, then investors may have an unusual chance to buy a future big winner at today's deeply discounted price. Much depends on whether Matthias Mueller, the new chief executive, can lead a renaissance and a fresh approach from the previous management.
VW stock has lost 43% of its value thanks to a power struggle inside VW's top management last April and then, in October, the company's admission it embedded a device in its diesel cars' emissions software to deceive regulators in the U.S.
The German automaker still operates profitable premium brands, including Porsche and Audi, as well as underachieving VW. Its engineering and manufacturing prowess is still admired. 
Turnarounds happen all the time, of course. During the years after Steve Jobs was forced out of the company he co-founded, Apple (AAPL) - Get Apple Inc. Report shares fell 35% while the Dow Jones Industrial Average gained 213%. Jobs's return marked the beginning of a run during which Apple stock rose more than 9000%.
The auto industry has seen such turnarounds as well. The global financial crisis compounded by an uproar over allegations of unintended acceleration crushed the value of Toyota Motor (TM) - Get Toyota Motor Corp. Report shares by half in the two years between 2007 and 2009. Toyota shares languished for four years but investors who bet on Toyota's eventual rebound during that period enjoyed gains of up to 170%.
Last October, Mueller announced that VW intended to reform its corporate culture by making it more open, less centralized and more devoted to satisfying customers -- in contrast to VW's goal of global sales domination, as articulated by former CEO Martin Winterkorn in 2008. Winterkorn, who resigned in the wake of the diesel emission scandal, was the onetime protégé of Ferdinand Piech, the company's former chairman and Porsche family member who remains a major owner of VW stock.
"The focus of our Strategy 2025 will be the customer with his wishes and needs," Mueller said. "In the end, a strategy is only good if it leads to products that excite people and that they want to buy."
About 250 employees are working to develop the new strategy, which is comprised of eight key initiatives across the group through 2025, Mueller said Friday, according to excerpts of a speech at an internal management meeting at the carmaker's Wolfsburg, Germany, headquarters.
Whoever decides to bet on VW's turnaround probably should be ready to wait a few years until it's clear the new corporate culture is working and that the Porsche family, which owns more than half the common shares, is satisfied with the result.
Doron Levin is the host of "In the Driver Seat," broadcast on SiriusXM Insight 121, Saturday at noon, encore Sunday at 9 a.m.
This article is commentary by an independent contributor. At the time of publication, the author held no positions in the stocks mentioned.