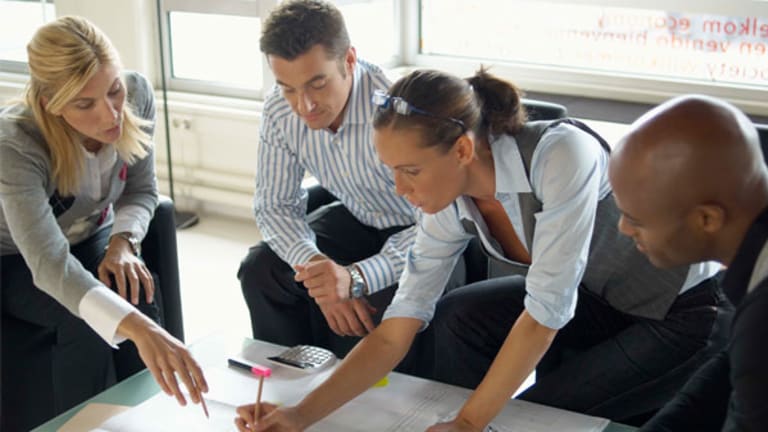 Keep Hating on Facebook; Long-Term Investors Love Cheap Shares
Standard IPO behavior and Facebook hate will help create one of 2012's best stock market bargains.
NEW YORK (TheStreet) -- An overabundance of Facebook (FB) - Get Meta Platforms Inc. Class A Report hate exists "out there." Out there being society en masse, among investors and within "the 1%" that makes up the cozy confines of Wall Street.
It's gotten to the point, really, where it's become childish. Mark Zuckerberg can't even marry his main squeeze post-IPO without people questioning the timing. Why not follow up one of the biggest days of your young life with another one of the biggest days of your young life?
And, of course, there's the hate that sometimes borders on vitriol for the IPO. One of the more light-hearted and clever examples
:
Breaking: Pets.com sock puppet seen laughing maniacally around Menlo Park
. Yes and I just saw a Webvan truck pull up in front of Facebook headquarters.
Then, there's downright hate. Here's an example courtesy of
TheStreet's
otherwise perfectly sane and logical Dana Blankenhorn, who
called the whole Facebook IPO a "big lie"
:
The insiders knew the story: The brokers who were in the IPO were standing by with orders to buy at $38, no matter what, all day. And they knew, we all know, that won't go on for long.
Even while this was happening, with Facebook trades coming across at both $42 and $38 and change at the same time in after-hours trading, CNBC kept pretending nothing was happening on its own ticker.
Why wasn't anyone, on any network, allowed to say that this new technology emperor was wearing no clothes, that the company wasn't worth anything near what brokers were claiming it was worth, that a fraud was being perpetrated on the public investor?
I know Dana well enough to know that he has been around the stock market, particularly covering tech stocks and such, for a long time. Yet, he, and so many others, run frantically acting like this is all new. As if, this past Friday, the stock market became a place where insiders get the best deals and know the story, while the general public is in the dark. They all need to look up the definition of "insider." It's been this way for quite some time; and, it's not about to change anytime soon.
So, the markets gets rigged to favor insiders. Tell us we something we do not know already.
TheStreet's
Stephanie Link provides one of the most rational and
sensible post-mortems on the Facebook IPO
. While recognizing
Morgan Stanley's
(MS) - Get Morgan Stanley Report
failings (yet another
shocking
development), Link also points out that it was not just the little guy that lost out on this IPO. Her video is more than worth your time.
Even more importantly, though, Link acknowledges that Facebook can make a strong long play for some long-term investors. She just thinks that type of bullishness appears more prudent around $28 to $31, the original offering price for the IPO. I would add two things to that assessment:
If it were not for several factors, including the points Link mentioned and the shares that will hit the market when Facebook's lock-up periods expire, I would buy the stock at this level and at several points higher and lower.
I expect FB to go lower than that $28 to $31 range because of the structure of the IPO, but also because of the incredible amount of "hate" Wall Street and many investors continue to direct not only at the process, but the company and its newly-floated stock.
Therefore, I hope the haters keep on hating. Let the short-term thinkers continue to think short-term. Allow the value-obsessed to obsess over value. And happily permit mobile monetization naysayers to naysay all they want.
Just as all of the trash talk and ill-informed misconceptions bode well for long-term investors in stocks such as
Pandora
(P)
, these things, multiplied many times over, should serve FB investors well over the long-term. All it takes is an understanding of the company's long-term opportunity, which I detail in
on
TheStreet
, thick skin and a bit of patience.
Pessimists, party poopers, short-sighted minds and bears will tell you you're nuts for being bullish FB. Don't listen to them, but -- and, of course, this is merely how I intend to proceed so it might not be the proper course for you -- don't run out and buy the stock today, tomorrow or the next day either.
I bought three shares of FB on Friday for no other reason than to be part of history. Buying three shares of an IPO like this on day one is akin to blowing $20 on a lottery I know I have little chance of winning. But, everybody's talking about it. And it's a big day that transcends the stock market or lotteries and seeps into the mainstream consciousness so I take part.
It took me hours to receive confirmation of my trade. When I finally did, I saw that my cost basis, including commission, stands at a lofty $42.66. But, who cares? I can tell the story to my great grandchildren's children someday. It was worth putting about $135 on the line.
I will keep myself underwater on my miniscule lots of FB shares. Once the stock finds its bottom, I will make long plays that actually mean something. At this stage, it's a bit absurd to even speculate about where the bottom might be, other than to say, it will likely be lower -- maybe much lower -- than the $28 to $31 window Link finds the stock more attractive at.
In addition to the poorly-executed IPO and the pressure of almost constant, over-the-top hate, pay close attention to Facebook's first earnings report as a public company. If it presents even a whiff of uncertainty or something somebody somewhere could construe as a slowdown, look out below. The hate will only intensify and send this thing lower. Think Pandora. Think the standard bear talking point about not being able to monetize mobile.
Think short-term hysteria breeds long-term opportunity for long-term investors. If you understand the powerhouse Facebook can become (as if it's not one already), don't fret when the haters hate, the jokesters joke and the stock goes down. Take it all in. Don't make any hasty moves, but be prepared to pounce.
At the time of publication, the author was long FB and P.