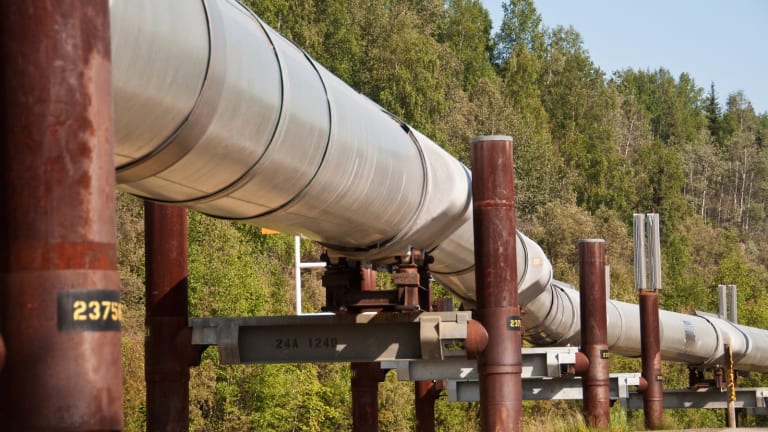 Publish date:
Keep an Eye on MLPs for When Oil Turns Around
Oil isn't coming back soon and hasn't bottomed yet, but when it does, be ready to scoop up these cheap MLPs for pennies on the dollar.
Oil isn't coming back soon and hasn't bottomed yet, but when it does, be ready to scoop up these cheap MLPs for pennies on the dollar.
We've recently seen a nice rebound in oil prices, but don't let it fool you. This is a normal retracement within a larger downward trend. At Foundation, we still have our target for oil around $16-per-barrel. The current rebound, with oil trading near $30, does not change anything.
But even as oil prices continue lower, we can still prepare ourselves for when a real bottom forms. And that's why we've been keeping an eye on the master limited partnerships (MLPs) segment. These companies operate mid-stream energy assets such as storage and pipelines.
MLPs have taken a beating over the last year. Many of them have fallen even harder than exploration and production companies (E&P). This may seem counterintuitive at first. E&P companies have direct exposure to the price of oil. But MLPs are more like tax collectors. They transport and store oil. This means they earn a standard fee regardless of oil prices.
While that sounds right, it isn't completely true. Oil prices still affect MLPs indirectly. When prices are low, there is less oil to transport back and forth. This means fewer fees to collect.
But this reasoning doesn't fully explain the recent 50%-to-80% selloff we've seen in the MLP segment. There's more to it.
We believe liquidity factors are playing a huge role. There are many closed-end funds that invest specifically in MLPs. They provide a lot of the cash flowing into these companies. But over the last year, they've been forced to sell their holdings due to margin level restrictions.
Every time there's a strong selloff in the MLP market, these funds' margin requirements trigger due to lowered prices. This causes them to sell their positions to meet their fund's stipulations. This creates a positive feedback loop that pushes share prices lower.
Much of the selling in the MLP segment is due to investors' aversion to oil. Their desire to stay away developed after getting killed on the long side for the last 18 months. They want to sell anything that has to do with oil. This includes MLPs. It doesn't matter if they're fundamentally strong companies or not. Many MLPs with great balance sheets have been dumped all the same. They've been grouped with other toxic, over-leveraged operators that actually are bad investments.
This is why an opportunity is developing to scoop up healthy MLPs for pennies on the dollar. We'll need to wait for oil prices to truly turn around before jumping in, but it pays to be prepared.
A few MLPs we're looking at include Enterprise Products Partners (EPD) - Get Report and Magellan Midstream Partners (MMP) - Get Report . Both of these companies have strong balance sheets, with positive earnings and dividends unlikely to be cut. These companies also have their own directors buying up tons of shares during this price rout. One director at EPD bought over $100 million worth of stock last month. This is a good sign that things are actually going well at these companies.
data by
data by
Now is the time to research and wait. Oil will eventually bottom. And when it does, MLPs will be a great long-term investment to make.
This article is commentary by an independent contributor. At the time of publication, the author held no positions in the stocks mentioned.