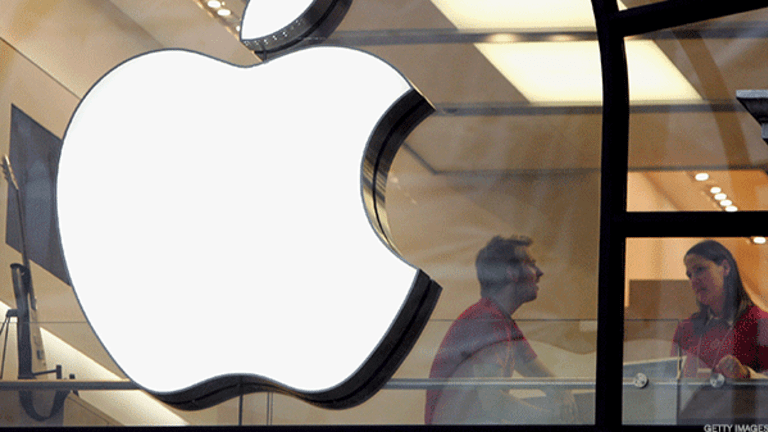 Keep an Eye on iPhone 8 Hints, Macs and Services as Apple Reports Earnings
iPhone sales are expected to be soft ahead of the iPhone 8 launch. But other businesses are expected to be stronger.
Just 38% of Apple Inc.'s (AAPL) - Get Apple Inc. Report calendar 2016 iPhone revenue was recorded during its June and September quarters. And between expectations of an iPhone 8 "super-cycle" and reports that Apple's next-gen flagship phone is seeing production delays that could lead initial shipments to be pushed back to October, there's a good chance the percentage will be lower still this year.
Thus while the iPhone remains by far Apple's largest business even this time of the year, it's a period when near-term iPhone sales matter less to markets than expectations for how upcoming models will be received. And during which other Apple revenue streams -- especially its Mac and Services businesses, each of which saw double-digit growth last quarter -- play a bigger role in determining whether the company beats near-term expectations.
On average, analysts polled by FactSet expect Apple to report June quarter (fiscal third quarter) revenue of $44.9 billion (up 6% annually) and GAAP EPS of $1.57 (up 11%). For the September quarter, consensus is for revenue of $49.2 billion (up 5%) and EPS of $1.81 (up 8%); Apple typically provides quarterly sales guidance in its earnings report.
June quarter iPhone sales are expected to total $25.5 billion -- up 6% annually thanks to the 23% sales decline recorded in the year-ago quarter due to weak iPhone 6S demand. Unit sales are expected to be flat at 55 million, but average selling price (ASP) is expected to be up $26 to $621 due to a greater mix of flagship iPhone sales.
Any details that are shared or can be teased out about Apple's expectations for iPhone 8/7S production and sales are bound to get close attention. Apple, of course, tends to be pretty tight-lipped about its product plans. But September quarter guidance, and the commentary surrounding it, could provide some clue about what Apple expects initial demand for its next-gen iPhones to look like, and the speed at which it can meet it.
In the meantime, odds are good that the many reports floating around about the iPhone 8's feature set will depress near-term iPhone 7 and 7-Plus demand. Among other things, the iPhone 8 is expected to sport a curved OLED display, support wireless charging and have 3D depth-sensing abilities built into its front and rear cameras that enable augmented reality applications.
Mac revenue, buoyed by strong demand for the Touch Bar-sporting MacBook Pro models Apple launched last fall, is expected to grow 8% to $5.7 billion. The early-June Mac refresh announced at Apple's WWDC conference -- the company launched new iMacs, cut the price of a MacBook Pro lacking a Touch Bar by $200 to $1,299 and updated its MacBook Pro lineup to use CPUs based on Intel Corp.'s (INTC) - Get Intel Corporation Report newer Kaby Lake architecture -- likely provided a slight boost to quarterly sales.
More of What's Trending on TheStreet:
Tesla Is On Fire! Here Are 20 Eco-Friendly, Gas Conscious Vehicles
Apple's Services revenue, which grew 18% last quarter to $7.04 billion with the help of a 40% increase in App Store revenue, is expected to grow 18% again, hitting sales of $7.07 billion. In addition to the App Store, Apple Music, iCloud storage subscription growth and search ad revenue-sharing payments from Alphabet Inc./Google (GOOGL) - Get Alphabet Inc. Class A Report (made in return for Google being the default search engine on Mobile Safari) have been tailwinds. At WWDC, Apple reported having 27 million paid Apple Music subs, up from 20 million in December.
Apple and Alphabet are holdings in Jim Cramer's Action Alerts PLUS Charitable Trust Portfolio. Want to be alerted before Cramer buys or sells AAPL or GOOGL? Learn more now.
The "Other Products" reporting segment, which covers Apple Watch, Apple TV, iPod, headphone and accessory sales, is also expected to have a good quarter. The segment's sales are forecast to rise 20% to $2.7 billion, after growing 31% last quarter on the back of strong Apple Watch and AirPods demand. Toward year's end, the launch of Apple's HomePod speaker (it ships in December) could act as a fresh growth driver.
Naturally, expectations are low for the long-slumping iPad business: Revenue is expected to drop 19% to $4 billion, with unit sales coming in near 9 million. The June launch of new iPad Pro models sporting Apple's ProMotion display tech may have helped sales a bit. But with Apple's iPad strategy now heavily focused on promoting iPad Pro models as notebook replacements, it's worth noting that many of the multitasking features Apple is eager to promote for the iPad Pro won't arrive until iOS 11 debuts in September.
With regards to regional demand, Asian sales will likely get a lot of attention: The "Greater China" region was the only one of Apple's five geographic reporting segments to see a sales decline last quarter, with revenue dropping 14% to $10.7 billion. While the region's Mac and services revenue grew strongly, iPhone share losses to local Android OEMs such as Huawei, Oppo and Vivo weighed. On the other hand, the "Rest of Asia Pacific" region (it excludes China and Japan) was Apple's strongest, with revenue rise 20% to $3.8 billion with the help of Indian growth.
Soaring memory prices (especially for DRAM) could lead Apple's margins to get a little more attention than usual. Apple guided for a June quarter gross margin of 37.5% to 38.5% (flat annually at the midpoint), while noting cost improvements for non-memory products and a growing mix of high-margin services revenue is propping up its GM. Various PC and IT hardware makers have reported seen their margins hit by high memory prices, with some responding by passing on their higher costs to customers.
Whereas Apple's shares had risen over 20% between its December and March quarter earnings reports, they've mostly gone sideways since nearly in-line results and light guidance were delivered on May 2nd. That, along with the fact that soft iPhone demand is widely expected ahead of this September's expected launches, eases the pressure on Apple to deliver stellar numbers. Continued momentum in areas such as Macs, Services and Other Products, along with signals pointing to a strong iPhone 8 launch, just might be enough to drive shares higher.
Watch More with TheStreet:
Tesla's Elon Musk Is All Jokes as the Model 3 Accelerates Into 'Production Hell'