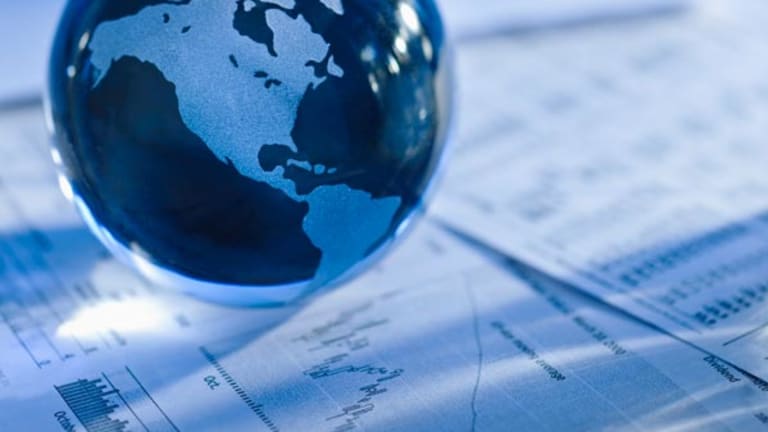 Keep an Eye on -- But Don't Sweat -- Protectionist Moves
Some leaders have recently made pushes for trade protectionism. While they merit watching, market participants shouldn't worry about them yet.
NEW YORK (
) -- European and Asian leaders, including French President Francois Hollande, have urged one another to do what they can to free global trade, citing protectionism as a risk to the global economy. To that we say: Hear, hear!
So far, their words are pretty darned encouraging. Consider the following agreements reached recently (which we noted at our
Web site):
Taiwan and China signed memorandums of understanding.
India and Pakistan have made significant recent progress toward more open cross-border trade.
The U.S. and South Korea, the U.S. and Panama, the EU and South Korea, and the EU and Mercosur (a South American supranational organization) have all signed free trade agreements recently.
And indeed, many of the leaders who attended the recent Asia-Europe meeting in Vientiane, Laos, expressed similar sentiments. Hollande himself commented, "We must open our markets. The biggest threat is protectionism."
Another, "Hear, hear!" -- at least to the extent we agree protectionism's a very real threat to global economic activity. Because once countries start imposing tariffs and retaliatory tariffs and accusing one another of dumping and filing trade complaints with the World Trade Organization (WTO), it's important to really start watching closely to see what those countries do next -- whether they escalate tensions further, or whether they find ways to continue working with one another.
The former can ultimately lead to global contraction, possibly recession and bear market. Recall Smoot-Hawley, which by many accounts was a significant contributor to the Great Depression. Closed markets mean less competition, higher prices and ultimately, less economic activity -- open markets mean overall the opposite.
So the trouble seemingly comes when leaders say one thing and do another. Consider next the following actions various global leaders have taken:
About one month ago, Australia introduced legislation that would impose tariffs on steel imported from South Korea, Malaysia, Taiwan and Japan. This is ironic given that Prime Minister Julia Gillard has recently been emphasizing the degree to which Australia trades with Asia, citing an aim to boost trade with the region to at least one-third of Australian GDP by 2025, compared with one-quarter today.
Brazil's administration is planning on increasing tariffs on some 100 goods -- ostensibly in the name of protecting domestic industry, a common scapegoat for many global protectionist measures.
And China's engaged in tiffs with several parties, including Japan, the EU and the U.S. More recently, China's official news agency, Xinhua, published an editorial exhorting France to abandon encouraging its citizens to buy only "Made in France" goods, (correctly) identifying such language as protectionist. And literally the same day it was reported world leaders are seeking free trade, it was reported China's filed an EU solar subsidy complaint with the WTO.
Granted, the talk thus far has been at most scuffling and more frequently, just rhetoric.
It would most likely require the enactment of many of these protectionist policies, combined with related retaliation -- not just complaints filed at the WTO, either, but actual, retaliatory tariffs or non-tariff barriers to trade -- before we'd start to see true global, economic ramifications.
So we're not to the point this merits serious concern, but it's certainly worth watching, particularly in a world where most often, it's the surprises the market doesn't see coming that cause bear markets, not the concerns everyone knows about, talks about and hears about constantly in the media.
All the more reason, too, when it comes to politicians, it's far more critical to watch what they do than what they say. Words, to our knowledge, have never caused a bear market. Actions certainly have, including, arguably, protectionist moves.
This article constitutes the views, opinions, analyses and commentary of Fisher Investments as of November 2012 and should not be regarded as personal investment advice. No assurances are made Fisher Investments will continue to hold these views, which may change at any time without notice. In addition, no assurances are made regarding the accuracy of any forecast made herein. Past performance is no guarantee of future results. A risk of loss is involved with investments in stock markets.
This article is commentary by an independent contributor, separate from TheStreet's regular news coverage.
This commentary comes from an independent investor or market observer as part of TheStreet guest contributor program. The views expressed are those of the author and do not necessarily represent the views of TheStreet or its management.