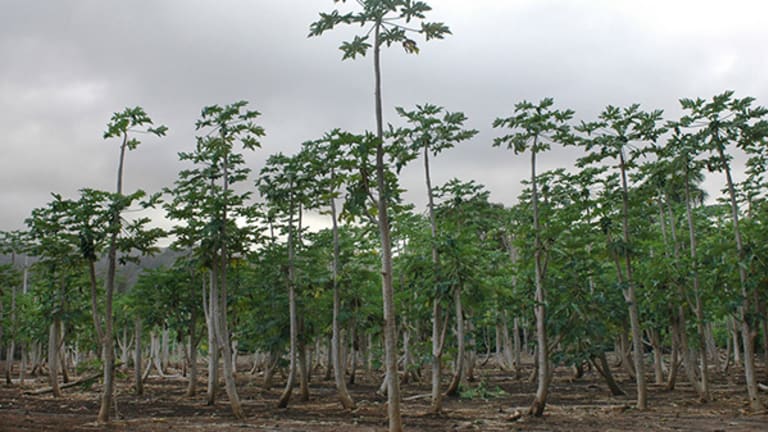 Kauai Ruling a Win for Syngenta, Setback for Environmentalists
A federal judge strikes down a county ordinance that would have subjected agrochemical companies to strict oversight of pesticides and genetically modified crops.
A federal judge strikes down a county ordinance that would have subjected agrochemical companies to strict oversight of pesticides and genetically modified crops.
NEW YORK (TheStreet) -- A federal court ruling overturning the county of Kauai's ordinance on the use of pesticides and genetically modified crops is likely to be only the first shot in Hawaii's ongoing struggle to curb the practice.
Seeking to address the concerns of organic farmers and citizens, Kauai Ordinance 960 required more disclosure from farmers and biotech companies like Syngenta (SYT) and Dow Chemical (DOW) - Get Report  about pesticides and genetically modified crops.
On Monday, in a case brought against the county by bioscience firms including Syngenta, U.S. District Court Judge Barry M. Kurren ruled that the ordinance preempts existing state law. In doing so, Kurren seems to have acknowledged that the supporters of the legislation may have a case.
"This decision in no way diminishes the health and environmental concerns of the people of Kauai," Kurren wrote. "The Court's ruling simply recognizes that the State of Hawaii has established a comprehensive framework for addressing the application of restricted use pesticides and the planting of GMO crops, which presently precludes local regulation by the County."
Contacted for comment on the ruling, Syngenta offered an emailed statement.
Syngenta, BASF, Agrigenetics, Inc. (a company affiliated with Dow AgroSciences LLC), and DuPont Pioneer are pleased with the U.S. District Court for the District of Hawaii's ruling today (August 25) invalidating Ordinance 960 and enjoining the County from implementing or enforcing the law.  As we have maintained from the outset, the state and federal government already have comprehensive regulation of pesticides and GMOs and the County of Kauai has no power to regulate in these areas.
The law required companies to disclose the type and amount of pesticides they use in specific locations. It also set up buffer zones around pesticide-treated fields to protect public areas and required public notification before spraying pesticides. The county would have conducted regular studies to assess the potential effects of pesticide use. Further, all farmers would have had to publicly disclose any genetically engineered crops. The bill also offers penalties, including jail time, for noncompliance.
The bill was hotly contested but passed in October 2013. Some, including the Kauai mayor, objected, saying the county did not have the resources to police the measure. The ordinance was scheduled to go into effect Aug. 16.
Monday's court decision striking down the legislation has immediate ramifications for the state, and could spell trouble for similar measures in the rest of country. Following the passage of the Kauai ordinance, Hawaii County passed a ban on any new genetically modified food crops, which exempts GMO papayas. An initiative on the ballot in Maui County proposes a similar ban. Both measures are now thrown into question. A challenge to the Hawaii ban will be heard by the same judge.
The sponsors of such legislation are responding in part to growing public concern over the risks posed by a class of pesticides known as neonicotinoids, that have been linked to Colony Collapse Disorder in pollinating bees and the decline of bird and insect populations. 
Syngenta ranks third, behind Monsanto (MON)  and DuPont (DD) - Get Report in the commercial seeds business. The company is the manufacturer of thiamethoxam, a neonicotinoid that is the active ingredient in its Helix Xtra and Cruiser seed treatments. Scientific claims are mounting that widespread use of neonicotinoid pesticides is causing damage to wildlife and insects.
Fears regarding genetically modified crops, while widespread, are less easy to justify. While these include potential harm to local, non-GMO plants and crops and ultimately to human health, scientific evidence is slim that GMO foods pose any risk at all. The National Institute of Health, however, acknowledges that while GMO foods are thought to be safe "there has been no adequate testing, however, to ensure complete safety." 
The European Commission, in a report published in 2010, cited 25 years of research and concluded, "There is, as of today, no scientific evidence associating GMOs with higher risks for the environment or for food and feed safety than conventional plants and organisms."
-- Written by Carlton Wilkinson in New York