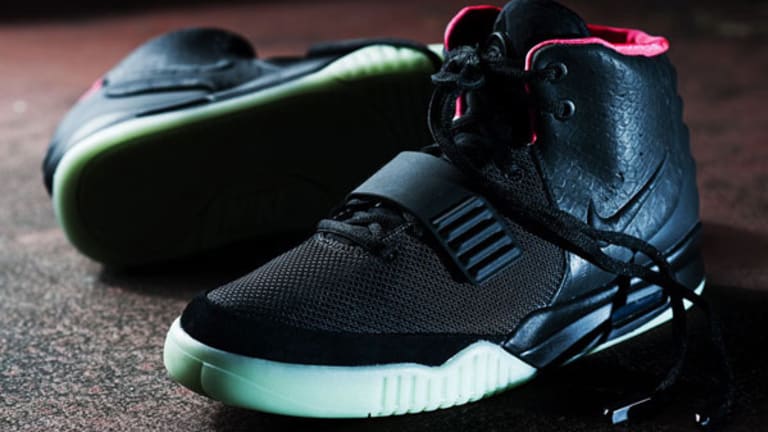 Kanye West: Anger For Sale in a Pair of Red Kicks
An artist with a confusion of intents is making some really interesting music.
An artist with a confusion of intents is making some really interesting music.
NEW YORK (
) -- For Kanye West, confusion isn't a bad thing. His boiling anger, often unfocused, spills over his new album as resentment from the inconveniences of fame fueled by suspicions he is misunderstood by even his most adoring fans.
But messages in "Black Skinhead" and "New Slaves," the two songs he debuted in a fiery appearance on "Saturday Night Live" last week, also include an indictment of crass classism and materialism. Poor and rich, non-fans and fans, black and white with their baggage of underlying racial preconceptions -- hypocrisy is everywhere, in West's eyes.
You see it's broke nigga racism
That's that "Don't touch anything in the store"
And this rich nigga racism
That's that "Come here, please buy more"
What you want, a Bentley? Fur coat? A diamond chain?
All you blacks want all the same things
Used to only be niggas now everybody playing
Spending everything on Alexander Wang
New Slaves
The kicker is that as he is singing that, he's selling his own branded line of $200-plus designer sneakers. West's longtime nickname is "Yeezy" and his shoes, made by
Nike
(NKE) - Get Report
, are called Air Yeezys. The allure of those pricey kicks among his loyal fans is an important factor in the calculations of this album's marketing campaign. West had a pair on his feet on the stage at "SNL," blurring the line between show and commercial.
Now wait -- pop music relies on sales, you say, artists have always shopped themselves to their audiences, like so much commodity. So what's the beef? No beef, at all. Just pointing out there has historically been a Chinese wall between an artist's music and its purely commercial uses. I think West is still firmly on the artist side of that divide, but it's getting to be a tougher call and no denying.
Hype for his new album, like most hip-hop records these days, is also pumped by collaborations. Daft Punk,
with a new album of its own that I wrote about two weeks ago
and Skrillex are said to be among those featured.
>>Also see: Silence From Music Industry on an Issue Bigger Than Royalties >>
Then there's the album's title: "Yeezus." OK, let's all just heave a collective sigh over that one. It's not the first time he's played the great martyr card. West appeared on the cover of the Feb. 9, 2006
Rolling Stone
wearing a crown of thorns. Jesus to his fan-disciples, a prophet, a miracle worker victimized by the media, misunderstood by the masses...we get it.
But he is an artist, after all. So I say, fair enough. Other people have used the Jesus provocation to sell records: John Lennon, who casually told reporters the Beatles were "bigger than Jesus" and then later, in "The Ballad of John and Yoko," put himself very deliberately in the Christ role. Some people will be offended by the title of "Yeezus;" most will not be, but will recognize the peril inherent in such an association, the potential for inadvertent self-parody not the least.
Again, this confusion of messages isn't necessarily a bad thing. For West, it adds to the psychological tension that inspires the best of his music and surrounds his public persona. Complex, volatile, intriguing. It taps into the complexity of our own lives, the contradictions, the frustrations.
That sense of urgency, of danger, is highlighted by the risk-taking in his rap and in the stripped-down arrangements. The music feels taut, like a glass held in a fist, about to shatter. In "Black Skinhead," Kanye unleashes a screaming inner rocker, reminiscent of
, that is totally (and somehow unsurprisingly) convincing. In "New Slaves," he weaves his social commentary in with a thread of raw, egotistical rage in lyrics largely unprintable here.
Some of his points are on the mark, some of them miss. If all of them were specious, it would be hard to like to him. West is the loud, smart friend who mouths off too much; when he leaves, you find yourself saying, yeah, he acted like a jerk but, man, he was right about a few things.
West has dabbled as a clothing designer. Back in 2009, West launched a line of sneakers, Air Yeezys. They became extremely popular. Priced at a little over $200 and only available in select stores for a limited time, resale prices on
eBay
(EBAY) - Get Report
right now are frequently 10 times that.
A new line, called Air Yeezy 2, launched last year with three colors promised and only two released. The third, the all-red Air Yeezy 2, is scheduled to come out about a week ahead of the album, on June 9. That was the shoe West was wearing on "SNL."
>>Also see: Talking About Money Comes Easiest for Gen Y and Breeders >>
One of the simplest promotions for "Yeezus" (the album) came ahead of the "SNL" spot from girlfriend Kim Kardashian -- she once so gloriously famous for being famous and now pregnant with West's baby. Kardashian tweeted an Instagram photo last week that you can see here in a retweet by a fan:
As the writer of the above notes, West was wearing those shoes on his "SNL" appearance last week.
This week, a new shoe rumor has the Twitter waters for #Yeezus churning like a shark frenzy:
From a pure marketing perspective, it just doesn't get any better -- so incredibly well played.
With coupons for the shoes inside the wrapper of a random number of chocolate bars -- I mean, CDs - people are going to be buying CDs by the dozen. Considering the resale potential of these limited-edition shoes, with CDs at $12 a shot, you could buy 100 and still do very well on your investment.
While he pockets something from the retail price, I think it's safe to assume West doesn't usually make any money on the resale. So we have to conclude:
It's a good marketing gimmick. He's aware that some of his more entrepreneurial fans can make money.
That's OK with him.
By the same token, some of his less-savvy fans are going to be ripped off by the entrepreneurial ones. This practice exploits the "new slave" culture he both decries and embraces in his lyrics.
Throughout the rap of "New Slaves" and "Black Skinheads" we hear a confidence underneath all that complaining, a committed hand at the wheel of the emotional turbulence. He yells it out in "Black Skinhead"
Picture me living in the moment
, and later, in the same song,
Runnin' out of time, moving fast/So just close your eyes and enjoy this crash
.
West is carving a direction for himself in broad, deliberate strokes. If it fails, he can walk away with the same cocky arrogance, knowing that he said what he came to say, laid it out there the way he wanted.
So far, though, where "Yeezus" is concerned, it doesn't look like "fail" is a word I would use.
-- Written by Carlton Wilkinson in Asbury Park