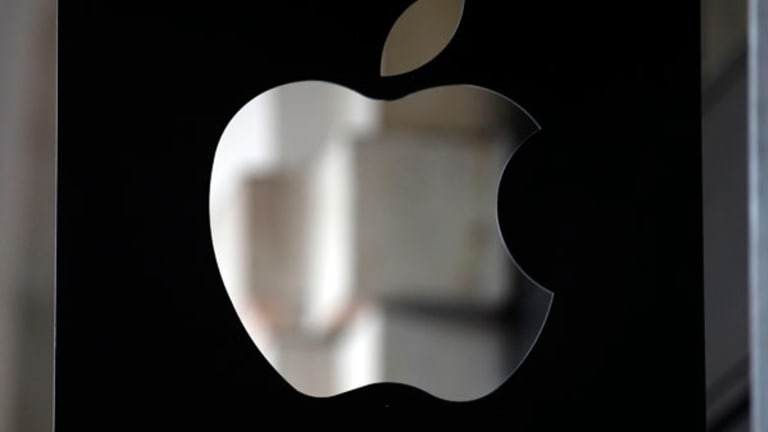 Kamikaze: Apple to $1,600
It's probably not time to load up on AAPL as the dangerous optimism of 2012 begins to infiltrate the blogosphere.
NEW YORK (TheStreet) -- When I was a youngster sneaking into Buffalo bars underage (actually, you didn't have to sneak in; they just let you in), I drank beer or one of three relatively fruity concoctions: Mad Dog 20/20, Alabama Slammer and Kamikaze.
Each of those beverages go down like old-style
Gatorade
. Seemingly two parts sugar, one part alcohol. I'm not sure of the actual composition, but I know this -- they're stronger than they taste, particularly for a relatively lightweight 18-year old with an empty stomach. It's called a Kamikaze for a reason -- they taste so good you can drink them like water, but, by the end of the night, you're wrecked.
There's something similar taking place again with
Apple
(AAPL) - Get Free Report
. This bounce from $420 (nod to the stoners!) has emboldened quite a few folks. They could be setting themselves up for the emotional investor's representation of a kamikaze run.
Also see: 7 Things You Should Be Doing to Live to 100
Gene Munster was back on Tuesday with another Apple TV prediction. And, right here on
TheStreet
, contributor Ernie Varitimos wrote
stating that pursuant to a "close exhaustive technical analysis," he and his team expect the broad market "to explode in the next year or two" along with AAPL.
Price target: $1,600 by the end of 2014.
It's like the last six months or so never happened. We were all stoned waiting for the bottom that every AAPL bull now claims to have called. AAPL pops a few bucks and, all of a sudden, iTV is on the way for the holidays and we're back to $1,000-plus price targets.
With all due respect to Ernie and other AAPL bulls, did we not learn anything from Andy Zaky? Of course
Zaky lost millions of other people's money
-- and I presume a fair bit of his own -- by getting way too long AAPL. And how many other analysts -- pros on Wall Street -- had their clients in a bit too deep just prior to having no choice but to throw in at least part of the towel and knock price targets down?
Also see: How Retirees Can Maximize Their Social Security Payouts
Again, I'm not trying to throw Ernie under the bus here. I like his stuff. I'm glad he's contributing to
TheStreet
, but, it's certainly not out of line to say,
Step back and take emotion out of the equation
.
Technical analysis is all fine and good. It's not my bag, but I respect those who are good at it. But the one thing the best of the best always tell me -- it doesn't mix with emotion.
I'm not sure what an "ABC Corrective Wave" is, but that's what Varitimos, who runs the
, sees on the chart as AAPL bottoms and prepares to take off. Of course, it's not a perfect ABC Corrective Wave because, as Varitimos notes, "Normally the A wave equals the C wave, but in this case the C wave has truncated, turning up just short of the ideal formation."
OK. I dig. You can make the chart sing for you just like researchers with their data and pollsters with their statistics.
Ernie is a self-proclaimed "Apple Evangelist." He anchors his blog with a
YouTube
video tribute to Steve Jobs. And technical analysis tells him to set a price target of $1,600 for AAPL by the end of 2014.
Also see: Cramer Greets the 21st Century: Lango
I'm guessing he would argue that emotion never enters the equation. That we ought to draw a distinction between what the chart objectively tells him from his "evangelizing." I'm certain that's how he feels. Certain that emotion has zero influence on his quantitative analysis. But, really, isn't that the cornerstone of emotion? That, at our most emotional points, we're unable to sense the impact psychology has on our cognitive output?
Maybe Ernie is correct. Maybe Apple will knock public opinion on its ass and soar 203% between over the next 21 months. Maybe. But I'm not sure I would load up on the LEAPS call options or even the common stock just yet. Leave some money on the table. Make sure the anticipated run is real. There's plenty of room between $461 and $1,600.
--
Written by Rocco Pendola in Santa Monica, Calif.
Rocco Pendola is
TheStreet's
Director of Social Media. Pendola's daily contributions to
TheStreet
frequently appear on
CNBC
and at various top online properties, such as
Forbes
.