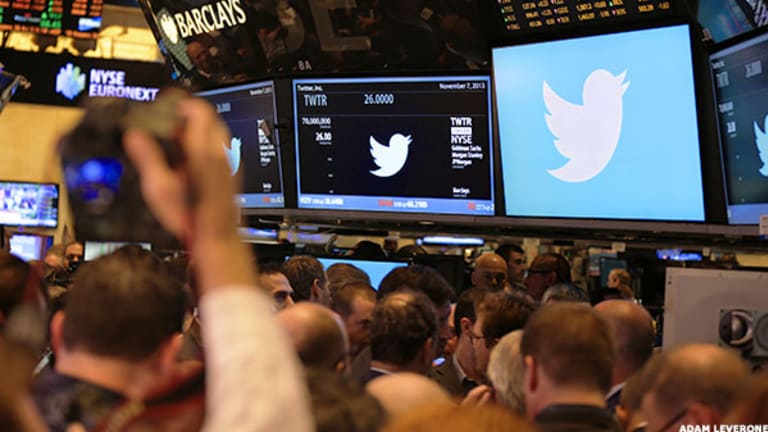 Justin Bieber Isn't Retiring (And Twitter's Probably Not Stopping)
Never a dull moment on Twitter. Not even on Christmas Eve.
NEW YORK (TheStreet) --
What a week for Twitter (TWTR) - Get Twitter, Inc. Report. The stock closed just shy of $70 today, blowing away its all-time high. It's up about 25% over the last five days alone. 79% over the last month. And just under 56% since going public. 
Nobody's quite sure why. 
In fact, Business Insider's Jay Yarow wrote a funny, but completely worthy story Tuesday titled, "For No Apparent Reason Twitter's Stock Has Gone Bananas." In the piece, Yarow quotes an analyst, who claims Twitter has achieved "cult status." 
I don't have a super strong opinion on the stock, other than to say the following:
It never hurts to take profits, particularly on such a massive winner; and 
Twitter can't miss -- not even a little -- on its first earnings report as a public company or things could get ugly fast. 
Now, it could just end up a Facebook (FB) - Get Meta Platforms Inc. Class A Report sort of ugly where everybody freaks out, sells the stock, publications like Barrons put out asinine $15 price targets and, before the reactionaries can remove their heads from their butts, the company adjusts and the stock starts rolling back toward $100. (That's the price target I set for FB back in November 2012; I stand by that prediction and raise you a $100 price target on TWTR!). 
While you have to be cautious (because, again, things could get volatile), don't get caught up in the nonsense and pointlessness of a valuation argument. 
Like other big-name "cult stocks," TWTR and FB continue to hash out narratives that are not only firmly intact, but quite impressive. 
There's something to be said for being the town square. For occupying the space, television used to own. Justin Bieber doesn't call a network or music magazine when he wants to screw around and trigger 100,000 plus RTs. He doesn't have to. And those old-school platforms were never really appropriate for such spontaneity anyway. 
Bieber takes to Twitter. And within a span of 45 minutes, he creates the sort of buzz advertisers want to be a part of. That's real. And it's as good of an investment case as you're going to find in the broad tech space today. Because it's hardly isolated to Bieber. 
It can be widespread and mass appeal. But Twitter hysteria can also target very specific groups of people, something advertisers dig, as evidenced by Pandora's (P) great success selling targeted spots.
For better or worse, Twitter provides value to brands when you might least expect it. Like during this past weekend's Justine Sacco fiasco. 
Gogo
Internet took advantage of the moment, of the spectacle (though it quickly backtracked). Twitter needs to find a way to monetize these moments without making them look like they're being monetized. Or maybe not. The free advertising brands can seize, if they're thinking on their feet, might be enough to get them to drop a few bucks with Twitter on a more traditional schedule. 
In any event, no worries. Justin Bieber isn't retiring. And, while it might get kind of crazy here in the next 1-3 months, I don't think TWTR stock is crashing anytime soon -- or for long -- no matter what the value crowd says.
Rocco Pendola is a columnist for
TheStreet
. Pendola makes frequent appearances on national television networks such as
CNN
and
CNBC
as well as
TheStreet TV
. Whenever possible, Pendola uses hockey, Springsteen or Southern California references in his work. He lives in Santa Monica.