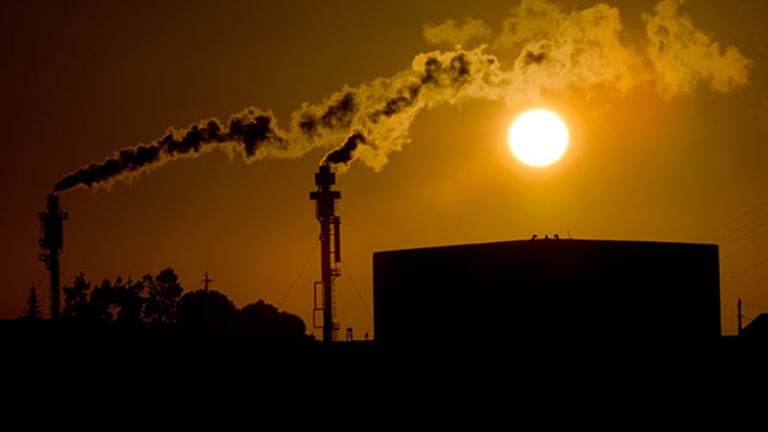 Publish date:
Just Ask Icahn: Transocean Undervalued and Cruising
With a noticeable increase in global energy spending and Carl Icahn's imprimatur, Transocean stock is undervalued by at least 25% relative to its long-term potential.
With a noticeable increase in global energy spending and Carl Icahn's imprimatur, Transocean stock is undervalued by at least 25% relative to its long-term potential.
NEW YORK (TheStreet) -- It wasn't that long ago that offshore drilling giant Transocean (RIG) - Get Report was regarded as one of the better energy-related companies on the market, if not the best. Then the Macondo disaster occurred, which, alongside BP (BP) - Get Report, cast Transocean for villain status after a rig explosion spilled 200 million gallons of crude oil into the Gulf of Mexico.
Transocean also has dealt with several operational issues that impacted efficiencies, not least of which involve unplanned downtime eating into the company's profits. Still, Transocean shares, now trading around $54 per share, have gained 26% year to date, though not because investors are surfing Transocean waves of excitement.
Although the stock looks healthy against rivals such as Cameron International (CAM) and National Oilwell Varco (NOV) - Get Report, 24% of Transocean's rise has come in the past month. In fact, since the stock reached its 2013 high of $59.50 on Feb. 14, shares had fallen by as much as 26%, suggesting investors are still struggling with what to make of this company. If my suspicions are correct, things are about to change.
Namely, activist investor Carl Icahn (who currently owns roughly 5.6% of the company) is bullish. Icahn has an estimated stake approaching $1 billion. I'm not suggesting that Icahn's involvement suddenly makes Transocean a better investment, just that he has not lost many bets.
With better-than-expected results already in hand from National Oilwell Varco and Cameron, it wasn't an issue of whether Transocean would beat estimates, but by how much? Counting third-quarter revenue climbing more than 5% year over year to $2.56 billion, Transocean didn't disappoint. Not only did Transocean beat revenue estimates by $90 million, but the growth in the quarter more-than doubled the performance of National Oilwell Varco, a stock the Street loves to no end.
Goldman Sachs (GS) - Get Report, on the other hand, was not impressed. While citing a variety of concerns, analyst Waqar Syed downgraded Transocean stock to "sell" and set a $50 price target, almost 10% below the current trading value. Among Syed's concerns has been the sudden increase in the stock, something he believes has climbed solely on the basis of the announcement that Transocean will be added to the S&P 500 index.
So, 26% of Transocean's gains occurred over the past month. There is some validity in what Syed is saying; a pullback would not be a surprise. Still, given the broad recovery that this entire sector has started to experience, it seems short-sighted to discount Transocean's improved fundamentals while outweighing technical fears.
Let's not forget this is a company that recently beat EPS estimates by 30 cents a share. Transocean is highly profitable, and management is running a highly efficient operation given that total fleet rig utilization was up 3% year-over-year. It's true that Transocean's costs will likely rise as the company has an aging fleet of rigs, something rivals, including National Oilwell Varco, also face.
It's not as if the current fleet, which posted a 4% increase in average daily revenue, is suddenly falling apart. Long-term capital investments are the lifeblood of this sector. The good news is that Transocean is not lacking the capital needed to fund these improvements. With a backlog that now stands at roughly $30 billion, there's ample supply of cash flow coming in to allow management to not only run the business, but continue its strong dividend paying policy, which currently yields 4.70%.
While Transocean is far from a flawless company, all of the signs are pointing upward. That's not to say there are no longer risks here. But with a noticeable increase in global energy spending, I do see this stock as undervalued by at least 25% relative to its long-term potential.
At the time of publication, the author held no position in any of the stocks mentioned.
Follow @saintssense
This article was written by an independent contributor, separate from TheStreet's regular news coverage.