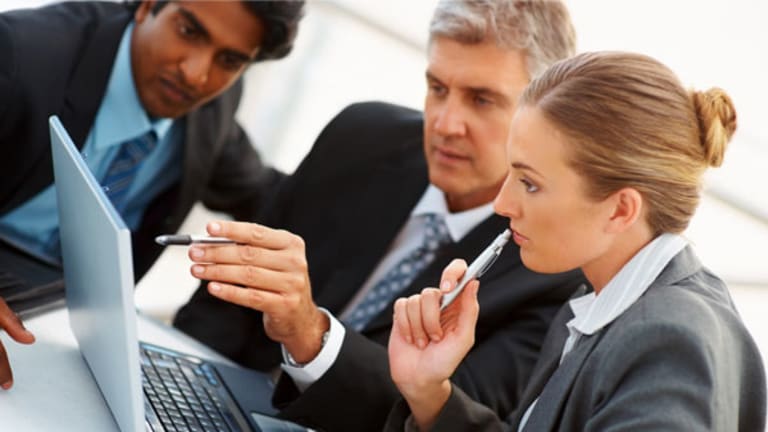 JPMorgan's Dimon Goes From 'Least-Hated' to 'Most-Embarrassed'
The CEO finally loses his credibility with a $2 billion inexplicable loss.
NEW YORK (TheStreet) -- To a lot of writers, JPMorgan Chase CEO Jamie Dimon has been a rock star. To me, he's always seemed more like a very proficient plumber.
I don't mean that in a bad way. Plumbers can be useful technicians when you need an expert who knows how keep the toilet from backing up. Dimon made his way to the top, in part, because he was a guy who did his homework, crunched the numbers, and made it his business to understand, well, the pipes and connections inside a securities firm.
Now he's got a $2 billion problem that's making me wonder if he's even all that good at the detail work that's made him Wall Street's most-cooed-over magazine cover boy.
That glitch would be the $2 billion loss announced Thursday, when the world learned that a JPMorgan hedging strategy had gone haywire, the result, in Dimon's words, of "errors, sloppiness and bad judgment" by his underlings. It was a whiplash-inducing turnaround from what he'd said only a month before. On April 13, when questioned during a quarterly conference call about reports of a JPMorgan "whale" who had made large credit-default swap bets, Dimon sniffed that it was all "a tempest in a teapot."
We could easily forgive Dimon and his firm for messing up in an area that so many others have messed up in before, if only Dimon hadn't made it his business to be Wall Street's noisiest critic of the Volcker Rule section of the Dodd-Frank Wall Street Reform and Consumer Protection Act.
Dimon told
Fox News
in February that Paul Volcker, namesake of the rule that seeks to rein in speculative investments by banks, is a guy who -- ahem -- doesn't understand capital markets. And he poked fun at the Volcker proposal for its discussion of whether a bank trader's "intent" was to do risky proprietary trading or market making, which Volcker allows. Under the rule, "we have to have a lawyer, a compliance officer, a doctor to see what their testosterone levels are, and a shrink," he said.
His Wall Street pals have no doubt been happy to have Dimon doing the heavy public relations lifting to fight the Volcker Rule's hateful restrictions. But you've got to wonder how they're feeling about their Volcker-bashing colleague today. Ripple effects of the news swept through financial stocks, with
Goldman Sachs
losing as much as 4.5% and
Morgan Stanley
down 5.8%. JPMorgan shares tumbled as much as 9.9%.
As financial shares are falling, Dimon's reputation is taking a big hit too. But the question is whether he'll successfully summon his formidable PR skills to recover. He has, up to now, been a darling of the financial press, even making the cover of
The New York Times
magazine in December 2010 for his standing as "America's Least-Hated Banker." Don't strain your brain to try to think of the last time that the least-hated anything was deemed worthy of 8,000 words, because Dimon has special status. The story noted that he puts "a rare emphasis on transparency" at the bank. And that he has been an exception to the rule among Wall Street's leaders because of his "radar for trouble." Uh-huh.
Adoring reporters have sung his praises as far back as 1996, when Dimon was hailed as "Smith Barney's Whiz Kid" on the cover of
Business Week
. Dimon "does the behind-the-scenes grunt work to make it succeed," the story gushed of Smith Barney's CEO. Testimony to his masterful PR is that nowhere in that 3,000 word story was there so much as a mention of the stunning, headline-grabbing sexual-harassment lawsuit against Smith Barney known as "The Boom-Boom Room" case that had been filed only five months before.
That is not to say, though, that Dimon is not sensitive to discrimination. He took to Smith Barney's in-house squawk-box system a month after that "whiz kid" cover story to assure the troops that the firm was "committed to equal employment opportunity," though he was careful to add that those efforts would be based on meritocracy. And he noted that the vulgar branch manager who'd been in charge of the Garden City, N.Y., office known as the "Boom-Boom Room" was put on a leave of absence after an investigation and "soon after retired." In classic have-your-cake-and-eat-it-too style, Dimon added that "the retirement had nothing to do with the lawsuit whatsoever." So he brought up the retirement because ...?
You can't really blame an executive who figures out how to wring every drop of good press out of his every accomplishment, right down to getting kudos for being the least-hated best of a despised batch. What has been offensive to watch, though, has been how aggressive Dimon has been in defending the banks after taxpayers paid the bill for the financial crisis. He told Charles Gasparino of
Fox News
in January that banks should not be taking blanket blame. "I don't like that," he said. "I think that's just a form of discrimination that should be stopped." Would somebody send an urgent memo to the Equal Employment Opportunity Commission on this?
Whether Dimon bounces back or becomes Wall Street's new Lloyd Blankfein won't be clear until enough time has gone by to know if JPMorgan's losses are limited to what we learned about this week. One bet I'd put money on in the meantime: It's going to be a very good summer for the crisis-communications biz.
Susan Antilla is a freelance writer and columnist at Bloomberg View.