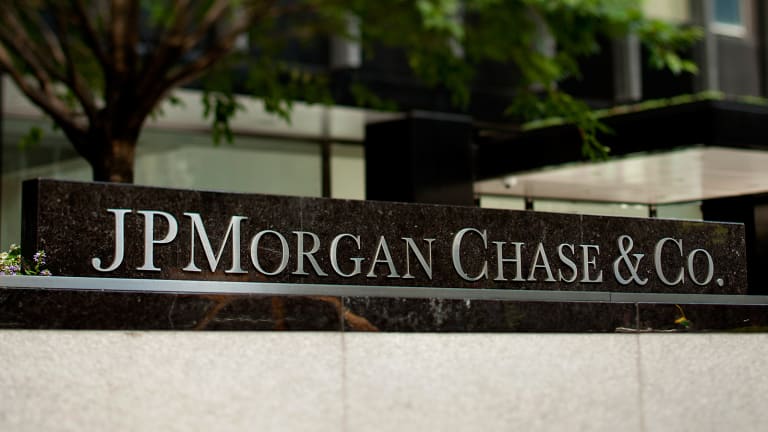 JPMorgan: A Good Way to Play Defense Ahead of Earnings Season
While JPMorgan stock remains relatively expensive, the valuation premium is probably justified by the quality of the company's fundamentals, particularly ahead of an earnings season that could prove turbulent for the banking sector.
A mixed bag of macroeconomic data, including worse-than-expected job creation in June and declining home sales that followed a rosier landscape earlier in 2019. A swift reversal in monetary policy, from hawkish to neutral and possibly dovish. Trade policy concerns that come and go ahead of key executive leadership meetings and following each Presidential tweet.
This is the backdrop against which U.S.-based companies will begin reporting their second quarter results in July.
Even if it seems like every earnings season may be "the most important in a while," the upcoming one will probably be particularly telling. This is certainly true for the banking sector, traditionally more sensitive than most to the health of the economy and the direction of interest rates.
Plenty of Moving Pieces
Given the uncertainties, JPMorgan (JPM) qualifies as perhaps the safest way to invest in the financial services space going into second quarter earnings. The company has been successful at generating sector-high revenue growth, supported largely by an expanding consumer asset base, and combining it with an industry-low overhead ratio to produce a return on invested capital that hovers around the high teens.
JPMorgan is scheduled to release second quarter results on July 16, ahead of the opening bell. Important to monitor will be the results of and any forward-looking commentary around net interest income. The lower interest rate environment was received with skepticism by financial services investors, in part as a result of the pressures that the recent developments could have on margins -- especially on deposits, a key area of strength for JPMorgan earlier in 2019. But historically, the company has managed its profitability levels well, and it will be looking to ease margin concerns in the second quarter.
That said, JPMorgan is still exposed to what will likely be a challenging capital market business. In the first quarter, fixed income revenues fell off a cliff against tough 2018 comparisons, with the equity sub-segment not performing much better. The shakeup in monetary policy and the consequent market moves may have boosted trading activity. Yet, it is not a given to assume that the company's corporate and investment bank division as a whole will fare much better this time.
Lastly, the generally lumpy banking arm of the company could remain under pressure. Early 2019 headwinds caused by Brexit, the government shutdown and last year's market volatility have been replaced with uncertainty around trade and monetary policy. In the first quarter, JPMorgan still managed to grow advisory fees despite a declining general market. The bank will now be faced with the challenge of maintaining non-interest revenue growth afloat in the face of a macro environment that, aside from home-based IPOs, still looks largely unfavorable for investment banking activity.
Playing Defense Might Make Sense
As the narrative above suggests, second quarter earnings season may not be a walk in the park for JPMorgan. But neither should it be for its key peers. Relative to the sector, I continue to believe that JPMorgan is better suited to face the potential troubles ahead compared to players like Citigroup (C) .
While JPMorgan stock remains relatively expensive, trading at 11.3x current-year earnings, the valuation premium is probably justified by the quality of the company's fundamentals, particularly ahead of an earnings season that could prove turbulent in the banking space.
JPMorgan and Citigroup are holdings in Jim Cramer'sAction Alerts PLUS Charitable Trust Portfolio. Want to be alerted before Cramer buys or sells these stocks? Learn more now.
The author has no positions in any stocks mentioned in this article.