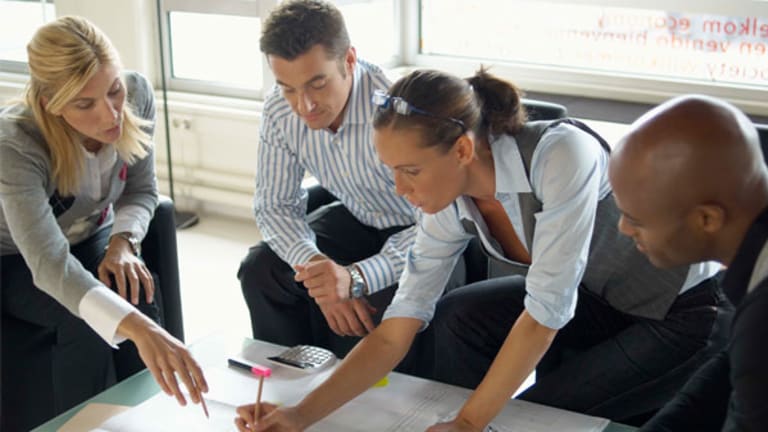 JPMorgan, Intel Do What J&J Couldn't: Today's Outrage
If the market got to pick its starting lineup for earnings season, <B>JPMorgan</B> and <B>Intel</B> would have been out before <B>Johnson & Johnson.</B> Dow 10K here we come!
NEW YORK (
) -- If the market got to pick its starting lineup for earnings season,
JPMorgan
(JPM) - Get JPMorgan Chase & Co. Report
and
Intel
(INTC) - Get Intel Corporation Report
would have been out before
Johnson & Johnson
(JNJ) - Get Johnson & Johnson Report
.
With better-than-expectedthird-quarter profit of $3.6 billion, or 82 cents a share,
JPMorgan just keeps printing money
, especially with its investment banking business.
There's a U.S. market rally in those numbers alone. But wait, there's more.
Overnight Intel also offered up better-than expected earnings of $1.9 billion, or 33 cents a share, and is being cited around the globe for pushing up stocks in other world markets. Sure, profit actually fell, but
Intel was smart enough to offer an upbeat outlook.
Forget about the hesitation in U.S. markets yesterday, courtesy of
The bulls will be back in force today and the bears will be running for cover. This market just wants to rise. Dow 10K is on the horizon and everyone is determined to get there, this week if they can.
Sure, the markets are out in front of the economic recovery, but there's no reason the consumer won't catch up eventually. If market enthusiasm translates into corporate optimism, we may see more hiring too.
I keep hearing from folks in the market that I have worried unnecessarily about the market going too high, too fast and that I needn't fear a correction caused by some future realization that the economy isn't keeping up with investors.
So today I am giving a big cheer for optimism and the hope that retirement accounts everywhere will soon be back where they once were.
Banks are making money and the tech sector is readying for a rebound.
It seems that everything is back to normal after a nightmarish year that we are all ready to forget.
I hope so.
--Written by Glenn Hall in New York.
Di you know you can get TheStreet.com on your
Kindle?
Glenn Hall is the New York-based Editor in Chief of
TheStreet.com
. Previously, he served as deputy editor and chief innovation officer at
The Orange County Register
and as a news manager at
Bloomberg News
in Frankfurt, Amsterdam and Washington, D.C. As a reporter, he covered business and financial markets, worked in both print and television in the U.S. and Europe, and conducted in-depth investigative coverage at
The Journal-Gazette
in Fort Wayne, Ind. His work also has been published in a variety of newspapers including
The Wall Street Journal
,
The New York Times
and
International Herald Tribune
. Hall received a bachelor's degree in journalism and political science from The Ohio State University and a certificate in project and program management from Boston University.