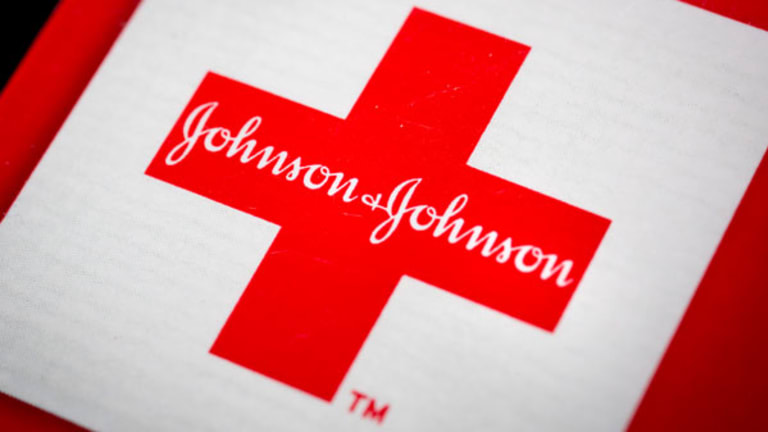 Johnson & Johnson's Stock Looks Too Healthy
JNJ's performing well, but it's hard to justify more upside from these levels given the recent rate of growth.
NEW YORK (TheStreet) -- While I have always liked health-care giant Johnson & Johnson (JNJ) - Get Johnson & Johnson (JNJ) Report, it's hard to recommend taking a position at these levels.
The stock is already up more than 22% on the year and trading at a price/earnings ratio that is more than twice that of rival
Abbott Laboratories
(ABT) - Get Abbott Laboratories Report
and eight points higher than
Pfizer
(PFE) - Get Pfizer Inc. Report
.
Although Johnson & Johnson remains an undisputed force in health care, this has not been a flawless operation. The company's reputation is still in "recovery" after having dealt with some bad PR related to product recalls.
Now, there are new worries about Johnson & Johnson's organic growth. While I do believe these fears are overblown, JNJ's first-quarter report didn't exactly reduce that level of distress, even though the stock price presumes "all is well."
As with JNJ's fourth-quarter report, there were more missed opportunities in the first quarter although the company posted revenue of $17.5 billion, which grew 8.5% year over year, in line with expectations. However, at solid as the 8.5% growth appears, on an organic basis that number was slightly above 3% when adjusting out the contribution from Synthes, which JNJ acquired last year.
While the Synthes deal has certainly nursed JNJ's business back to health after some chronic pains, I'd admit it's unfair to discredit the company's overall performance, given that management had the vision to realize that Synthes would have been a great deal. Nevertheless, on an operational basis, with Synthes the revenue was up 10%. Domestic sales grew slightly above 11%, while international sales posted gains of more than a 6%.
>>Also see: Next for GM: New Luxury Pickup, Lower Earnings, Flat Share Price >>
The Pharmaceutical business contributed handsomely this quarter, growing 11% on an operational basis year over year. JNJ's flagship drugs, including Zytiga and Xarelto, were solid performers. However, the majority of the sales were domestic, outpacing international growth by more than two to one. This isn't cause for concern but a better balance would work wonders for organic growth.
Consumer sales were sedated, growing at just 2% year over year although sales were 1% better on an operational basis. Management attributed the positive results to over-the-counter products such as Tylenol and Motrin while also citing better uptake in baby care and skin care product such as Neutrogena.
The Medical Devices and Diagnostics business, however, continue to be a major source of investor angst. Bulls are at ease that worldwide sales increased 14% year over year, including double-digit growth performances in both the domestic and international businesses. That's all well and good. And here, too, management's vision on the Synthes acquisition looks solid. But without Synthes, the Devices numbers are not as breathtaking.
Profitability was also mixed. Although there was a slight sequential improvement, margins continue to disappoint. After gross margins fell by 135 basis points in fourth quarter, margins fell again this quarter by more than a full point, missing Street estimates. But management was able to offset this with a reduction in expenses, which helped advance operating income and earnings per share by 8% and 5%, respectively.
>>Also see: Attend These College for the Highest Starting Salaries >>
This quarter did little to damp any optimism about Johnson & Johnson's long-term prospects. In the near term, however, investors will likely remain nervous about JNJ's organic growth while demanding improvements in the medical devices business. But it seems far-fetched to assume that management won't turn things around, given JNJ's strong global presence.
What's more, JNJ's strong drug business should keep growth going for the next several years. Management has done a better-than-adequate job over the past couple of years building the company's pipeline of products, many of which are now contributing to the bottom line. Zytiga and Remicade are perfect examples.
But I wonder how JNJ will respond to increased competition and further threats of weakening margins.
Companies including
Medivation
(MDVN)
, which has a strong oral medication drug that rivals Zytiga, should not be taken lightly. This is where JNJ's extraordinarily well-diversified business should offset potential near-term headwinds.
Bottom Line
Johnson & Johnson's valuation is the only thing preventing me from falling in love with the stock. However, take that away and you would be hard-pressed to find a safer pick in this market strictly from an operational and fundamental perspective.
While I have no doubt JNJ should continue to put up decent growth numbers (on a relatively basis), I'd feel much better if margins were on the opposite trajectory.
JNJ's not a great buy at this point, but the stock's an excellent hold.
At the time of publication, the author held no position in any of the stocks mentioned
.
Follow @saintssense
This article was written by an independent contributor, separate from TheStreet's regular news coverage.
Richard Saintvilus is a private investor with an information technology and engineering background and the founder and producer of the investor Web site
. He has been investing and trading for over 15 years. He employs conservative strategies in assessing equities and appraising value while minimizing downside risk. His decisions are based in part on management, growth prospects, return on equity and price-to-earnings as well as macroeconomic factors. He is an investor who seeks opportunities whether on the long or short side and believes in changing positions as information changes.