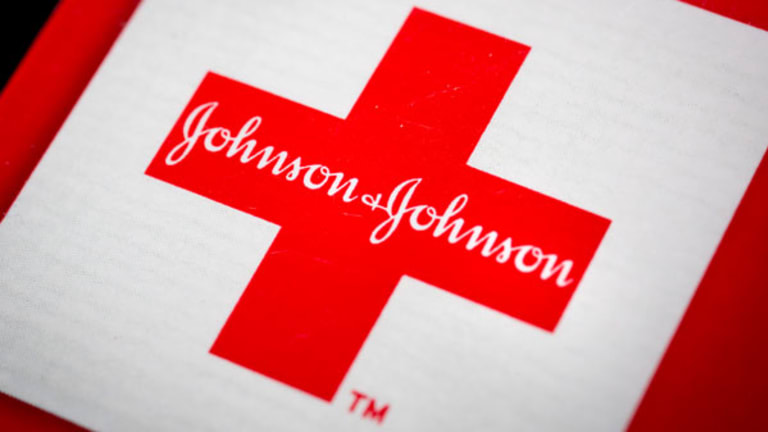 NEW YORK (TheStreet)) -- Despite concerns about organic growth, and what many pundits consider to be "diminishing productive balance" within its various business segments, Johnson & Johnson (JNJ) - Get Johnson & Johnson (JNJ) Report, whose stock is up close to 40% year to date, remains a top-notch player in Big Pharma. Just in case you were wondering.
I won't deny the fact that Johnson & Johnson's drug business continues to do most of the pulling, but I am -- nonetheless -- impressed by the meaningful improvements management has made in areas like orthopedics and medical devices.
While these improvements won't immediately threaten the market share established by Abbott Labs (ABT) - Get Abbott Laboratories Report and Stryker  (SKY) - Get Skyline Champion Corp. Report, JNJ investors should be pleased with the year-over-year and sequential growth.
[Read: Pretend You Are Investing in Fantex, Not Arian Foster or Vernon Davis]
That said, with the stock having already secured such healthy gains, these shares, which now carry a price-to-earnings ratio that is more than twice that of Pfizer (PFE) - Get Pfizer Inc. Report, are not cheap. However, if JNJ's recent earnings report serves as any indication, I wouldn't be in a rush to sell either.
The company delivered third-quarter revenue of $17.58 billion, which exceeded Street estimates of $17.46 billion. As has been the case for most of the year, the company's better-than-expected revenue performance, up roughly 3% year over year, was again led again by its strong drug business, which grew 11%.
Leading the way was Johnson & Johnson's best-seller Zytiga, which surged more than 70% year over year. As evident by the 30% sequential growth, it's beginning to look as if management has found a winner in Xarelto. This is JNJ's blood thinner that has begun to threaten Bristol-Myers Squibb's (BMY) - Get Bristol-Myers Squibb Company Report top-selling alternative Eliquis.
Not to be outdone, Johnson & Johnson immunology and oncology drug, which was up 13% and have proven very effective among cancer patients, gives the company advantage over Merck and Sanofi (SNY) - Get Sanofi Sponsored ADR Report, especially given the inroads JNJ has made in cancer, and now with type-2 diabetes drug Invokana.
[Read: Your Commute Is Killing You]
Despite the fact that Invokana has been on the market only a few months, it continues to steal existing products share from both Merck and Sanofi -- but that wasn't all good news. For instance, while I'm willing to credit management for advancing Johnson & Johnson's other segments, such as cardiology and surgery, noticeable weaknesses in areas like medical devices and the consumer business still linger.
Although JNJ has posted solid growth in devices this year, more than 80% of that growth has been partly due) to Synthes, which the company acquired last year. JNJ bulls hate it whenever the "organic growth" argument is raised, since it measures a company's operational performance, while removing external factors -- such as acquisitions.
In the July quarter, JNJ's devices business posted a solid 12% year-over-year revenue growth. On an organic basis, however, growth was actually less than 2% when adjusting Synthes' contribution. This quarter was no different as the devices business grew less than 1% on an operational basis.
Meanwhile, the consumer business which is still working to overcome past product recalls that have damaged the company's reputation, managed only 2% year-over-year growth. That was enough to meet estimates but was essentially flat from the July quarter, which also posted 2% growth. This is one of many reasons why I've called for better diversification and organic growth, especially given the fact that the stock carries a significant premium when compared to its peers.
With non-GAAP earnings climbing more than 11% year over year, easily beating the consensus estimate, it was still a strong quarter for Johnson & Johnson. The strong consistent profits are the main reasons why the Street cares very little about "obscure" details like organic growth. That the stock sits close to its 52-week high means that expectations are still lofty for the company.
The good news is: Not only does Zytiga and Xarelto continue to grow in popularity, but diabetes drug Invokana now gives JNJ a strong healthy pipeline to continue posting the sort of profits the Street has come to expect. Not to mention, there are no near-term concerns about expiring patents. To that end, despite what I believe to be a fairly-valued stock, JNJ's strong dividend yield of 2.9%, and its attractive balance sheet, means investors won't die in the waiting room.
At the time of publication, the author held no position in any of the stocks mentioned.
Follow @saintssense
This article was written by an independent contributor, separate from TheStreet's regular news coverage.