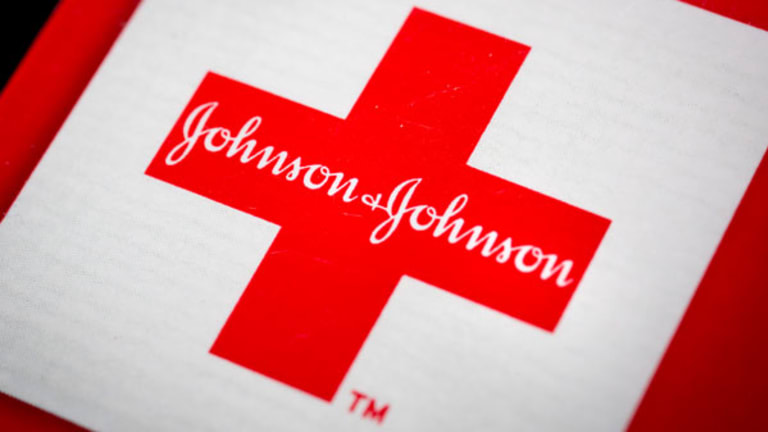 Johnson & Johnson Gets Key Cancer Drug With Aragon Buy
This was a deal Johnson & Johnson had to make, as it puts pressure on its smaller rival Medivation.
NEW YORK (TheStreet) -- The last time I talked about health care giant Johnson & Johnson (JNJ) - Get Johnson & Johnson (JNJ) Report I said the stock looked "too healthy".
Aside from concerns about the company's valuation, I didn't feel comfortable about Johnson & Johnson's margins; nor did I feel that the company's top-selling drug, Zytiga, was the answer to long-term prosperity.
My biggest source of anxiety stemmed from the competition for which Johnson & Johnson seemed to be unprepared. One threat was from
Medivation
(MDVN)
.
:
"I do wonder, though, how JNJ will respond to increased competition and further threats of weakening margins. "Companies like Medivation -- which has a strong oral medication drug that rivals Zytiga -- should not be taken lightly. This is where JNJ's extraordinarily well-diversified business should offset potential near-term headwinds."
>>Also see: Five Stocks for Your Kid's Portfolio >>
Well, it's taken two months but investors have finally gotten some answers. On Monday, Johnson & Johnson announced it agreed to acquire privately held
Aragon Pharmaceuticals
for $650 million in upfront cash. It may pay as much as $1 billion if certain milestones are met.
The deal gives Johnson & Johnson rights to Aragon's ARN-509, a prostrate cancer drug now in Phase II development. That may weaken Medivation, whose drug Xtandi has become a dominant force in battling prostate cancer.
Medivation has been fighting Aragon to keep ARN-509 off the shelves, suggesting that Medivation holds the rights to the drug -- claims that have led to legal action.
In the middle of all of this has been Aragon, which has had difficulty financing ARN-509's development. But with Johnson & Johnson, financing will not be an issue. Medivation's management, which now sees potentially faster development of a competing drug, understands that.
But they also understand that ARN-509 will complement Zytiga's strengths and give Johnson & Johnson the ability to take on new approaches to treat prostate cancer patients that Johnson & Johnson would have otherwise not considered. That forces the hand of Medivation, which is not in a position to take risks.
I'm not suggesting Johnson & Johnson has effectively killed any of Medivation's growth potential. The deal is just one move in a long chess game. Plus, the purchase still has to pass regulatory approval -- although I believe it will.
In the meantime, Medivation still has legal pieces it can play, even if that only serves to sedate Johnson & Johnson's momentum. But will it matter?
Given that Johnson & Johnson is willing to pay a king's ransom for ARN-509, it's highly doubtful the company intends to lose out in any court case, especially since Medivation would still need to prove that it is the right-holder of the drug.
>>Also see: Timeshare Scam Tips >>
Investors shouldn't overreact here, however. Given Xtandi's market dominance, it's premature to speculate that Medivation would immediately lose market share if and when ARN-509 receives approval from the Food and Drug Administration.
Granted, Johnson & Johnson has deep pockets, but money has rarely mattered when it comes to the FDA. Plus, we can rule out the possibility that both Xtandi and ARN-509 can be successful at the same time. There's precedent here.
In the meantime, some will question the merits of this deal and its structure and will wonder if Aragon is worth $1 billion. For Johnson & Johnson, which has close to $22 billion in cash, this was a deal it had to make.
As I noted in my last article mentioned above, as important as cancer drug Zytiga is to Johnson & Johnson's recovery, the company needed better diversification and leverage. This deal offers that and more. It was dangerous to assume that Johnson & Johnson could live by Zytiga alone. Management agreed. Accordingly, the stock is now a buy.
At the time of publication, the author held no position in any of the stocks mentioned
.
Follow @saintssense
This article was written by an independent contributor, separate from TheStreet's regular news coverage.
Richard Saintvilus is a private investor with an information technology and engineering background and the founder and producer of the investor Web site
. He has been investing and trading for over 15 years. He employs conservative strategies in assessing equities and appraising value while minimizing downside risk. His decisions are based in part on management, growth prospects, return on equity and price-to-earnings as well as macroeconomic factors. He is an investor who seeks opportunities whether on the long or short side and believes in changing positions as information changes.