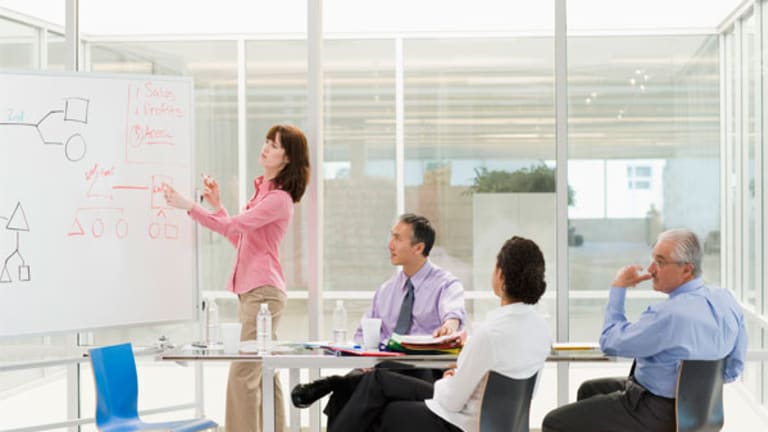 Johnson & Johnson CEO is Out, but not Gone
Marek Fuchs, senior contributing analyst at TheStreet, questions JNJ's "step forward."
NEW YORK (TheStreet) -- In replacing the CEO, did
Johnson and Johnson
(JNJ) - Get Johnson & Johnson Report
take a step forward or only march in place? Neglecting to mention a big caveat, Seeking Alpha, like most of the media, framed the replacement of CEO Bill Weldon as pure progress.
But a funny thing can happen on the way to progress...especially when the CEO stays on as chairman.
That's right: Weldon will no longer be CEO. He is not, however, letting the door hit him on the way out. That's because he is staying on as chairman, exerting influence, second-guessing, hatching long-term strategies. Does this condemn J&J to failure? Of course not. But it raises challenges--and steps on the easy story line that J&J is simply moving forward. That's why the media should mention Weldon staying and traders, who were never enamored of him, should factor it in. The man is like furniture.
Seeking Alpha failed. It ran a headline: "J&J CEO Switch is a Necessary Step Forward." But didn't mention Weldon's plans to stay as chairman, even when they noted that the "trouble with assessing CEO decisions is that only a small group of people know how decisions are made." I'll say. And quite often the chairman makes them.
Marketwatch doesn't say anything about Weldon's chairmanship either, even though they note that J&J has only had 8 leaders in 126 years. The new CEO, Marketwatch warns, will "face some big tasks." Isn't the major task dealing with one of those 8 leaders--perhaps the least productive--staying on as chairman?
The New York Times got it right: "J&J Chief to Resign One Post." For traders who wanted Weldon gone, it's important to remember: he's not. One post down, one to go.
At the time of publication, Fuchs had no positions in any of the stocks mentioned in this column.
Marek Fuchs was a stockbroker for Shearson Lehman Brothers and a money manager before becoming a journalist who wrote The New York Times' "County Lines" column for six years. He also did back-up beat coverage of The New York Knicks for the paper's Sports section for two seasons and covered other professional and collegiate sports. He has contributed frequently to many of the Times' other sections, including National, Metro, Escapes, Style, Real Estate, Arts & Leisure, Travel, Money & Business, Circuits and the Op-Ed Page.
For his "Business Press Maven" column on how business and finance are covered by the media, Fuchs was named best business journalist critic in the nation by the Talking Biz website at The University of North Carolina School of Journalism and Mass Communication. Fuchs is a frequent speaker on the business media, in venues ranging from National Public Radio to the annual conference of the Society of American Business Editors and Writers.
Fuchs appreciates your feedback;
to send him an email.