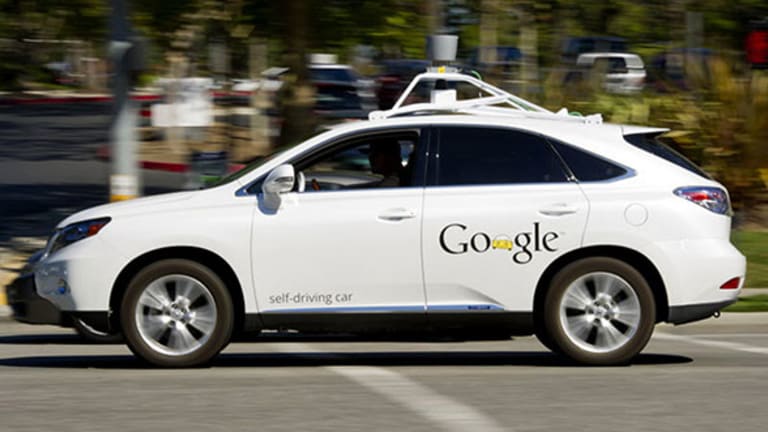 John Krafcik's Hire Adds Credibility to Google's Autonomous Car Project
Krafcik brings a wealth of experience to Google's automotive project.
Krafcik brings a wealth of experience to Google's automotive project.
NEW YORK (TheStreet) -- Google (GOOG) - Get Report (GOOGL) - Get Reporthired John Krafcik, 53 years old, an auto industry veteran and most recently president of TrueCar (TRUE) - Get Report , to run its automotive project as CEO. Krafick brings a broad array of experience, knowledge and connections to the tech giant.
With Krafcik's arrival, Google will be better positioned, if it chooses, to commercialize its autonomous car project. In that case, Krafcik, who was chief executive of Hyundai Motor America (HYMLF) ,  would be able to recruit specialists from across the spectrum of automotive manufacturing and technical disciplines. 
"Krafcik has one of the best Rolodexes in the business," said an industry executive who requested anonymity. 
A Google executive for the first time disclosed last week that the company is considering building vehicles on its own. 
TrueCar released a statement saying that Krafcik's last day of work will be Wednesday and that he will remain a director of the company. Mike Guthrie, chief financial officer, will take over Krafcik's duties as chief operating officer during a search for a new CEO. The company's founder and chief executive officer, Scott Painter, in early August agreed to step down at the end of the year following poor second-quarter financial results. 
Google's intentions have been a source of auto industry speculation since work on the autonomous car project was launched in 2009 and became public shortly afterward. Google hasn't announced collaboration with another car company or plans to build its own vehicle, but its demonstrations and experiments on California roads and highways have spurred global automakers to accelerate their own autonomous-car projects. 
After earning a mechanical engineering degree at Stanford University in the early 1980s, Krafcik went to work for the Toyota (TM) - Get Report and GM (GM) - Get Report manufacturing joint venture in Fremont, Calif., in the process learning Toyota's "lean manufacturing" system, which transformed the auto industry, among others. 
"I desperately wanted to go to work in the [car] industry to design cars," Krafcik told the Los Angeles Times last year. "That's what I felt I was put on the Earth to do." 
After earning an MBA at Massachusetts Institute of Technology, he designed trucks, vans and SUVs for Ford (F) - Get Report for 14 years. Then he returned to the West Coast to lead Hyundai, helping to transform the Korean automaker from an also-ran to growing force in the U.S. market. Hyundai let Krafcik go nearly two years ago after his contract expired. He said he remains on good terms with the automaker. 
Google, which began experimenting with Toyota vehicles rigged with sensors and equipped with special software, has rolled out small purpose-built autonomous pilot vehicles for further testing. Simultaneously, global automakers such as Volkswagen, Toyota and General Motors have introduced features into conventional models that could be regarded as precursors to fully autonomous vehicles. Among these features are adaptive cruise control, lane departure controls and automated emergency braking. 
On Monday, 10 automakers said they will introduce automated emergency braking into their vehicles, without specifying when.
Doron Levin is the host of "In the Driver's Seat" on SiriusXM Insight 121, broadcast Saturday at noon and Sunday at 9 a.m.
The writer has no financial interest in the aforementioned companies.