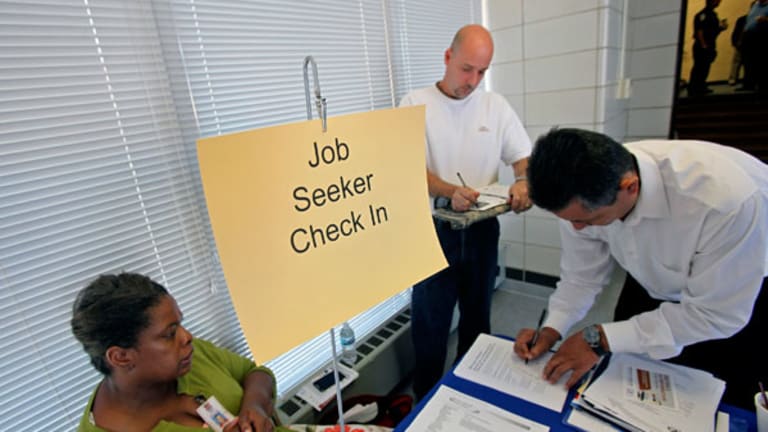 Jobs Report Shows Companies Are Hiring, But Not Giving Out Raises
Enough jobs, and the right kind of jobs, but no raises. On the bright side, the report may mean lower interest rates for a longer time
NEW YORK (TheStreet) -- It's a perfect jobs report -- almost.
The economy added 248,000 jobs in September, the Labor Department said Friday. Even better was the kind of jobs -- 16,000 in construction, 12,000 in government and 22,700 in health care -- the kind of middle-wage jobs that were missing earlier in the recovery.
Watch the video below to see what Mark Zandi, Chief Economist at Moody's Analytics, thinks of the latest jobs report:
The unemployment rate, which dropped to 5.9%, stands in sharp contrast to the 10% rate that was reached in September 2009. We haven't quite cut that in half, but it's getting closer. And full employment, by the standard of a 5.5% jobless rate, is only two or three months out.
But wages didn't grow at all in September, and year-over-year growth slipped back to 2%, which is just above the rate of inflation, defying outlier predictions that the third quarter would be when paychecks began to move. That may just be because the cold winter delayed the economy's progress by a few months, or it may mean there is enough slack in the economy (read, so many part-time workers who really want full-time jobs) that real wage growth is still a ways away.
For investors, the wage piece of the jobs report is great short-term news. It's the right result to justify a lower-for-longer approach to interest rates, because there is really no sign of labor-cost inflation anywhere in this report.
If the Federal Reserve is trying to decide whether to have its first rate hikes in March or June, the September jobs report argues strongly that there is no rush. The party isn't nearly heated enough to take away the punch bowl.
"(Thirty-eight) pages and the Fed saw one number -- zero wage growth," Regions Financial (RF) - Get Regions Financial Corporation Report chief economist Richard Moody said in an e-mail .
On Main Street, the short term isn't so sweet. Financial panics cause real pain. Median family incomes are still about 6% below their pre-recession peaks, adjusted for inflation. There are still about 2 million more people than usual working part time and looking for full-time work.
The stubbornness of low wage growth is raising questions about what it will take to finally move incomes higher. The working assumption here has been that they would move as the nation moved closer to 5.5% unemployment. That still might happen, National Retail Federation chief economist Jack Kleinhenz said Friday.
And full employment, by this standard, may still arrive before the end of the year.
Or pay raises might wait until more of the part-time workers find the full-time jobs they want. Look at the government's U-6 rate, which adds up unemployed and underemployed workers, as well as those marginally attached to the labor force. That's at 11.2%, which is still three percentage points above pre-recession lows. U-6 peaked at 18% in January 2010.
In the meantime, Kleinhenz says, the economy has pockets where people can get raises, in hot occupations or cities, but not enough overall.
Over time, you want wages to be rising more than they are now. Even 1%ers should want more money in workers' pockets. That's good for demand, which is good for companies that want to sell cars such as Ford (F) - Get Ford Motor Company Report and General Motors (GM) - Get General Motors Company Report , or that want to sell houses such as D.R. Horton (DHI) - Get D.R. Horton, Inc. Report , or that sell capital equipment such as Boeing (BA) - Get Boeing Company Report , General Electric (GE) - Get General Electric Company Report and Oracle (ORCL) - Get Oracle Corporation Report .
Demand is the ultimate fuel that makes the market run. The low interest rates Wall Street has fixated upon are, lest we forget, just a means to that end.
At the time of publication, the author held no positions in any of the stocks mentioned.
This article is commentary by an independent contributor, separate from TheStreet's regular news coverage.