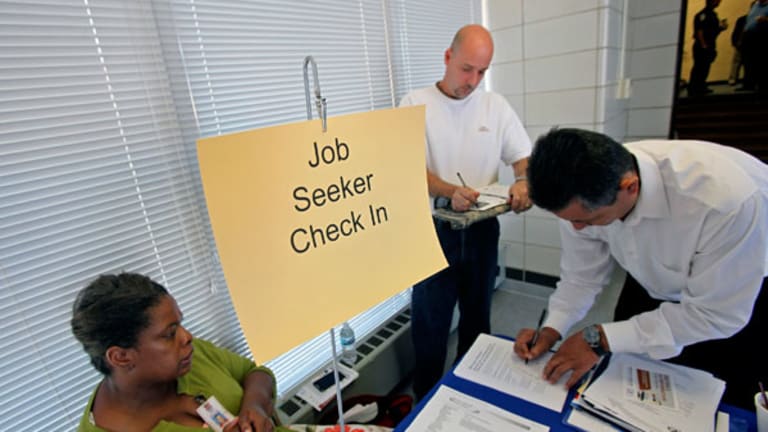 Jobs and the Economy: What Today's Numbers Mean
The U.S. economy had a much better second quarter, and July hiring was pretty good. But the impact of the long slump is still there. The Fed will stand pat.
NEW YORK (TheStreet) -- The economy had a much better second quarter than most experts thought, and July hiring wasn't bad either -- at least in most sectors.
The government reported that gross domestic product grew at a 4.0% annual rate between April and June, reversing a first-quarter drop that was revised to a narrower 2.1% decline. And payroll-processing firm (ADP) - Get Automatic Data Processing, Inc. Report reported that private employers added 218,000 jobs in July, missing forecasts by about 12,000-17,000 depending on the survey. But the number is still close to the 225,000 per month pace of the last year and the jobs market is noticeably warming up, Moody's Analytics (MCO) - Get Moody's Corporation Report chief economist Mark Zandi said.
"We're on a pace for almost 3 million jobs," created this year, said Zandi, whose firm runs ADP's surveys of employer data. "That's a pretty good year by any historical standard. 

TheStreet's Joe Deaux has details on what the latest GDP numbers mean for investors:

WATCH: More market update videos on TheStreet TV | More videos from Joe Deaux

What has happened is fairly simple: Businesses are more confident and investing a little more. Investment accounted for more than half of the GDP gain. Governments spent a little more, and consumers kept doing broadly what they have been doing.
The whole picture proves (again) that the two least-consistent links in the recovery remain business investment and especially housing investment. When they work, the recovery works. And when they don't, we get the wobbles that have come to be familiar since the economy began climbing out of its post-2007 hole.
Right now, both of those are doing OK, but not remarkably well. And especially with housing, the recent data has been wobbly, with poor reports on both new home sales and building permits, as well as news this week that contracts to buy existing homes dipped in June after a strong May. That took a notable toll on housing stocks like D.R. Horton (DHI) - Get D.R. Horton, Inc. Report and Pulte Group (PHM) - Get PulteGroup, Inc. Report.
"Normally the launching pad is housing, and a strong recovery in housing," said Mike Schenk, chief economist at the Credit Union National Association
The investment news could be better, since two-thirds of the money was spent on building up inventories rather than buying equipment or expanding R&D. But equipment investing did accelerate, as growth companies like Athenahealth (ATHN) - Get Athena Technology Acquisition Corp. Class A Report and Twitter (TWTR) - Get Twitter, Inc. Report poured especially-notable amounts of money into expansion. And that is where growth and jobs ultimately come from.
Still, the news could be better from housing.
The weakness in housing and goods production, like manufacturing, accounted for more than half of the drop in hiring growth from June's 281,000 new jobs. Construction added only 12,000 jobs, down from 24,000 in ADP's survey last month. And goods-producing companies added 16,000 jobs, down from 43,000 in June. The economy will really heat up if housing construction does, since new home building is still less than half of its pre-recession peaks.
The weakness in housing and the stop-start recovery in manufacturing will keep the Federal Reserve from moving soon to raise interest rates, Zandi said.  Wage growth is still weak, and even with the unemployment rate near 6%, millions of part-time workers who want full-time work (and aren't counted as unemployed) still need places to land, he said.
Net it out, though, and the news is pretty good. Schenk says the economy will grow at a 3% clip in the second half and 3.75% next year.
Consumer confidence has picked up notably in recent reports, and Schenk points out that the country has its oldest stock of durable goods like furniture and appliances since World War II. Like housing, the durable goods cycle gives the recovery an obvious place to find its next stage of growth. And if wages pick up, as Zandi says could happen by next year and some data suggest is already happening, then this recovery everybody has complained about could begin to feel pretty good after all.
At the time of publication the author had no positions in stocks mentioned, although positions may change at any time.
This article is commentary by an independent contributor, separate from TheStreet's regular news coverage.