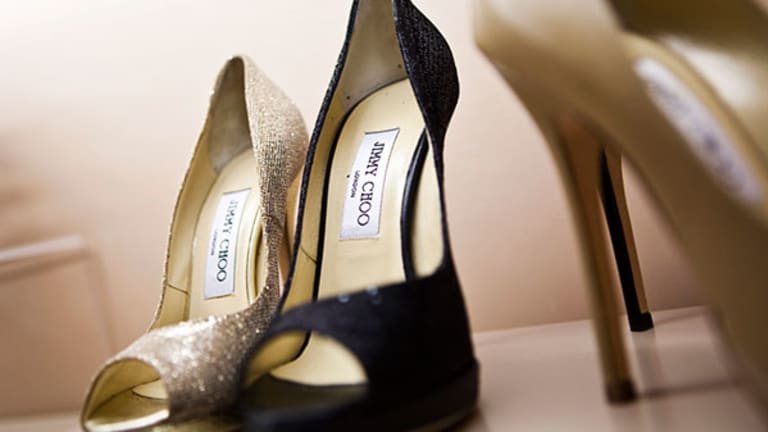 Jimmy Choo IPO Will Bring a Touch of Luxury to UK This Autumn
As Jimmy Choo becomes the third luxury fashion brand behind Burberry and Mulberry on the UK market, where's the sector headed?
NEW YORK (TheStreet) -- Jimmy Choo's impending arrival on the London Stock Exchange promises to bring an established brand, a new market and a touch of glamour to the UK market. But where will it fit in, and what are the prospects for the luxury shoemaker?
On both sides of the Atlantic, 2014 has been a remarkable year for IPOs. With the sheer number of floats each week, and with the Alibaba (BABA) - Get Alibaba Group Holding Ltd. Report excitement well behind us, it's easy to dismiss new floats in the last few months of the year.
Founded in 1996 by its namesake, Jimmy Choo has grown to become a brand feted across the world and worn by the likes of Diane Kruger and Kate Middleton. Now it hopes to add itself as another luxury success story to the UK market, joining Burberry (BBRYF) and Mulberry.
IG's grey market currently suggests a valuation of around 725 million pounds for Jimmy Choo. That places it broadly in line with its rivals' profit multiples and would give it a value slightly below that of Mulberry's 750 million pounds, and half of Burberry's 1.47 billion pounds cap. Perhaps more importantly, it would place the company's value at the end of day one on the markets above the media reported range of 546 million pounds to 702 million pounds.
Jimmy Choo competes with numerous fashion houses, mostly in the eurozone, but its sole focus on shoes makes it somewhat unique. Cristian Louboutin, its closest rival, is privately owned.
Much is made of the luxury sector's ability to thrive even during tough economic times, as high-end fashion company's client bases are typically less affected by austerity measures. That was certainly true during the period directly after the recession from January 2009 to July 2011, when LVMH (LVMUY) grew 173%, Christian Dior (CHDRF) 181%, Tod's over 200%, Burberry 612% and Mulberry an astonishing 2200%. This, in a period when major indices where either stalling or dropping in value.
However, that growth was largely due to expansion into Asian markets that were still reporting healthy economic growth as the West waned. Now, the global picture is somewhat different and as China and its neighbors' growth slows, appetite for luxury fashion has diminished. In 2014; Tod's, Mulberry, Christian Dior and LVMH have all lost value. Burberry managed to hold its value, but reported little growth.
Jimmy Choo indicated that raising funds for Asian expansion is a key reason for its IPO, so investors will be hoping that either Jimmy Choo can circumvent the problems of other major fashion brands, or that the malaise in Asia ceases. The de-escalation of the situation in Hong Kong is good news, and a lack of further negative headlines from Asia in the run up to its IPO would be a boon for the float's success.
So luxury fashion has shown an ability to grow hugely in recent years, but has then shown some worrying weakness since. The ability of Burberry to stand firm as other companies have fallen off should provide a good example for Jimmy Choo, however, and the company's uniqueness, respected brand and strong recent growth could well mean a strong start on the markets. Whether that is the case or not, the small, traditional and un-hyped nature of this IPO should provide sharp contrast to Alibaba last month.
At the time of publication, the author held no positions in any of the stocks mentioned.
This article is commentary by an independent contributor, separate from TheStreet's regular news coverage.