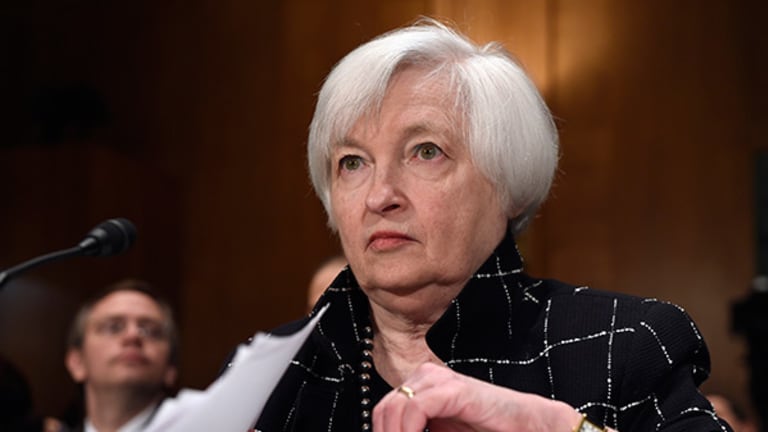 Jim Cramer: The Best Way to View the Fed's Rate Hike Outlook
Jim Cramer and Jack Mohr discuss the Federal Reserve's interest rate policy and how it impacts the U.S. dollar, oil and stocks.
Just a few weeks ago, the Federal Reserve struck a dovish tone that allowed investors to let out a sigh of relief when it comes to future rate hikes.
The Fed lowered its rate strategy from four hikes in 2016 to just two, and also lowered its long-term inflation expectations due to global uncertainty, explained Jack Mohr, research director of the Action Alerts PLUS portfolio.
However, a "mini rebellion" had been building after several non-voting Fed presidents said Fed Chair Janet Yellen is being too easy when it comes to the rate hikes, added Jim Cramer, co-manager of the Action Alerts PLUS portfolio.
Instead of two rate hikes, this group is hoping for three increases this year, he said, which allowed the dollar to rally over the past few sessions. Cramer's still expects just two hikes this year and Yellen helped reiterate those feelings on Tuesday, despite some good results from homebuilders as of late. 
Before this small revolt began taking place, the dollar had been in steady decline against other currencies, oil prices had rallied over 33%, and stock prices were on the move higher. Investors started to ease up once the fear of too many rate hikes subsided.
Mohr explained that the fed funds future rates is pricing in less than a 15% chance for an April hike -- likely even lower now following Yellen's comments -- and less than a 50% chance of an increase before June. 
Currently, investors are banking on an increase in September, followed by another in December. But Mohr and Cramer cautioned investors not to put too much credence into those assumptions, given how far away it is. 
If the Fed were to raise rates in June, their consensus is that bank stocks would rally, while energy and cyclical stocks underperform. The dollar would also climb and oil prices would likely come under pressure.
At the time of publication, Cramer's Action Alerts PLUS had no position in companies mentioned.