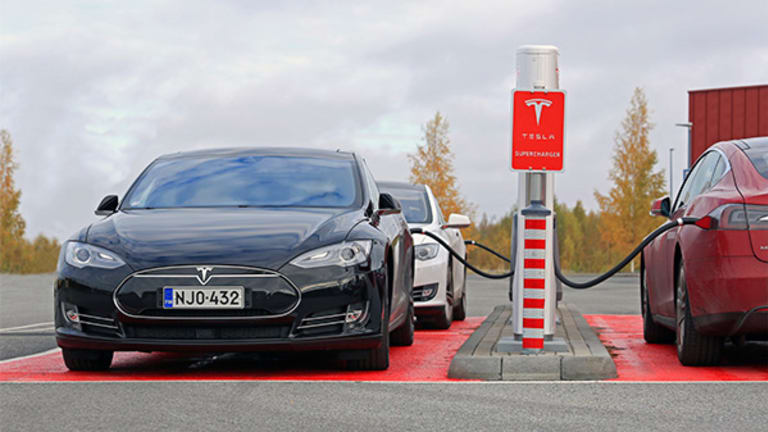 Jim Cramer: Tesla's New Master Plan Won't Matter, the Stock is 'Heavily Shorted'
Tesla's Elon Musk reportedly pulled an 'all-nighter' to complete a 'master product plan,' but Jim Cramer says the plan won't really matter because the stock is 'heavily shorted.'
Tesla (TSLA) - Get Tesla Inc Report  CEO Elon Musk reportedly pulled an "all-nighter" on Tuesday to complete the electric car maker's "master product plan," but TheStreet's Jim Cramer said that for investors the plan won't really matter because the stock is "so heavily shorted."
"It doesn't really matter -- this stock is so heavily shorted," Cramer said on Wednesday. "It can't be borrowed, thank you Doug Kass for giving me that information."
"Remember they had a big secondary [offering] - it was gobbled up. Tight as a drum, Tesla," Cramer said.
On Tuesday, Musk tweeted:
The new master plan will reportedly will include how the acquisition of SolarCity (SCTY) fits with Tesla. Musk expects the deal to pass by two-thirds shareholder majority, according to The Wall Street Journal. The tweet left many speculating that further details on this plan may be revealed Wednesday. Back in 2006, Musk wrote a comprehensive blog post, detailing what now has become the Model S and Model X vehicles.
At press time no plan has been revealed yet, but Musk followed up with a tweet earlier Wednesday saying:
Shares of Tesla were rising 1.1% to $227.90. The stock is down 5% in 2016.