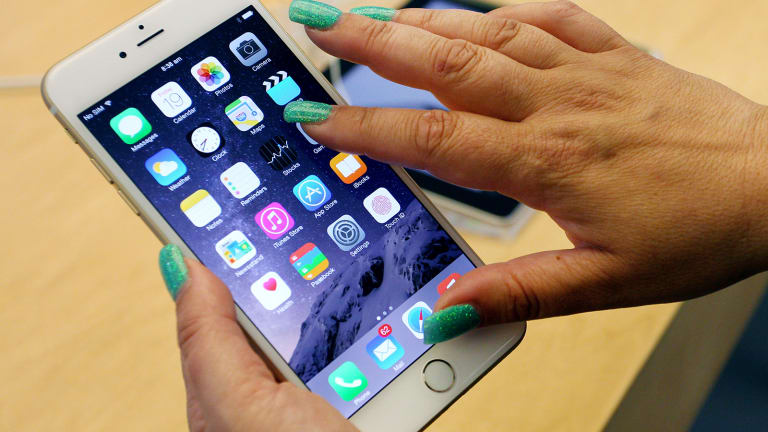 Apple's Weakness Is Temporary Ahead of iPhone 7, Cramer Says
TheStreet's Cramer said 'it's all about getting in ahead of the iPhone 7.'
As Apple (AAPL) gets set to report its latest quarterly earnings on Tuesday, TheStreet's Jim Cramer sees the tech giant's stock as a value play ahead of the release of its next iPhone.
The expected debut of the iPhone 7 later this year could be a boon as iPhone sales are expected to drop this quarter. Apple observers could knock a poor performance as saying the current phone, in its sixth generation, could have run its course, said Cramer, manager of the Action Alerts PLUS portfolio, which owns Apple.
Apple shares ticked down slightly Tuesday morning to $104.31 per share.
"People are going to say, 'wow, holy cow, look at the way the iPhone dropped, the cycle's over for the [iPhone] 6,'" Cramer said, adding later "it's all about getting in ahead of the iPhone 7."
Apple Insider notes the device could launch the device in September, and that it could include a thinner design and a faster processor, and potentially get rid of the headphone jack on its current and preceding versions.
"It's a value play. Value plays are very much en vogue," Cramer said. "Usually, a value play means the numbers are going to be not that great and you'll think that the multiple [to cash], which was at 10, turned out to be too high, but that's kind of the way it's played."
Sunday marked the one-year anniversary of the debut of Apple's latest gadget, the Apple Watch, which some onlookers have been bearish about.
However, The Wall Street Journalreported that Apple Watch sales estimates doubled the iPhone's initial performance. The news outlet reported projections of 12 million watches sold over its first year on store shelves, as compared to the iPhone's 6 million in first-year sales. Unnamed sources said Apple is looking at providing cellular data connectivity for the Apple Watch.
"I'm looking for a new iteration of the watch that you don't need the iPhone for," Cramer said. "Maybe longer battery life, that would be terrific, but I love my watch."
Apple on Friday posted a note on its developer site announcing that all apps for the high-tech wrist wear must be native, meaning new apps must be built to run as stand-alone entities on the Apple Watch as opposed to requiring the iPhone.