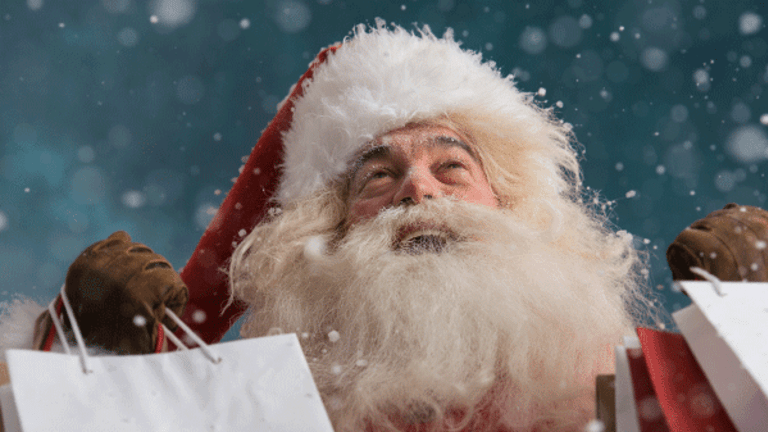 Jim Cramer's Pool
My annual holiday tribute to TheStreet (with apologies to Dr. Seuss).
(This column originally appeared on Real Money Pro, our premium site for Wall Street professionals and active traders.)
As another year passes, it's time to revisit my annual tribute to Jim Cramer's vision -- a missive that I write in my diary every year a few days before Christmas and Chanukah.
Remarkably, at the conclusion of 2016, I will have served as a regular columnist for TheStreet's Real Money premium site for 17 years. That's a lot of words, ideas, music lyrics and investment observations.
I actually started writing for TheStreet back in 1998 (almost 19 years ago) when I penned a column called The Contrarian. At the time, the site was a relatively new concept and a real-time experiment that struggled in its infancy. But it began to flourish even as the economy and markets suffered in 2001.
We've not only dealt with the market's ups and downs since I started writing for "El Capitan" Cramer, but also have shared some of life's experiences together through visits, e-mails, telephone conversations and other personal correspondence.
I've defended Jimmy, I've written a piece called On Jim Being Cramer and I've transformed myself at times into the "Anti-Cramer." I've agreed and sometimes disagreed with him -- all the while with the maximum respect for Jim as a businessman, investor, friend, author, media figure and most importantly as a dad (like myself).
Over the nearly two decades that I have been writing we've all experienced some terribly emotional times, most notably the tragedy of Sept. 11, 2001, and the resulting loss of contributor Bill "Budman" Meehan and many of our dear friends. We mourned together.
There were more tragedies in the last two years in Paris, San Bernardino and elsewhere. I have shared subscribers' and my own personal tragedies since the late 1990s. As painful as some of this has been, we recover and life goes on. But we also have shared each others' successes and some wonderful personal and family events together.
We're now about to celebrate Chanukah and Christmas, and the new year will be upon us shortly. So, it's time to revisit my annual tribute to Cramer.
This tribute and my annual 15 Surprises List (coming up in the next week) are my favorite columns of the year. But this year's version has more meaning to me than the others, as I just passed my four-year anniversary of surviving cancer and I seem to be growing more reflective as time flies.
My first grandchild also was born a bit over two years ago, while 2016 marked some terrific personal successes and achievements for my two sons. I hope next year promises even more good news. It's these life experiences that make me even more thankful this year.
A few paragraphs couldn't possibly communicate the warmest of feelings that I have about many of my acquired relationships -- with subscribers, with contributors, with editors, with TheStreet management and, of course, with Jim -- that are at the heart of it all.
As I always write in my diary's comments section -- to my haters and lovers alike -- "We're all on the same team." In the end, we all want to make thoughtful, intelligent and carefully analyzed investments that yield superior results. We're hopeful that the pages of TheStreet, Real Money and Real Money Pro provide you with that ammunition.
Several years ago, I initiated something different in order to express my sincere thanks and to wish everyone a wonderful holiday season in my own special way. As I now do on an annual basis, I offer you the following (updated) parody of Dr. Seuss' McElligot's Pool. This is my holiday present to all of you, but it's especially in honor of someone who has had another remarkable encore performance in 2016 -- the indomitable Jim "El Capitan" Cramer.
This year we saw Cramerica continue to conquer new worlds. Jim hit it out of the park when he followed up his previous MVP seasons with yet another banner year. His interviews with corporate managements are always well-researched and add value. His columns are insightful and differentiated; he deals with market volatility with an earned perspective and a quiet cool. And his growing stable of books all represent a unique body of work as well: Jim Cramer's Getting Back to Even, Jim Cramer's Stay Mad for Life: Get Rich, Stay Rich (Make Your Kids Even Richer), Jim Cramer's Mad Money: Watch TV, Get Rich, Jim Cramer's Real Money: Sane Investing in an Insane World, Confessions of a Street Addict, You Got Screwed! Why Wall Street Tanked and How You Can Prosper and Jim Cramer's Get Rich Carefully.
And, most importantly, "El Capitan" tied the knot last year with a wonderful woman, Lisa Detwiler ("The Mrs.").
Jim is the lifeblood and at the epicenter of TheStreet and its sister sites Real Money and Real Money Pro. My fondness for him is well-known and was expressed by me and thoroughly discussed in my book, Doug Kass on The Market: A Life on TheStreet, in which he wrote a beautiful foreward. (Please consider its purchase as a holiday present, as the royalties go toward medical research on two rare children's diseases!)
Over the past few years, the man who doesn't want to make friends but does want to make you money has introduced the words "skeedaddy" and "booyah" and made them part of the investment world's vernacular. Jim has graced the cover of national magazines and has become an iconic figure. As such, he stands out night after night with non-stop enthusiasm and hard work, giving his best shot in dispensing advice in a reasoned and well-researched manner (both absolutely and relative to others in the media).
Being such a public persona with strong opinions, Jim is often the target of criticism (especially on Twitter). I admire his work ethic and the way he accepts mostly undeserved criticism like a man, as well as the manner in which he fights back with facts, figures and such an immense, rich reservoir of financial history and knowledge.
Over the past several years, in numerous e-mails, telephone calls and one-on-one meetings (on and off the set), I've learned to appreciate Jim as an investment professional and, more importantly, as a man and a dad. His drive for perfection has resulted in huge sacrifices, but you wouldn't know it because he doesn't say it. Jim easily could be reaping the benefits of managing a multibillion-dollar hedge fund today, earning an annual income of tens of millions (if not more). Instead, he strives to educate the individual investor.
How many of us would choose the road that Jim has unselfishly traveled?
I remember fondly that after I first wrote Jim Cramer's Pool, Jim told me he had read my poem to his two daughters at bedtime. They were very young back then, and this made me very happy and sentimental. (I actually shed a tear when he e-mailed me the news.) In doing so, Jimmy made my gig on TheStreet even more worthwhile because I know how central his daughters are to his life (as my two sons are to me).
If you look hard at Jimmy, there's always a twinkle in his eye. Behind the exterior, it's all about his daughters and their importance and influence in his own life.
To turn Gertrude Stein's words around a bit: In Jimmy, there's a lot of there there. Trust me, I know. Jim is complicated. It is what makes Jim the special person he is. Frankly, I just admire and love the guy. I don't know how to express my admiration any better.
So, from the "Anti-Cramer" to the one and only real Cramer, this Bud's for you, Jimmy. Thanks for being my pal. I feel fortunate to have you as a part of my life. The subtle manner in which you guide me past my mistakes and your constructive criticism (designed to help me not repeat those mistakes) have made me a more thoughtful scribe and investor. And you have made me a better man.
Before I deliver this year's version of Jim Cramer's Pool, I wanted to close by wishing our subscribers, editors, technicians, management and my fellow writers a healthy and prosperous new year.
I especially wanted to thank you all for granting me the wonderful platform to present my ideas and logic in my diary -- as goofy, distorted and wrong-footed as my words might seem at times.
Now ... on to Jim Cramer's Pool! With apologies to Dr. Seuss:
It all started in June 1996
In a building on Wall Street ... far, far away.
"Young man," exclaimed the analyst,
You're sort of a fright!
You'll never catch winners
On Jim Cramer's site!
'The site is too small.'
And you might as well know it,
When brokers sell junk,
Here's the place that they throw it.
'But listen, young man.
If you sat 50 years
With your worms and your wishes
You'd grow a long beard
Long before you'd catch winners!'
'Hmmm...," answered Cramer,
"It may be you're right.
I've written for hours
Without one single bite.
There might be no winners.
But, again, well, there might!
"Cause you never can tell
What goes on over time!
This site might be bigger
Than you or I find!
"This might be a site, like I've read of in textbooks,
Connected to one of those underground brooks!
An underground river that starts here and flows
Right under 14 Wall! And then ... well, who knows?
It might keep going along, down where no one can see,
Right under the State Highway Two-Thousand-and-Three!
"Right under the buildings! Right under the toes
Of a honcho named RevShark, who's hanging out his clothes!
It might keep on flowing ... perhaps, who can tell?
Right under the people in TST's Chairman Larry Kramer's hotel!
Right under Brown Brothers, where they're playing croquet!
Then under the mountains and far, far away!
"This might be a river, Now mightn't it be,
Connecting Jim Cramer's site with the sea!
Then maybe some winners might be swimming toward me.
(If such things could be, they certainly would be!)
"Some very smart strategists might point out the way
To the site where I'm fishing. And that's why I say
If you wait long enough; if you're patient and bright,
Who knows what you'll catch on Jim Cramer's site?!
"You might catch an English one (that's Carleton by name!)
You might catch a Callaway (he's our new CEO!)
You might catch some editors "Marky Mark" Dodosh, Obie and Jerry "Garcia" Kronenberg from Woodstock. A long, long drawn-out fish!
"You might even catch a Katz, 
A Norman or Laudani!
You even might catch a pickle-like Fitzpatrick
A Berman and an Arms
Many a chart they'll both fill!
"Any kind! Any shape! Any color or size!
You might catch some winners that would open your eyes!
I won't be surprised if a LaKosh appears!
Complete with a collar and long floppy ears!
Whoofing along! And perhaps we might chase
A whole lot of right straight to this place!
"You might catch a Price -- yeah that Price is usually right (!)
Or a Carolyn Boroden
With a precision-like tail!
You might get hot with a "Burn Baby" Byrne
Who makes portfolios sail!
You might catch some Robert "not Rita" Moreno!
Who's a high-stepping winner.
You might catch a Bret, is he
"Meet George Jetson's" kid?"
"You might catch a Gad (Zooks!)
With that incredible pen
For producing the models
That winners portend.
You might catch a sensible Sebastian from The Lovin' Spoonful
An Arnold or a Lang
Or even a Collins ("not Judy or Phil," but a Tim!)
Who is really sporty!
"You might catch a Morrow, a Graff or a Garner
Now mightn't you, now!?!
You might catch a Versace (not the designer, you fool!)
Whose ideas pay for my chow.
Some fish from London.
Like Real Money Pro -- so hot,
Might decide to sign up!
Well they might, might they not?
"Or racing up north for a chance to get right,
Full steam ahead for Jim Cramer's site
Some lucrative winners
Like my 'fav, 'The Divine Ms. M.'
From beyond Hudson Bay
Might decide to swim down,
She might be headed Jim's way!
It's a pretty long trip,
But they might, and they may.
"You might catch a Morrow
An Oprita or a Owusu.
Or even travel 'Downtown' with a Jack Mohr
Well, you might. It depends.
A long-twisting CNBC-chatting Daniel Dicker (Oil vey!)
With a lot of strange bends
And, oddly enough,
With some gasoline on both ends!
"One doesn't catch this kind of winner as a rule,
But the chances are fine in Jim Cramer's pool!
"You might find a Ponsi 'Scheme'
An observer with muscle,
Might grab at your bait,
Then would you have a tussle!
"To land one so valuable might take two or three hours,
But the next might be easy,
Like Jhonsa, who likes flowers
Or you might catch a winner
From a stranger place yet!
Like Sozzi, from the world's highest river,
In far-off Tibet.
"You might catch a Blitz
And a biggie named Melvin
Both spouting their spouts
And all earning a bounty.
"You'll probably catch many more writers
Like an "Eagle-Eyed" David Katz and a Ben "Goldfinger" Cross
And, oh by the way,
Did I mention an 'Ask Noah?'
"Then you'll stop for the day
'Cause there's nothing that's bigger
Than Jim's site, so they say.
"Still, of course, it might be
That there is something bigger!
"Oh, the site is full of a number of oldies,
Like "Chief" Jay Somaney,
Widlitz, Carter, Raschke, Graf and Shreve
And a new one, named Heller
If a subscriber is patient,
He might get many more winners!
"And that's why I think
That we all get really bright
As we sit here and read
On Jim Cramer's site!"