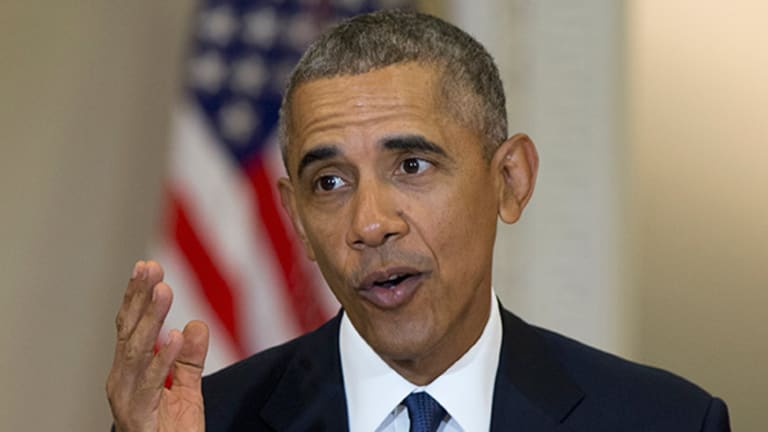 An era came to a close Saturday night after President Barack Obama temporarily became the nation's best-known standup comedian for the last time as he delivered his eighth and final monologue at the White House Correspondents' Dinner.
In the president's performance, which earned high marks from many, including Action Alerts Plus Portfolio manager Jim Cramer, no public figure could find a refuge from ridicule. The dinners' attendants had a laugh at the expense of everyone from Democratic presidential frontrunner Hillary Clinton to Republican National Committee chairman Reince Priebus.
According to a transcript of the outgoing executive's remarks, Obama poked fun at Clinton's speeches before Goldman Sachs (GS) - Get Goldman Sachs Group, Inc. (GS) Report. Clinton, who made appearances before investment banking titan in 2013, has been attacked on the campaign trail for the $675,000 in speaking fees she received.
"If this material works well, I'm going to use it at Goldman Sachs next year. Earn me some serious Tubmans," Obama said, alluding to the recent announcement Harriet Tubman will appear on the $20 bill.
"I think when it comes to timing, when it comes to delivery, when it comes to just the excitement of what President Obama does," Cramer said, "He uses [the monologue] to get both sides. So anyone who is saying, 'well, listen, he's just jabbing the Republicans,' totally untrue."
Obama went after the GOP nomination battle, where New York real estate mogul Donald Trump appears to be on the cusp of securing the nomination outright.
"GOP Chairman Reince Priebus is here as well," Obama said. "Glad to see you that you feel that you've earned a night off. Congratulations on all your success. The Republican Party, the nomination process--it's all going great. Keep it up."
Cramer not only gave Obama kudos for the bipartisan roasting at the dinner, but also for his comedic timing and delivery.
"His timing is impeccable. I happened to be talking to one of his writers ahead of time, and the writer presented one of the jokes so flat. And when Obama delivered it, it was hysterically funny," Cramer said.
Though the president delivers the annual standup routine, his speechwriters play an integral role in drafting the material. Obama speechwriter David Litt told the Los Angeles Times before the 2015 White House Correspondents' Dinner the president's wordsmiths come up with about 100 jokes and whittle them down to 20 punchlines that "are only funny--or, at least, especially funny--if the person saying them is President Obama."