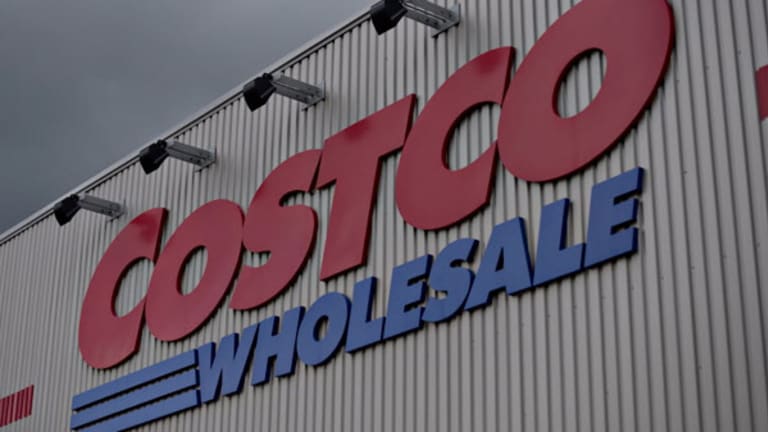 Jim Cramer -- Own Apple, Don't Trade It; Buy Starbucks, Costco
Cramer answers viewer questions, starting by telling investors to own Apple, not to trade it. He likes Starbucks and Costco, but not IBM, JD.com or Medallion Financial.
Stocks and oil prices are headed higher on Tuesday, and TheStreet's Jim Cramer, co-manager of the Action Alerts PLUS portfolio, is answering viewer questions on the floor of the New York Stock Exchange. 
The biggest thing on most investors' minds is Apple (AAPL) , with the tech giant set to report earnings after the close on Tuesday. Cramer repeated his steadfast mantra on Apple: Own the stock, don't trade it. 
The reason is simple. The stock is cheap and the business is strong. But too often, investors focus on too short a time frame and will sell the stock if they perceive iPhone sales to be too weak. Apple is "developing into a second-half story for 2016," with a new iPhone set to launch in the fall, Cramer said. 
As for Sprint (S) , the company's earnings results "looked good," Cramer said, but he thinks investors should take a closer look at its bonds -- on which Real Money's James Passeri has done great research, he said. 
Cramer also urged those with questions on SunEdison (SUNE) to read the recent work on Real Money by Carleton English.
After the recent selloff, one investor wanted to know if it's time to buy Nike (NKE) and Starbucks (SBUX) . Cramer is a buyer of Starbucks, an Action Alerts PLUS holding, after the company reported earnings just last week.
Although Nike stock is not expensive based on 2017 estimates, Nike last reported earnings in December, so there is not as much clarity with the company as there is with Starbucks right now, he said.
Another Action Alerts PLUS name Cramer still likes? Costco Wholesale (COST) . The company continues to put out strong results, especially at a time when so many in retail are struggling. "They had some really, really good numbers," he said.
It's not time to buy IBM (IBM) yet, as it's plagued by currency woes, Cramer said. Plus, he doesn't like Medallion Financial (TAXI) , despite the fact that unicorn-company Uber is losing an "extraordinary" amount of money while it pushes for market share. Cramer also said he's not a buyer of JD.com (JD) , because of the lousy fundamentals for Chinese companies right now.
When it comes to tanker stocks, Cramer says day-rates remain strong and demand is "tremendous." He prefers North American Tankers (NAT) over DHT Holdings (DHT) .
A viewer wanted to know if it is time to buy Kroger (KR) . Cramer likes the grocery chain, but acknowledged that everyone seems to like Kroger right now. Conversely, "no one likes Whole Foods Market (WFM) " now, but that could change if the stock falls into the $23 to $25 range, he said.
As for airlines, Cramer said that both Delta Air Lines (DAL) and Alaska Air (ALK) are great operators. Although it's counterintuitive for airline stocks to decline when oil goes down, that's the type of environment we're in. For those looking to buy, do so when oil prices drop, Cramer said.
Cramer also likes Expedia (EXPE) , explaining that it's one of the premier platforms for booking vacations.
Cramer answers viewers' social media questions on Facebook (FB) and on Twitter (TWTR) . Contact him @JimCramer on Twitter, and send questions with the hashtag #CramerQ.
At the time of publication, Cramer's Action Alerts PLUS had long positions in AAPL, COST, FB, SBUX and TWTR.