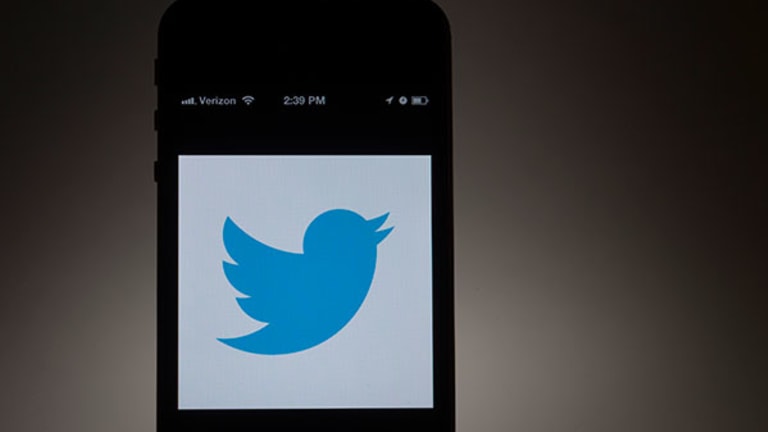 Jim Cramer Is Skeptical of Twitter's Ad Strategy
The social media company said its earnings were hurt by slow advertising revenue growth.
Twitter (TWTR) posted its slowest revenue increase ever Tuesday and softer-than-expected advertising revenue growth along with results that showed the social media website with slower monthly active user growth.
The San Francisco-based company reported $595 million in first-quarter revenue, a 36% increase from the same time last year, with an $80 million net loss. The year-over-year growth is the company's slowest since it went public in November 2013, while the revenue decreased from $710 million in fourth-quarter 2015.
"The problem is they say all these things -- they over-promise and under-deliver," said Jim Cramer, TheStreet's founder and manager of the Action Alerts Plus Portfolio, which owns AAPL. "I'm an under-promise, over-deliver guy."
The revenue increase in the first quarter was lower than the 58% increase the 97% year-over-year increase in the fourth quarter 2015 and the increase posted the first quarter of 2015, when it reported a 74% year-over-year increase.
As of Monday afternoon, Twitter's stock traded at $15.03, down 15.3%.
In its letter to shareholders released after markets closed Tuesday, Twitter said revenue came in "at the low end of our guidance range" because brand marketers spent at a slower pace than the company had anticipated.
When talking to investors on the conference call, Twitter CFO Adam Bain said the social media platform suits advertising well.
"We also hear from marketers that there is nothing in the world like Twitter in terms of as a marketing platform," Bain said answering a question from a Nomura analyst. "Twitter is that live connection to culture for marketers and that's both unique and special in the brand universe. Live is where - is what's most valuable in the ad business."
Cramer, however, was skeptical of the advertisers' use of Twitter.
"[Twitter goes] in and talks about all these great returns on investments," Cramer said, "but then say the branded companies aren't doing it, well give me a break. If they're not doing it, then either the return on investment is wrong, that they're signaling, or [branded companies] are going to Facebook (FB) ."
The monthly active user growth also reported a smaller increase than in quarters past. Twitter reported 310 million MAUs in the first-quarter, smaller than the 320 million in the fourth quarter 2015, though first-quarter usage was a 3% year-over-year increase.
"I regard the [first-quarter investor] conference call--there's a tone of arrogance to them that is so undeserving," Cramer said. "Their team has never made the playoffs and they sit there and act as if they're in the [National Football Conference] championships. That's no good."