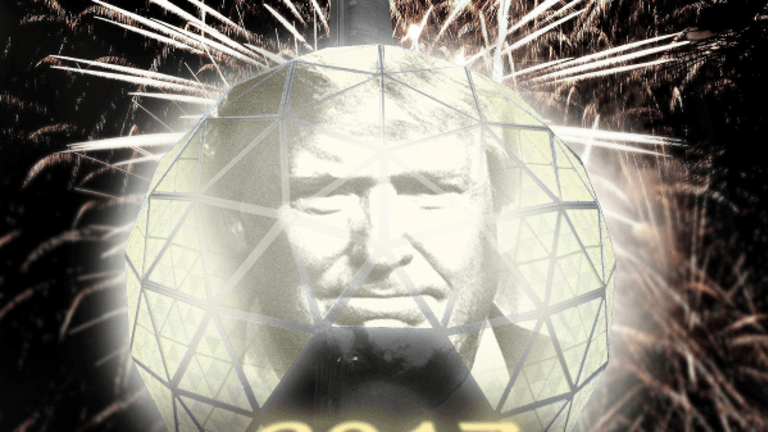 Jim Cramer: Is Dow 20,000 a Trump Rally?
The Dow Jones Industrial Average finally hit 20,000 Wednesday morning, TheStreet's Jim Cramer explains how much of that is attributed to Donald Trump.
Investors may not have woken up Wednesday thinking it would become a day in history, but after weeks of anticipation, the Dow Jones Industrial Average finally eclipsed the storied 20,000 mark seconds after Wednesday's open.
Much of the recent run-up in the stock market has been attributed to the election of Donald Trump and his "America First" policies including scaling back regulation, allowing repatriation and cutting taxes for corporations. But, how much can we attribute the rally to Trump?
"I think it's a not Hillary Clinton rally," TheStreet's Jim Cramer joked from the floor of the New York Stock Exchange Wednesday morning. "I think Hillary Clinton stood for gridlock and the belief that there would not be any changes in the big issues like corporate tax, deregulation, and repatriation."
But Cramer believes the surge in the Dow has gone as far as it can without a boost from Congress "because we cannot just keep paying up for the same earnings."
Cramer highlighted IBM (IBM) - Get Free Report as an example. "IBM reported and their quarter was pretty good. Why? Because its software business is growing very fast and deserves a higher multiple because it represents 40% of the company," he noted.
Cramer contends that IBM stock could power its way to $200 -- it's currently at $178 -- but not $225 without that catalyst from Washington. "What I'm leading up to is there were many companies that reported, and initially we were cool on them, but because of the animal spirits they went higher, that is a little dangerous," he said.
However, Cramer acknowledged he would be willing to pay more for stocks than where they are currently "because I'm betting that there will be some kind of corporate tax reform, repatriation and deregulation."