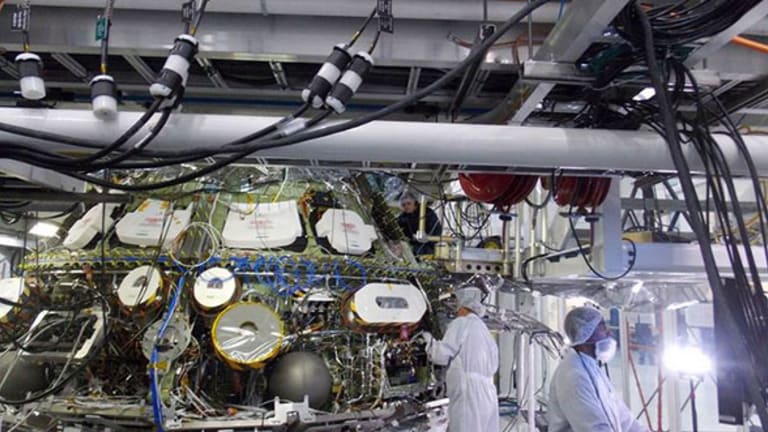 Jim Cramer -- Honeywell Continues to Deliver for Investors
Despite concerns over the aerospace industry, Honeywell delivers another solid quarter, Cramer says.
Shares of Honeywell (HON) are up nearly 4% on Friday after the company reported in-line earnings per share and revenue results for the fourth quarter. 
Investors are moving away from the previously loved health care sector and beginning to favor industrials, TheStreet's Jim Cramer, co-manager of the Action Alerts PLUS portfolio, said on CNBC's "Mad Dash" segment. 
There's a lot to like with Honeywell, particularly from its aerospace unit, Cramer said. Although General Electric (GE) and United Technologies (UTX) both reported solid aerospace results, there had been concerns about the industry following Boeing's (BA) worse-than-expected guidance. 
However, Boeing's disappointing results come more from customers preferring Airbus's (EADSY) euro-denominated products over Boeing's dollar-denominated aircraft, Cramer explained. 
Fortunately for Honeywell, it works with both plane manufacturers, he added. So as long as there is still demand for aircraft, Honeywell's business should be fine. 
CEO Dave Cote delivered again, Cramer said, reminding investors that despite the very difficult operating environment, there are some great companies that continue to deliver good results.
The good earnings results could lead Cramer and co-portfolio manager Jack Mohr to once again consider buying the stock -- especially considering it was a profitable position in the Action Alerts PLUS portfolio in the past. This would kick off a rigorous research campaign, which includes delving through old conference calls, looking back at "Mad Money" interviews between Cramer and Cote and, most importantly, taking a close look at the company's businesses.
Aerospace delivers 38% of Honeywell's revenue, compared to 60% for United Technologies and fully 100% for Boeing, Cramer said. Honeywell also has exposure to the automotive and climate control industries, which are both doing well, he added. 
Honeywell also completed its acquisition of Elster for $5.1 billion in December. What many investors don't realize though, is how good Cote is at cutting down costs from new acquisitions, Cramer explained. 
At the time of publication, Cramer's Action Alerts PLUS had no position in companies mentioned.