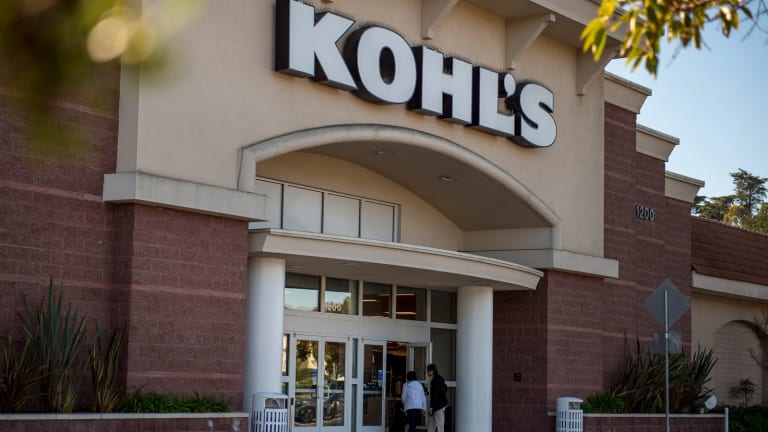 Publish date:
Jim Cramer -- Fundamentals Falter at Kohl's, Ralph Lauren
Jim Cramer says he is shocked and 'blown away' by Kohl's fourth-quarter sluggish sales, and he also discusses Ralph Lauren and Walmart.
Jim Cramer says he is shocked and 'blown away' by Kohl's fourth-quarter sluggish sales, and he also discusses Ralph Lauren and Walmart.
Shares of retailer Kohl's (KSS) - Get Kohl's Corporation (KSS) Report have skidded more than 15% Thursday morning following its fourth-quarter results, which showed that same-store sales were sluggish, squeezing profits.
"One of the things we always have to counsel people is, don't buy a stock because you think they could get a takeover bid or do some sort of restructuring if the fundamentals are faltering. And that's how I feel this morning about Kohl's," said TheStreet's Jim Cramer, co-manager of the Action Alerts PLUS portfolio, on CNBC's "Mad Dash" segment.
data by
Difficulties in the company's footwear and furniture businesses caused the "major miss," he said.
"The stock was up 7 bucks on the thinking they've got real estate de-monetized," Cramer said. "How many times do we have to be hurt by people who say there's real estate to be monetized when the business itself was not good?"
Cramer said he was shocked and "blown away by how bad Kohl's was this morning. When it got down to almost a 4% yield, I thought it made a lot of sense. The stock then spikes, and I should have told people, 'Listen, sell the spike.'"
It didn't occur to him that Kohl's was doing so poorly, as he assumed that lower gas prices should be helping retailers, Cramer said.
"This stock is back to where people are going to say again that something's going on. Let's just wait for the fundamentals to turn before we start thinking things are going to be terrific in terms of restructuring," Cramer said.
Although it may be true that Kohl's has good real estate value, "in the end, it matters what you sell and whether you're selling it," he said.
Meanwhile, Ralph Lauren (RL) - Get Ralph Lauren Corporation Class A Report beat fiscal third-quarter earnings estimates but fell short of sales forecasts. The stock has slid more than 16% on Thursday.
About Ralph Lauren, Cramer said, "This is one where you have to talk a little about Shakespeare and Caesar. They're doing everything other than blame themselves."
The Ralph Lauren franchise is worth a great deal, however, he said.
"It's spotty -- what sells, what's not selling, is case by case. And it's a little bit intimidating to try and pick retail stocks when it's case by case," Cramer said.
He added that he is interested in how Walmart Stores (WMT) - Get Walmart Inc. Report is doing.
"There's a stock that's up 10 points. Are they doing well? We don't know," Cramer said.
"I think one of the things when we don't know is that you tend to draw a negative conclusion right here, given the fact that we're seeing more negatives than positives in this group," he said.