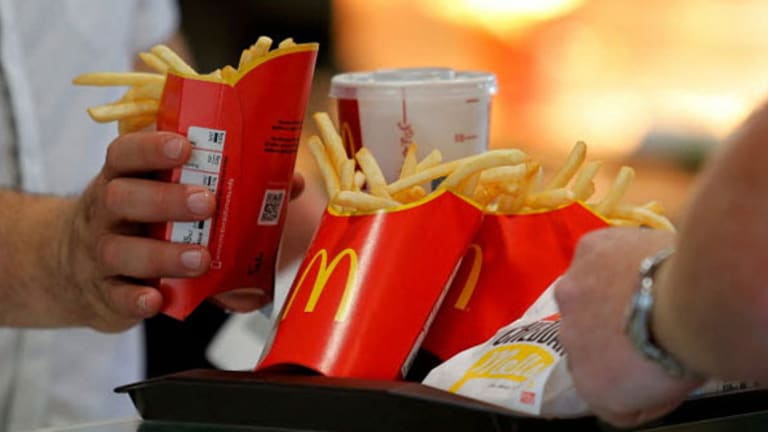 Jim Cramer Examines McDonald's Ahead of Earnings
McDonald's may suffer at the hands of the strong U.S. dollar, and it needs to do a better job using technology to its advantage, Jim Cramer says.
Shares of McDonald's (MCD) - Get Free Report are up about 11% over the past three months, helping to ease some of the pain that shareholders felt in 2016 as early-year gains leaked away before the November bounce.
Will that momentum continue after the company reports earnings on Monday morning?
McDonald's is typically a company that benefits from a weakening dollar, said TheStreet's Jim Cramer, co-manager of the Action Alerts PLUS portfolio, from the floor of the New York Stock Exchange on Friday. Unfortunately for McDonald's, though, the dollar has been rising, not falling, Cramer noted.
McDonald's is also a company that needs to better leverage technology to its advantage, Cramer said. CEO Steve Easterbrook knows this and will likely address it going forward, Cramer added. Technology can improve throughput speed -- it helps the company serve customers more quickly -- and it also can help improve customer loyalty to the brand, he remarked.
Technology is "very, very important" for McDonald's, Cramer commented, pointing out that a number of great food chains have leveraged technology to improve business.
Analysts expect McDonald's to earn $1.41 per share on $5.99 billion in sales.
At the time of publication, Cramer's Action Alerts PLUS had no position in companies mentioned.