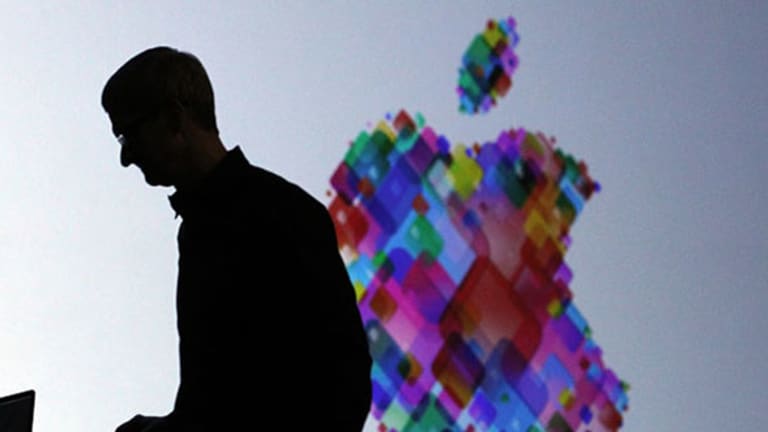 Apple (AAPL) - Get Apple Inc. (AAPL) Report is set to report earnings Tuesday after the markets close, and TheStreet's Jim Cramer, along with other analysts, expect it will post lower sales than the Cupertino, Calif., tech giant reported at the same time last year.
Analysts expect $52 billion in sales, which would be a decrease from the same time last year, when in the second quarter fiscal year 2015, Apple reported net income of $13.6 billion on $58 billion in revenue. In the first quarter fiscal year 2016, the company posted net income of $18.4 billion on $75.9 billion in revenue.
"I don't expect anything this quarter other than negatives," said Cramer, the co-founder of TheStreet and manager of the Action Alerts PLUS portfolio, which owns Apple. "This is not a good quarter," he later added.
Data from Thomson Reuters showed from some 34 reports, the most optimistic projection puts revenue at $54.4 billion with the lowest estimate coming in at $49.7 billion. For its earnings per share, analysts are expecting results in a range from $1.88 to $2.17. 
CNBC cited an analyst who estimated Apple sold 51 million iPhone sales, a year-over-year decrease from 61.2 million.
Cramer, though, thinks any dips in the stock price are a good chance for investors to add Apple to their portfolio if they don't already have it in the mix. If Apple's share price dips to between $95 and $100, Cramer said he might buy more for the AAP Portfolio.
"So you have to deal with a decline, and if you don't own it, that's going to be your chance. I think you should own it, not trade it," said Cramer. "That's been the right call. I know it's the worst-performing stock on the Dow over the last year. I think it's a value play."
The earnings come at a time when the tech giant dominated headlines over its legal fight with the U.S. government. The two have been at loggerheads over whether Apple should assist the government with unlocking the iPhones of an alleged shooter in the San Bernardino, Calif., December massacre, and a defendant accused of dealing drugs.
In both cases, the federal government succeeded in unlocking the mobile device without the company's help. News of the iPhone's unlocking in the alleged drug-dealing case surfaced Friday after the government notified a Brooklyn, N.Y., judge an individual had provided the government with the password for the phone at issue. As a result, the U.S. attorney withdrew its application.