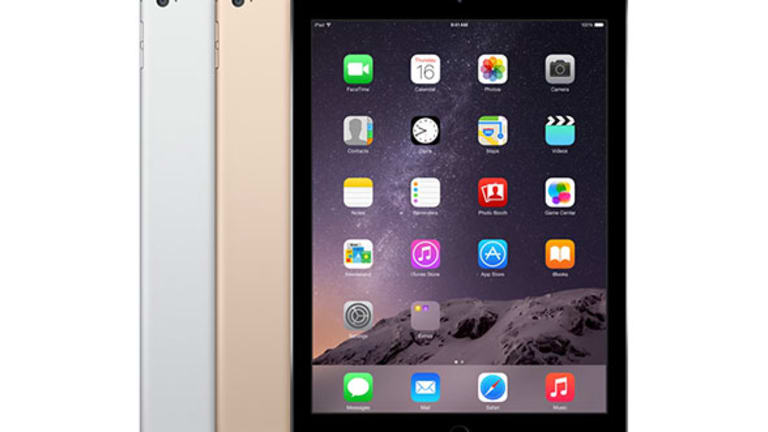 Jim Cramer and TheStreet's Take on the Top 5 Stocks of the Week
Here's what Jim Cramer and his colleagues at TheStreet had to say about the five top stocks from the past week.
NEW YORK (TheStreet) -- Here's what Jim Cramer and his colleagues on TheStreet had to say about the five top stocks from the past week.
Apple

AAPL Price data by YCharts
On Thursday, Apple (AAPL) announced a major product event scheduled for Sept. 9, where the Cupertino, Calif.-based tech giant is expected to release an updated iPhone. Friday saw reports of the resignation of Ian Rogers from his position as CEO of the recently launched Beats Music. 
The Apple Watch, which includes a fitness tracker, is gaining ground on Fitbit's tracking devices according to newly released IDC figures. Apple shipped 3.6 million Apple Watches in the second quarter, while industry leader Fitbit shipped 4.4 million units.
On Thursday, Rex Crum reported that Peter Sorrentino, senior vice president and portfolio manager of Huntington Asset Advisors, remains upbeat on tech stocks and Apple in particular. "You get the panic sellers, now," Sorrentino said. "But that settles down quickly. I don't think valuations are getting too stretched, and at the end of the day, there are a lot of dividend-paying stocks."
Also on Thursday, chartist Michael Tomsett took a technical look at Apple, pointing out that the chart could indicate the "possibility of a surge to the upside and a new bullish move or, at least, a return to consolidation seen earlier this year."
On Friday, Onada analyst Craig Erlam pointed out that from a technical standpoint, we'd seen the "death cross" in Apple, where the 50-day moving average crossed below the 200-day moving average. He predicted that Apple could get a boost from its Sept. 9 event.
In a recap of the week, Jim Cramer called Monday's flash crash "scary" and mentioned that Apple was down $13 at one point, from $105 to $92 -- "a very big deal for the world's biggest company."
He used the selling in Apple, an Action Alerts PLUS holding, and a few other stocks as an example of why investors should avoid market orders in favor of limit orders. "A sell order with a limit could have kept you from getting those nasty reports. A buy order with a limit put a couple of points above those prices, and you would have crushed it with some terrific buys. You need to see both ways."
In a Tuesday blog post, Cramer had explained this idea in more detail. "Had you used a limit order, you could have bought Action Alerts PLUS portfolio holding Apple at $95 easily with the knowledge, which I shared on air, that China is strong and that business has accelerated for the company. That's opportunity lost. I still can't believe people were selling that stock in the $90s knowing that China's strong even as the stock has fallen from $133."
Apple CEO Tim Cook also offered a rare mid-quarter assessment of Apple's concerns in China on Monday. "Obviously I can't predict the future, but our performance so far this quarter is reassuring," Cook wrote in an e-mail to TheStreet's Jim Cramer.
"I continue to believe that China represents an unprecedented opportunity over the long term," said the CEO. "Most importantly the growth of the middle class over the next several years will be huge."
Facebook

On Monday, a record 1 billion people used Facebook (FB) . "We just passed an important milestone," CEO Mark Zuckerberg wrote in a blog post on the social media site. "For the first time ever, one billion people used Facebook in a single day. On Monday, 1 in 7 people on earth used Facebook to connect with their friends and family."
On Wednesday, Facebook launched its virtual personal assistant, called M, the company's response to Apple's (AAPL)  Siri and Microsoft's (MSFT)  Cortana.
TheStreet's Rebecca Borison included Facebook on a list of 5 Tech Stocks to Buy Now After the Market's Big Selloff. She reported that Cantor Fitzgerald analyst Youssef Squali was bullish on the stock. According to Squali, "FB is still at an early stage of growth and stands to benefit the most from the secular shift of traditional ad dollars to digital."
On Thursday, Skip Raschke recommended trading Facebook and other tech stocks via a call-back spread on the Technology Select Sector SPDR ETF (XLK), of which Facebook is a top holding.
On Friday, Cramer said his the FANGs -- his collection of high-growth tech stocks, which includes Facebook, Amazon (AMZN) , Netflix (NFLX) and Google (GOOGL) -- still "rules the market." He called Action Alerts PLUS holding Facebook "one of the fastest-growing, most consistent companies ever born," but it trades at just one times its growth rate.
NFLX Price data by YCharts

On Monday, Netflix  (NFLX) announced a new partnership with Japanese multinational telecom company Softbank  (SFTBY) . 
On Wednesday, Richard Suttmeier included Netflix on a list of "5 Momentum Stocks You Can No Longer Count on for Gains." Suttmeier took a technical look at the stock, which he said had a negative weekly chart.
Robert Moreno also took a technical look at Netflix on Tuesday in "So You Want to Buy Netflix -- but Can You Handle the Volatility?" Moreno commented that "It is often difficult to find a technical backdrop during periods of extremely high volatility, but in the case of the Netflix chart, the Fibonacci retracement levels provide some context." 
Jim Cramer told investors on Wednesday to wait for Netflix to move lower before buying. That same day, RBC upped its price target on Netflix to $140 from $125, based on the company's international potential.
On Friday, Cramer wrote in a blog that he's been making the same case for Netflix for three years. "The market capitalization is too small for the opportunity," he said. 
"Netflix, like Amazon, could double, no, even triple its service per month and people would still love it worldwide. It's a global content company with very low content costs, and I think it is worth $100 billion judging by where its subscriber growth trajectory takes it and how much more money it could charge."
AMZN Price data by YCharts

On Tuesday, Amazon announced it will begin delivering alcohol to U.S. customers for the first time as part of its top tier 'Prime Now' service. On Wednesday, Evercore upgraded Amazon to buy from hold, maintaining its $585 price target on the stock.
Richard Suttmeier included Amazon on his list of momentum stocks you can't count on for gains, taking a purely technical look at the stock and demonstrating that it had a "negative weekly chart."
On the other hand, Rebecca Borison also included Amazon on her list of tech stocks to buy after the market selloff.  Cantor Fitzgerald analyst Youssef Squali said the company was an attractive buy, even in the face of market uncertainty. 
Chris Beauchamp, a market analyst with London-based IG, said Amazon and other tech giants "have taken quite a beating, but there's still long-term value in those plays." He said the businesses were "very solid, and "the performance has been strong in what has been a very lackluster earnings season."
Borison also reported on the strength of Amazon's Prime service, writing that "all signs point to the fact that Prime is proceeding steadily along its upward trajectory." 
Cramer said that the  Growth Seeker portfolio holding and the rest of his FANGs stocks "still rule the market." He said Amazon is tougher to read and that "until they lifted their skirt a bit and told you about the profitability potential of their Amazon Web Services business, you had a right to be skeptical. Not anymore. And, let's face it, if they wanted to increase the price of Amazon Prime by 50% wouldn't you pay it? Given the relative bargain vs. all other shopping, I bet you would."
Must Read: 5 Toxic Stocks to Sell Before It's Too Late
Microsoft
MSFT Price data by YCharts
On Wednesday, Gary Morrow took a technical look at  Microsoft (MSFT) . "If selling pressure continues to ease and the stock returns to an oversold moving average convergence/divergence reading, bullish investors should be poised to put money to work," Morrow said.
On Thursday, Rex Crum reported on the potential of Microsoft and other big tech stocks to withstand recent volatility. Accelerate-IT Ventures' Brian Nugent pointed out opportunities that tech leaders have to build upon, including Microsoft's and Salesforce's  (CRM)  "so-called 'smart enterprise' technologies." "What you're seeing now is that people are taking profits out of a six-year bull market," Nugent said. "We would not contemplate a selloff. If you take these trends into consideration, the big guys can ride things out for several decades."
Disclosure: TheStreet's editorial policy prohibits staff editors and reporters from holding positions in any individual stocks.