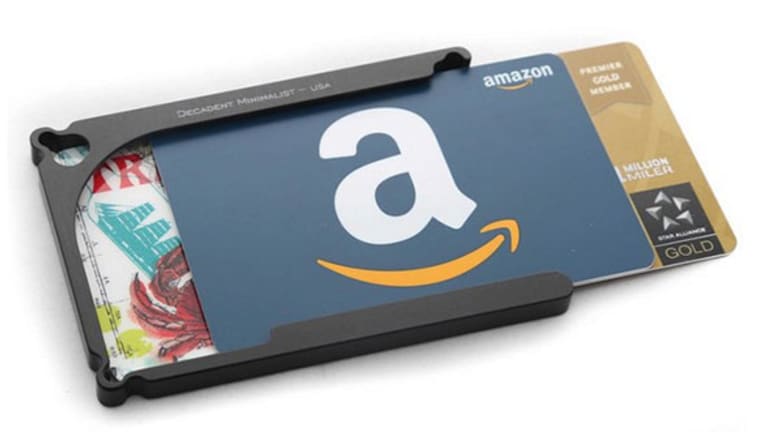 Jim Cramer -- Amazon, Google Are Ready to Roar; Don't Sell Disney
Jim Cramer sees a selective Santa Claus rally on Wall Street this year, with companies like Amazon and Google benefiting the most. Cramer takes viewer questions via Twitter and Facebook.
Jim Cramer, portfolio manager of TheStreet'sAction Alerts PLUS and host of CNBC's "Mad Money," sees a selective Santa Claus rally on Wall Street this year. He said that stocks that have been strong all year will continue to rally, includingAmazon (AMZN) and Google (GOOGL) .
Cramer also commented on Disney's (DIS) recent announcement that it lost millions of ESPN subscriptions, saying he wouldn't sell the stock on that news, but added that investors could sell the stock as a trade ahead of the release of the new Star Wars movie.
A viewer asked if Cramer was still a fan of Yahoo! (YHOO) , despite the naysayers. Cramer responded that his view is still the same: sell Alibaba (BABA) and buy Yahoo!
Cramer was asked if Nike (NKE) is approaching its top. He responded that Nike and Starbucks (SBUX) are stocks investors will want to show that they own at the end of the year.
Another viewer asked about CarMax (KMX) , which is near a 52-week low. Cramer said he thinks the stock is wrongly priced and he wants to buy it.
Another stock Cramer likes is Accenture (ACN) , because the numbers keep bumping higher.
Cramer was asked about several water management companies, including Middlesex Water (MSEX) , American States Water (AWR) , American Water Works (AWK) and Aqua American (WTR) . But Cramer said he wasn't a big fan of those stocks, and there are better industries in which to invest.
A viewer wanted to know about Coca-Cola (KO) . Cramer said it has a good yield, but he can't pound the table on it. He added that he prefersPepsiCo (PEP) .
Another viewer asked about Kinder Morgan (KMI) . Cramer responded that he prefers Energy Transfer  Partners (ETP) and Energy Transfer Equity Enterprise (ETE) . 
Cramer also commented on Netflix (NFLX) , saying it's not too late to get in.
A viewer asked about Micron Technology (MU) . Cramer said it's just not working for that stock.
Finally Cramer was asked about Tootsie Roll (TR) . He said he prefers Hershey (HSY) . 
Cramer answers viewers' questions from social media in a daily segment with TheStreet TV. He takes questions on Facebook (FB) and on Twitter (TWTR) . Contact him @JimCramer on Twitter, and send questions with the hashtag #CramerQ.
At the time of publication, Jim Cramer's charitable trust Action Alerts PLUS was long ETP, FB, GOOGL, SBUX and TWTR.