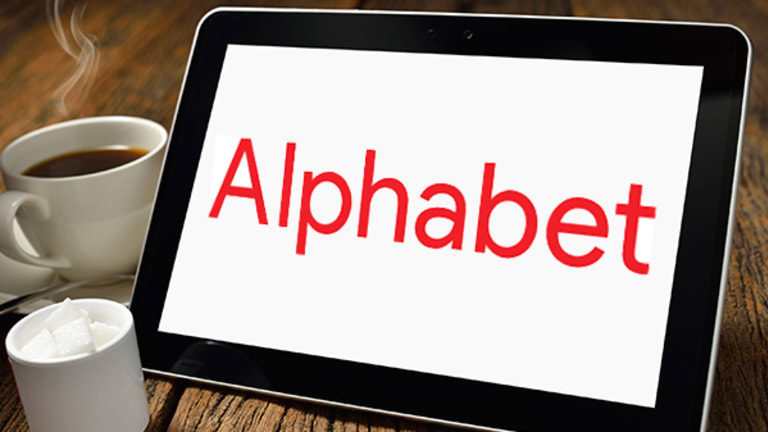 Jim Cramer -- Amazon, Alphabet Earnings Are a Perfect Contrast
Alphabet executives told you why the quarter came together.
They really put it together this quarter, Alphabet (GOOGL) - Get Report  and Amazon (AMZN) - Get Report . But only the former bothered to tell you the story of why it has all come together.
In fact, they are the perfect contrast to each other. Amazon gave you an excellent quarter, where, once again we like it for its growth. But what caused that growth? Oh heavens, the "flywheel of Prime." Yes, they broke out the term that I have come to dread, that word that basically means, "lots of energy begets even more energy."
You can pull off using the term "flywheel" if you are Howard Schultz at Starbucks (SBUX) - Get Report , delivering an amazing quarter and then showing how the flywheel produced an acceleration in sales -- by breaking down mobile and loyalty and new drinks, and changes for the better with the menu while creating new, smaller form factors.
The Schultz flywheel is a clinic.
But the Amazon flywheel is more like: "Prime is loved, people take Prime and then they spend more, of course." When you want to find out more about how that is, or how they get it to you, or how fast, or how much, the answer seems to be, "Hey, come on man! This is Amazon."
This call reverted more to the opaque style we have come to dislike.
When that happens, I think to myself, "We are paying what for a company that has one one-third the sales of Walmart (WMT) - Get Report , 133 times? We are taking apart the rest of retail for these guys?"
But Alphabet? A whole different story.
I love accelerating revenue, especially when it doesn't cost as much to get. That was what Alphabet gave you. This call reminded me of the second call that the CFO, Ruth Porat, ran after she started at Alphabet a little more than a year ago. It was a call about how the company can spend wisely and get additional revenue with its spending. Or, as she put it, "Our focus on long-term revenue growth does not give us a pass on managing expenses." It was a pleasant change from the last quarter's miss -- coupled with a sense, again, that spending had become too aggressive, with very little payoff.
Plus, unlike Amazon, we always feel silly paying as little as 22 times for a company with 25% constant-currency growth. It always astounds me that we will pay a lower multiple, a definitively lower multiple, for an Alphabet than, say, a Clorox (CLX) - Get Report  -- with its 6% earnings per share growth, and a revenue line that's basically flat for the last six years -- simply because Clorox gives you a 2.5% yield.
After last night, you feel the valuation for Alphabet is as unfair to the downside as it is for Amazon to the upside. GOOGL and SBUX are holdings of Action Alerts PLUS and AMZN is a holding of Growth Seeker.
No matter. Last night, I remembered why I coined the term FANG. AAP holding Facebook (FB) - Get Report  , Amazon and Google do have the growth that every company is looking for. Maybe, just maybe, Netflix (NFLX) - Get Report  can get it back, although, after that last quarter, I am not holding my breath.
Editor's Note: This article was originally published at 6:58 a.m. EDT on Real Money on July 29.
At the time of publication, Action Alerts PLUS, which Cramer co-manages as a charitable trust, was long GOOGL, FB and SBUX.