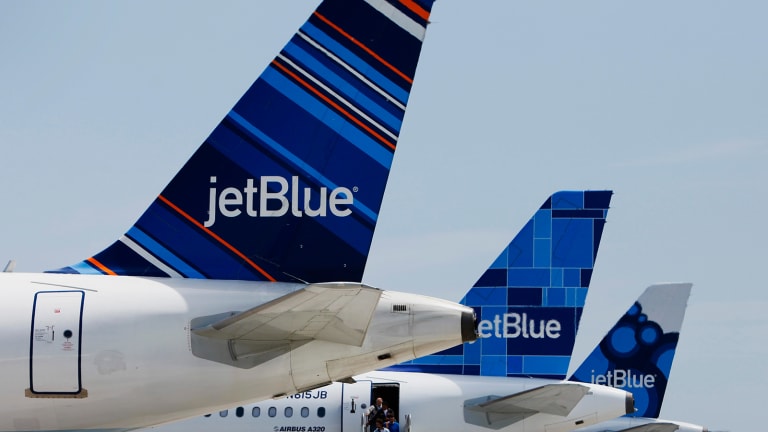 JetBlue CEO Says Airline Can Disrupt the Trans-Atlantic Market
JetBlue beat estimates and says it will take delivery of 30 more Airbus jets, which it may use in the trans-Atlantic.
Wall Street generally disapproves when airlines expand, but it is making an exception for JetBlue (JBLU) - Get Report .
JetBlue said Tuesday it will add 30 Airbus A321 aircraft to its fleet over the next seven years and it is contemplating trans-Atlantic service. The carrier also announced results for the second quarter, when it earned 53 cents a share, ahead of the consensus estimate of 49 cents.
In early afternoon trading, JetBlue shares were up about 6.3% to $18.38.
On JetBlue's earnings call, Chief Financial Officer Mark Powers guided toward a revenue per available seat mile decline in July of between 2% and 3%, reflecting decelerating capacity growth and easier comparisons. He said current quarter RASM will be better than second-quarter RASM, with July the best month in the current quarter.
In the second quarter, RASM fell 8.2%, while passenger revenue per available seat mile (which includes only ticket revenue) fell 10.5%. Capacity rose 11%. Current-quarter capacity will grow between 5.5% and 7.5%, while full-year capacity will increase between 8% and 9.5%, the carrier said.
As for the aircraft deliveries, JetBlue said 15 A321 aircraft will start to arrive in 2017. The other 15 aircraft will be A321neos and will start to arrive in 2020.
JetBlue said it may use the aircraft to expand into the trans-Atlantic. If that is to occur, the carrier would convert the A321neo orders into A321LR (long range) orders. On the earnings call, CEO Robin Hayes was asked why the carrier did not commit to fly to Europe, but rather said it may fly to Europe. "Are you looking for reaction?" asked Wolf Research analyst Hunter Keay.
"We did negotiate the option to upgrade to LR," Hayes responded. "All we're really announcing today is the flexibility to do that.
"We just want to be open and transparent about that," Hayes said. "We'll make the decision based on what's the right business and economic decision."
It was obvious on the call, however, that JetBlue executives like the sound of "trans-Atlantic," despite current industry skepticism given Brexit uncertainty, terrorist fears, excess capacity and low fares.
The carrier's Mint product, which includes lie-flat seats, upgraded food options and amenity kits, has been successful in trans-continental markets, where it is a premium product sold at a non-premium price.
Mint enables JetBlue to "disrupt the high cost market with a better product at an affordable cost," Hayes said. "It's a RASM builder." Since Mint was launched in June 2014, RASM on Mint routes has risen more than 20%, he said.
"There were many skeptics and many doubters in 2014," Hayes recalled. "(Mint) was a very big change. We felt there was a very significant opportunity to come in and disrupt the trans-con market. It was suffering from very high fares (and) it has been an overwhelming success."
In the trans-Atlantic market, "we see limited competition and high fares," Hayes said. Among the signs of opportunity is this indication of a lack of low-fare competition: About 87% of capacity is provided by three joint ventures, each of which includes a big three U.S. carrier and a big three European carrier.
This article is commentary by an independent contributor. At the time of publication, the author held no positions in the stocks mentioned.