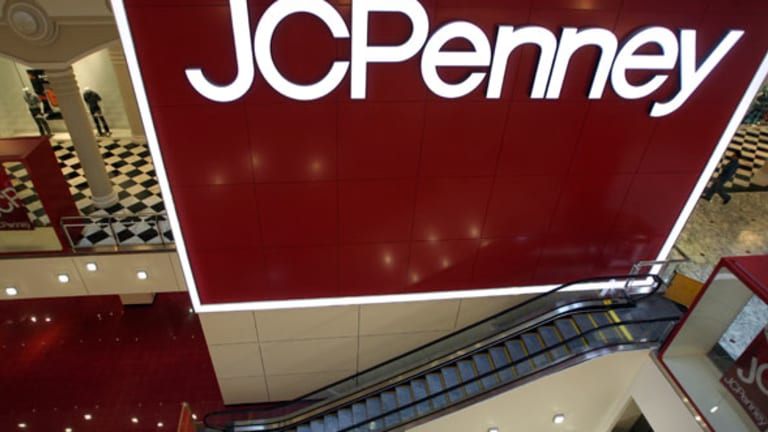 J.C. Penney Needs to Fire Delusional Ron Johnson Now
Step one in "transforming" JCP and the department store concept is getting rid of a CEO who can't get enough of himself.
NEW YORK (TheStreet) -- The culture of obviousness -- I "coined" that phrase yesterday in Why Best Buy Should Love and Embrace Amazon.com (AMZN) - Get Amazon.com, Inc. Report -- will kill J.C. Penney (JCP) - Get J. C. Penney Company, Inc. Report just like it's killing Best Buy (BBY) - Get Best Buy Co., Inc. Report .
There's a distinct difference between dogs like those two names and pacesetters such as Amazon.com.
The culture of obviousness helps explain every major Best Buy initiative over the past year or two.
Making stores smaller. Doing their own tablet. Instituting online price matching. Revamping the mobile Web experience. These steps either (A) came a lot too late; (B) were obvious; (C) should have never happened because there was no way they could be effective; or (D) all or some combination of the above.
I feel bad for the rank-and-file at Best Buy. The blame falls squarely on an unimaginative Board and upper management team.
They sat around a table listing where they had their asses kicked by Amazon, refused to seek a partnership and proceeded to make obvious after-the-fact decisions. It would be slightly forgivable if they were even proactively incompetent.
Meantime, Ron Johnson makes Reed Hastings at Netflix (NFLX) - Get Netflix, Inc. Report look like the most humble CEO in the universe. Johnson lives in his own world. As the late, great Texas Governor Ann Richards said of George H. W. Bush: He was born on third base and thought he hit a triple.
Last August, when I labeled Johnson 2012's Most Delusional CEO, I reviewed his egomaniacal performance at JCP's January 2012 investor day.
All Johnson could do was talk about himself and how he would prove the naysayers wrong like he claims to have done at Target (TGT) - Get Target Corporation Report and Apple (AAPL) - Get Apple Inc. Report . The guy clearly reads his own press clippings.
For more than a year, Johnson has turned in a pitiful performance at JCPenney. Dig into some of the numbers from Wednesday's earnings report:
Annual revenue plummeted 25%.
JCP lost more than a half a billion dollars for the quarter, up from an $87 million loss in the same prior-year quarter.
Same stores sales were off a shocking 32% during the most recent quarter, which included holiday shopping. Quarterly revenue was down 28%.
A complete disaster, yet Johnson actually had the nerve to talk himself up again on the company'sconference call:
This is my third transformation. I want to discuss the repositioning of Target from a discount store to the industry's leading upscale discounter. As you know I worked side-by-side with the leadership team at Apple as Apple repositioned itself from cult brand selling Macs to the world's most valuable company.
Wow. Makes for an apropos adaption of Richards' born on third base line. Who does this guy think he is?
Ron Johnson had absolutely nothing to do with Apple's success. He rode shotgun to Steve Jobs. Jobs was the architect -- quite literally -- of Apple's brick and mortar concept. Like Tim Cook ran a supply chain, Johnson dutifully did what Jobs asked of him. He did not imagine the reshaping of retail; Jobs did.
All you need as proof for that thesis is a glance at the physical manifestation and conceptual rhetoric of Johnson's "strategy" to transform the department store. He's not reinventing anything. There is no transformation. There's no comparison to Apple. And probably not even Target.
A store within a store. That's been done before. And it's a dumb idea. Specialized customer service. Again, Johnson anoints himself brainchild.
The "novel" notion of allowing people to use tablets to get online and hang out in your store? Johnson is attempting to create an association that does not exist. That, for some unknown reason, shoppers will hang around and do tablet research at JCP the way they do at an Apple Store. He might as well install batting cages instead of fitting rooms.
The Apple retail concept works at Apple because it's uniquely Apple. If it can't work at Microsoft (MSFT) - Get Microsoft Corporation Report , it's sure as hell not going to work at JCP.
The great Ken Segall explains away Johnson's abject failure with what amounts to a well-intentioned excuse: It's not easy to remodel hundreds of department stores all at once. It's too bad Johnson cannot start from scratch across the board. That might be valid if what Johnson planned to do actually had a chance of working.
If you're going to burn through half a billion dollars in a year and likely have to tap credit at some point, use the resources to demolish all of your stores and start over. From there, truly disrupt the department store model; don't just tweak at it with tired tools inspired by the culture of obviousness.
Johnson would have been better off doing nothing but watching YouTube videos at headquarters for the last year. He's in over his head, attempting to execute a pseudo-turnaround he lacks the creative capabilities to envision.
It's over. Fire Johnson. Find a buyer. Beg a competitor to bail you out. Hire somebody from Google (GOOG) - Get Alphabet Inc. Class C Report and give it another go. I don't know. But step one in what will make Blackberry'sundefined collapse look tame has got to be firing Ron Johnson. Now.
--Written by Rocco Pendola in Santa Monica, Calif.
Rocco Pendola is
TheStreet's
Director of Social Media. Pendola's daily contributions to
TheStreet
frequently appear on
CNBC
and at various top online properties, such as
Forbes
.