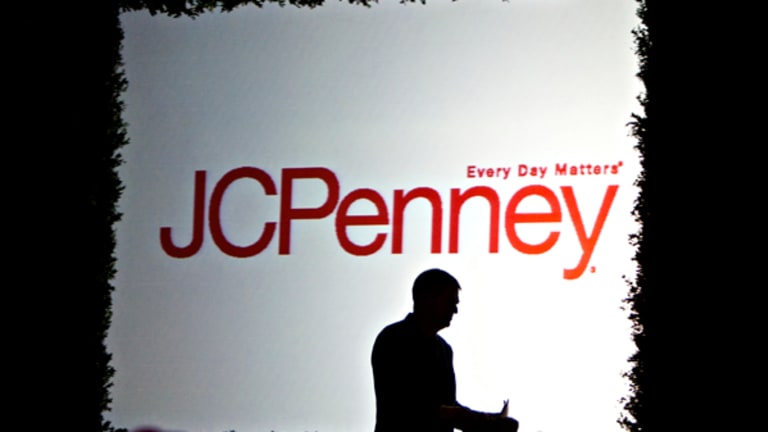 J.C. Penney Crashed, Best Buy Is Next
Take what the market gives you, but consider J.C. Penney's demise a warning to Best Buy investors.
NEW YORK (TheStreet) -- Kindly refer to the following three J.C. Penney (JCP) - Get J. C. Penney Company, Inc. Report articles for proper context:
Aug. 13, 2012's
2012's Most Delusional CEO: Sell His Stock Now
, Nov. 12, 2012's
Stop the Bleeding At JCP: Fire Ron Johnson
and from this year, Aug. 13's
Bill Ackman: The Great Scapegoat At JCP
.
I point you to these articles, no doubt, to seek congratulatory fist pumps and chest bumps. But it's about more than that. It's about the way we ought to evaluate companies as thinking humans and consider stocks as investors.
Like everybody else, Ron Johnson had me fooled. As it turns out, Steve Jobs was one of the few who called it. Jobs thought Johnson was crazy for leaving
Apple
(AAPL) - Get Apple Inc. Report
.
As soon as I discovered the real Ron Johnson -- shortly after he gave one of the most egomaniacal and delusional CEO speeches ever at an early 2012 JCP investors conference -- I made my one and only turn, shifting to predictions of the company's doom.
Almost out of the gate, Johnson made it clear that he succeeded at Apple because he rode shotgun to Steve Jobs, paid attention in MBA school and could efficiently implement orders. Just like the best drive-through attendants at the highest-grossing fast food establishments.
From that point forward, even after Johnson got canned and Bill Ackman added to JCP's circus atmosphere, nothing changed at the company. At least nothing to justify the blame laid on Ackman or the calls from many analysts and onlookers to purchase JCP stock.
If you bought JCP last summer as it recovered into the $20s or on one of 2013's dead cat bounces, more power to you. You made a trade. You timed it well. You got lucky. But try not to confuse any part of that process with investing or understanding what's happening at a company, let alone in a space.
Take this behavior up as a strategy and you'll lose more often than you'll win. Because "victories" like the one you might have experienced in JCP and the one you might be experiencing in
Best Buy
(BBY) - Get Best Buy Co., Inc. Report
provide false confidence. This bravado gives you the faux green light to put your money into companies that have nothing going for them but misguided and misleading sentiment.
As stocks go, it's been much easier to ride BBY's wave than JCP's. While JCP twisted and turned, BBY has, for all intents and purposes, done nothing but go up. Year-to-date we're talking a 222% increase, as of Friday's close.
Consider this a gift from the rigged market
TheStreet's
and
passionately discussed last week.
Ride that wave. Like Cramer says, play the game. Take what these whacked-out market forces give you. But do be careful.
Examine the retail sector. Break it down into compartments.
There's the end all and be all of online retail --
Amazon.com
(AMZN) - Get Amazon.com, Inc. Report
. Whether the company turns a profit or not means very little with respect to its dominance over Best Buy. There are the specialty cases, a group that includes Apple. And then there are the sterile brick-and-mortar guys like JCP and BBY who, under their current regimes, have very little, if any, chance at long-term success.
Like JCP, Best Buy has shown us nothing new beyond a dressed-up regurgitations of retail's same old tricks the company called
Renew Blue
.
A re-commitment to customer service. More stores within a store than you can shake a price scanner app at. Slashing prices. Burning the expense side of the balance sheet with a blow torch. These tactics work until they don't work anymore.
And soon enough they'll blow up in Best Buy's face. They'll be back where they started, facing the same set of problems that got their heads handed to them by Amazon in the first place.
I meant that when I said it last week.
Just because stores exist where you can browse and possibly purchase consumer electronics today doesn't mean they can, need to or will exist tomorrow. At some point, you have to completely and entirely disrupt yourself or come to terms with the likely reality that humanity has passed by the specific sector you operate in.
Apple already created and perfected the Apple Store; you're not going to recreate anything even near as successful.
Compare it to your own life or your son's or daughter's, particularly if you or they are coming up during this time when so many people go through multiple careers.
When the factories were closing down around them, the survivors did something. They went out and got an education, learned a new skill, opened their own business. Something, anything to keep the world from passing them by. We can cut examples from other cloths all day long.
Bottom line -- until we're meaningfully shown otherwise, JCP's demise should serve as an augury of what lies ahead for Best Buy. Corporate death followed by more corporate death. These stocks will do whatever they do, but remember, there's often a major disconnect between what happens on Wall Street and what's happening inside a dysfunctional company.
--
Written by Rocco Pendola in Santa Monica, Calif.
Rocco Pendola is a columnist and
TheStreet's
Director of Social Media. Pendola makes frequent appearances on national television networks such as
CNN
and
CNBC
as well as
TheStreet TV
. Whenever possible, Pendola uses hockey, Springsteen or Southern California references in his work. He lives in Santa Monica.