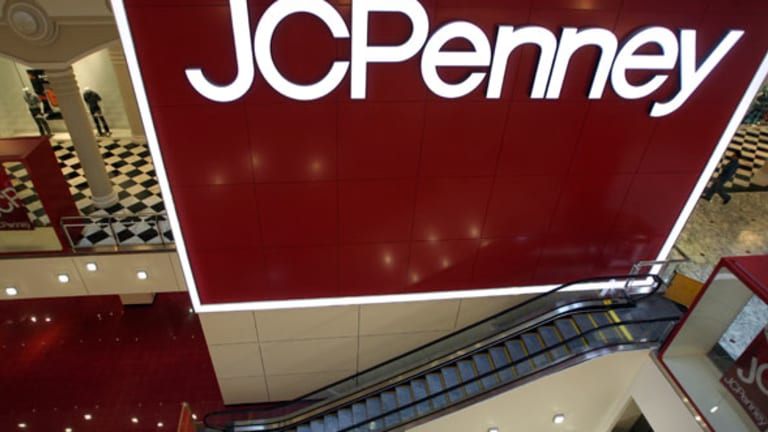 J.C. Penney Is Changing Course
The stock offers big upside now. Here's why.
NEW YORK (TheStreet) -- J.C. Penney (JCP) - Get Free Report is a case study of the impact a CEO can have on a company's performance.
I always shake my head when I hear claims that CEOs are paid too much. Some are, but if J.C. Penney shareholders could get former CEO Ron Johnson back for free, I think they would take a pass.
Johnson is an exceptional leader, and I think he could do wonders at Sears (SHLD) . I wrote as much in Sears Needs New Leadership Immediately, if Not Sooner. But after J.C. Penney reported surprisingly strong numbers on Wednesday, it's clear that Mike Ullman, the current CEO, is the man for the turnaround job. His plan is on track for future profits.
Read: Sephora Is Beating Pinterset at Its Own Game
Stocks trade on emotion, but companies are valued on reality. Although those two are correlated, investment opportunities emerge when there's enough disparity. In Profit From J.C. Penney's Panic Selling and in Real Money Pro, I offered a bull thesis, and that's paid off in spades. But it's not time to ring the register yet.
As with a battleship, it takes time to shift course. As Ullman pointed out, his hands were tied with how much he could do right away when he returned. As the retailer continues to set a course for profits, investor confidence will build and buying pressure will continue. The recent washout below $5 was just that, a washout of the weak hands.
On Wednesday, J.C. Penney reported that gross margin in the fourth quarter rose to 28.4% from 23.8% a year earlier. Improvements in the future may be even better.
Read: Mattel Builds Portfolio with Mega Brands
Ullman resumed the helm last April. With so many fires to put out, there's no way the management team had time to fully exploit the holiday-shopping season. All else being equal, investors can reasonably expect further improvement.
Investors will want to pay particular attention to store closings. In the coming weeks, we should see 33 stores close for good; about 25% of them are located in Wisconsin.
The 33 stores represent about 3% of the 1,100 J.C. Penney stores. Because anchor stores generally have long-term leases that are cost prohibitive to break, many underperforming stores will remain open because it is better to operate a marginal location than to break a lease.
The losses from poorly performing stores are baked in the cake and are reason to add to a position. Because the losses are priced in, if the losing locations become profitable or are able to be vacated (i.e. another tenant can be found), it becomes gold for shareholders.
Read: Bitcoin Exchange Mt. Gox Files for Bankruptcy
With expectations of continued bleeding, the market is offering a "heads-you-win, tails-you-break-even" opportunity. If the stores continue to perform poorly, it's already discounted. If Ullman and the management team can turn the low performers into profitable locations, the extra revenue goes straight to the bottom line.
Keep in mind the solution doesn't have to be improving sales; the solution could be co-locating with other brands. Sears, for instance, is surrendering parts of its stores to other brands in an attempt to reduce total floor space.
Ullman will find solutions. With J.C. Penney's shares well under $8, investors are in a position to profit as the story unfolds
At the time of publication, Weinstein had no positions in securities mentioned.
This article represents the opinion of a contributor and not necessarily that of TheStreet or its editorial staff.